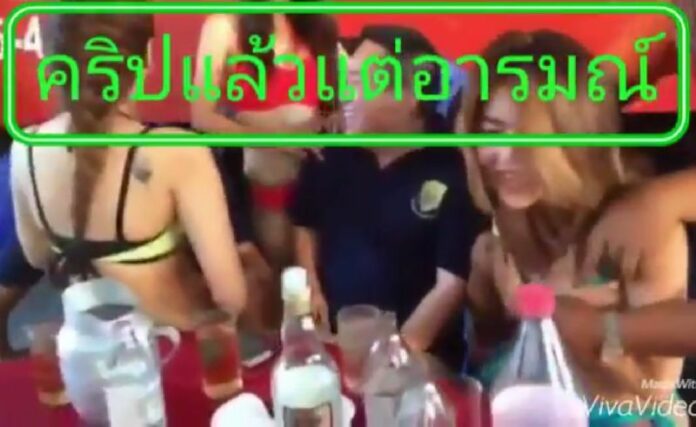 BANGKOK — A fire station chief has been suspended for inviting erotic dancers to a celebration inside the station.
Teerayuth Bhumipakdi, who oversees the Tungmahamek Fire Station on Yen Akat Road, was transferred to an inactive post and faces a disciplinary probe into the lewd party, footage of which was later uploaded online where it drew criticism.
"Someone has to be held responsible," Tewanuwat Anirutthewa, head of the municipal disaster relief agency, told reporters Tuesday. "The images that came out were inappropriate."
Debauchery in the office has long been banned, he said.
"We have had a ban on parties at the workplace for a long time already. If we find anyone violating the rules, there must be punishment," he said. "I won't spare anyone."
The undated video of the party shows a group of men drinking and groping scantily clad dancers at the fire station, the name and number of which is clearly seen in the background.
Since it was first posted Feb. 22, the video has attracted a number of negative comments from social media users.
"The men and women are both disgusting," YouTube user Pattharadon TH wrote on one of several versions posted online. "Why do these women let the men insult them and use them as a tool for venting men's lust? They have no sense of morality at all!"
Before the adult revels, Tewanuwat said the firemen told him they held a religious ceremony that morning, and held the party with "coyote dancers" in the evening. Such dancers are a common sight at concerts and bars throughout the country, but are considered offensive by socially conservative Thais.
Tewanuwat said possible punishments for Teerayuth, the station director, range from probation to expulsion, depending on the results of the investigation.
He believes the inquiry will wrap up within a month.
Related Stories:
Trat Official Apologizes For Children's Day 'Sexy Dance'
Mayor Apologizes Over Lewd New Year Dance Show
Teeranai Charuvastra can be reached at [email protected] and @Teeranai_C.