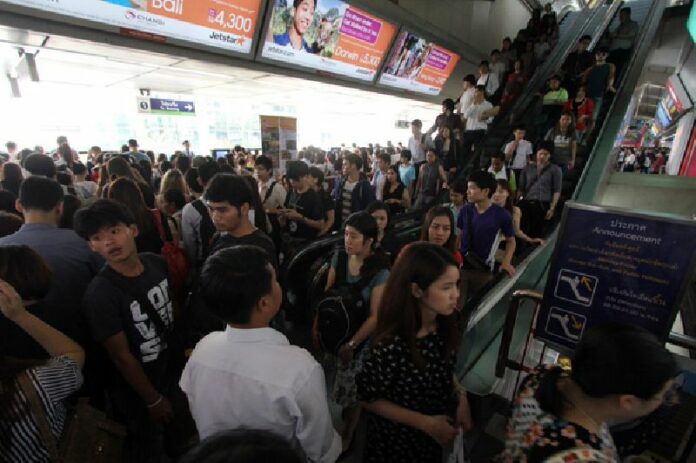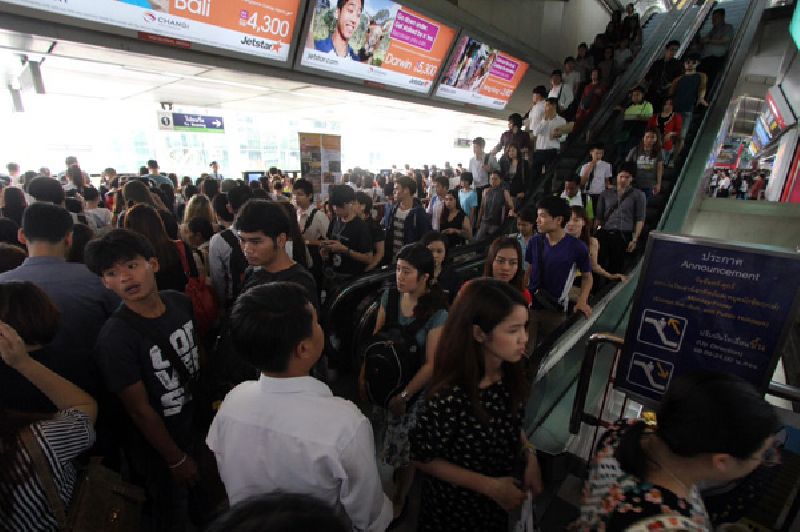 BANGKOK — Long delays caused this morning by a track-switching problem along the Sukhumvit Line will continue until Thursday morning.
A switching problem between the BTS Siam and Chit Lom stations early this morning was blamed for the reduced train frequency which affected thousands of passengers during the morning rush hour, according to operator Bangkok Mass Transit System Public Co. Ltd. Overnight repairs are needed to fix the problem, meaning the elevated rail system will continue operating at reduced capacity until Thursday morning.
The usual average of 2.4 minutes per train during rush hour increased to more than six to 10 minutes this morning, leaving long lines of passengers on platforms.
Until midnight, the train will operate every five minutes from BTS Mo Chit on the Sukhumvit Line to BTS Bang Wa on the Silom Line. Trains should be arriving every five minutes between BTS Siam and BTS National Stadium, and every seven minutes from BTS Siam to BTS Bearing.
Passengers traveling the Sukhumvit Line are advised to plan ahead as they will need to change trains at BTS Siam.
The Silom Line is unaffected by the delay, and those traveling onward toward BTS Mo Chit are not required to change trains.
BTS President Arnat Arpapirom said as the electricity must be turned off during the repair process, it then must be done after the operating hours.
Passengers can seek refunds if they decided to give up their tickets. Arnat said they will be offered cash or a coupon for their next trip.
The generally reliable system was hit with frustrated feedback from dissatisfied commuters on its official social media account for its handling of the situation.
"A malfunction is understandable, it's an accident," Facebook user Ploithipha Pimpasut wrote. "But I'd like to propose leaflets announcing the train was late, like in Japan, so workers can show proof to their employer."
Another user suggested the operator use the technology at its disposal.
"There should be a text message sent to passengers who have registered a Rabbit Card," Facebook user Chanon Soponwittayangkul wrote. "Instead of letting them enter only to get stuck at the platform like this."