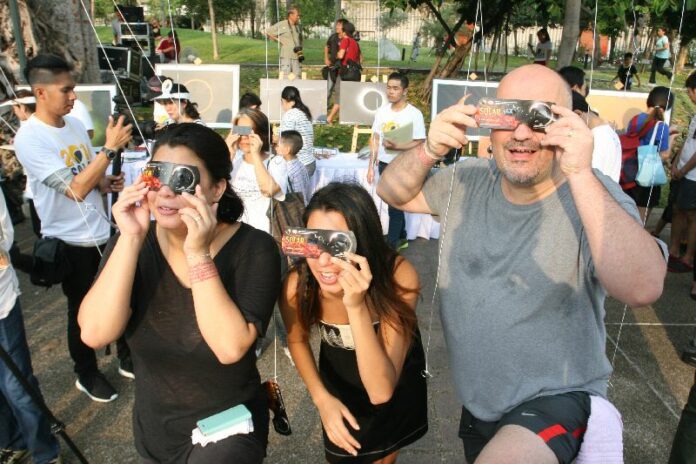 By Simon Duncan
Deputy Editor
BANGKOK — Hundreds of people gathered in Benjakiti Park this morning to watch the moon temporarily shut out the sun.
The action peaked at 7:32am, according to the National Astronomical Research Institute, whose members were out in force in the park Wednesday morning and at locations in four other provinces providing filtered shades and telescopes.
The phenomenon was visible throughout the country for almost two hours, from about 6:30am to 8:40am. Unlike the total eclipse seen in parts of Indonesia, Bangkok enjoyed a less impressive 41 percent moon-eaten sun.
If you missed the partial eclipse you can catch the next one on Dec. 26, 2019. As for the next total eclipse visible from Thailand, it'll be another 54 years on April 11, 2070, from a narrow region including in Prachuap Khiri Khan, Chanthaburi, Chumphon and Ranong provinces.
A capture of solar eclipse in Bangkok Wednesday morning
Benjakiti Park
Benjakiti Park
Benjakiti Park
Related stories
Prayers, Cheers as Total Eclipse Darkens Southeast Asia
See the Moon Steal the Spotlight Next Week
Simon Duncan can be reached at [email protected] and @donuts2000.
Follow Khaosod English on Facebook and Twitter for news, politics and more from Thailand. To reach Khaosod English about this article or another matter, please contact us by e-mail at [email protected].