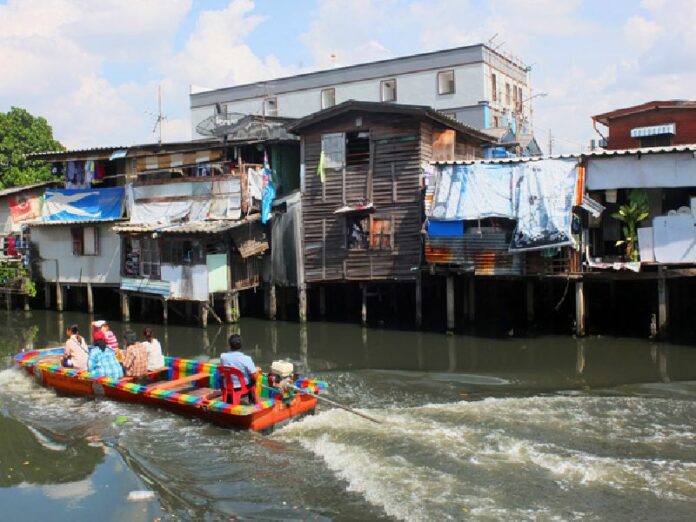 BANGKOK — A deal to relocate thousands of residents living along canals facing redevelopment remains in jeopardy despite funds being set aside yesterday to make it happen.
The cabinet yesterday approved 4.1 billion baht to support the relocation of 11,004 households along khlongs Lat Phrao and Prem Prachakon, including 80,000 baht compensation for each affected family, according to a government spokesman.
The relocation plan, which was a compromise reached after City Hall announced it would upgrade almost 130 kilometers of canals throughout the capital, is a priority for the military government since homes and shanties encroaching on the waterways was blamed for worsening the massive flooding in 2011, according to Maj. Gen. Sansern Kaewkamnerd.
In January, the Bangkok Metropolitan Administration, or BMA, backed out a deal struck with at least five affected communities by all but eliminating the space designated for them to move. Under the original deal reached in October, the families living along the canals were to give up their homes and relocated some distance away into uniform housing to be erected by the city. The sudden change to widen the width of the canals would leave many families with no place to live.
After some negotiations, one of the community leaders said Tuesday it remains unclear whether BMA will honor the former deal it agreed to with all parties.
"We filed a complaint for them to reconsider making the canal 25 meters wide," said Jamras Klin-ubon, leader of the Lat Prao 45 community group Tuesday as City Hall now marked it as 32-meter instead.
The 4.1 billion baht approved Tuesday would pay for the research, compensation, infrastructure and financing for the new housing.
Workers install a banner Feb. 20 announcing the start of construction along Khlong Lat Phrao in Bangkok. Photo: Jamras Klin-ubon
Related stories:
Hundreds of Khlong Families Face Losing Homes After City Changes Project
1.6 Billion Approved for Khlong Lat Phrao Renovation
In the Way of Progress, Canal Dwellers Surrender Homes to Save Communities