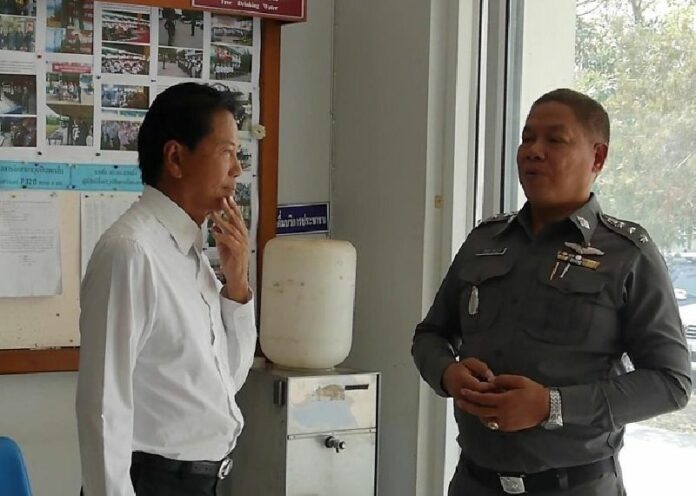 By Teeranai Charuvastra
Staff Reporter
RATCHABURI — A former Democrat MP now aligned with the Pheu Thai Party was charged with animal cruelty for shooting a stray dog to death in Ratchaburi province Monday.
Tawee Kraikupt, 78, admitted he fired five rounds into the female dog in front of a 7-Eleven store but said it was because the dog was biting him. The shooting has gained widespread attention after photos of the incident surfaced on Facebook.
The former politician, elected seven times to represent the province as a former member of the Democrat Party, surrendered to police Tuesday and was allowed to leave the police station without posting bail.
---
Suspected 'Drive-By Dog Shooter' Surrenders to Police
---
"We didn't arrest him. We told him the charge, and we released him," said Pakkaphon Lekthamai, commander of Suang Pueng Police Station. "We didn't arrest him because the offense didn't occur in the full view of law enforcement officials."
Tawee was charged with carrying a firearm into a residential area, discharging a firearm without due cause and animal cruelty. The latter has been a serious criminal offense since November 2014, when the junta-appointed parliament passed Thailand's first law that specifically outlawed animal abuse. It's punishable by up to 40,000 baht fine and two years in prison.
Col. Pakkaphon said Tawee admitted committing the first two offenses but denied the latter.
Section 21 of the law says act of self-defense to protect lives and properties is not considered animal cruelty.
A widely shared photo of the slain street dog taken Monday in Ratchaburi province.
The shooting took place Monday in front of a 7-Eleven store in Suan Pueng district, and photos of the shot stray dog soon appeared on Facebook, sparking outrage among many, particularly animal welfare activists. An animal rights group filed the complaint on behalf of the dead dog on the same day.
After meeting with police yesterday, Tawee told reporters he was walking into the store when three dogs mobbed him and started to bite him. He said he tried to ward off the pack with his hands, and when that failed, he went to his car to get the handgun and shot one of the dogs five times.
Tawee said he was carrying the gun in his car because he was also taking 300,000 baht in cash to deposit at a bank. Pakkaphon said Tawee had a permit to own the firearm.
"I'd like to ask for fairness from society," Tawee said Tuesday. "I was mobbed and bitten by three dogs. I had to defend myself, and I'm sorry for what happened. Please don't use the photos of the dog that I shot dead to punish me."
Pakkaphon said a court appearance for Tawee will be set within 20 days.
Tawee was long associated with the Democrat Party, but following the dissolution of the last sitting Parliament in December 2013, he signed on with the Pheu Thai Party.
Correction: An earlier version of this story misidentified Tawee as a member of the Democrat Party. In fact he switched his allegiance to the Pheu Thai Party in December 2013. We regret the error.
Related Stories:
Woman Jailed for Defenestrating Chihuahua
Months After Death, Frozen Dog Incriminates Russian in Cold Case
Activists Seek Clarity In Animal Cruelty Law
Pattaya Woman Arrested For Exploiting Slow Loris
Teeranai Charuvastra can be reached at [email protected] and @Teeranai_C.