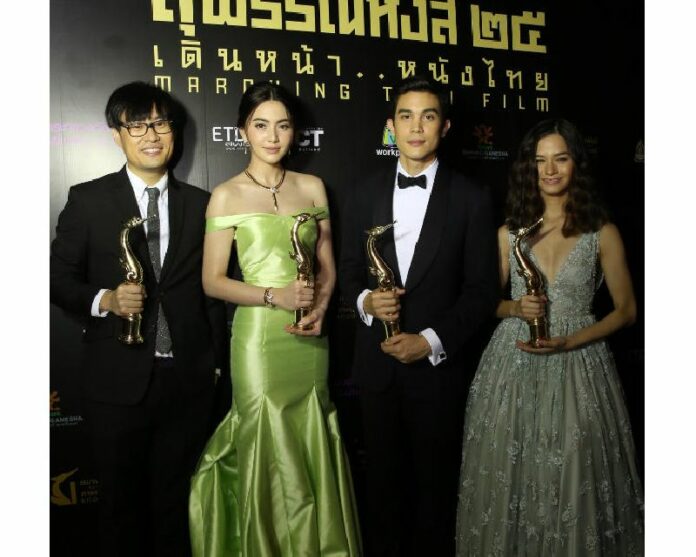 BANGKOK — A movie about a workaholic graphic designer swept the top awards at the movie industry's 25th annual awards show Sunday night.
It was a movie made by top indie director Nawapol Thamrongrattanarit for GTH, the nation's most commercial studio, that walked away with eight Golden Swans at the Subannahongsa Award show held at the KBank Siam Pic-Ganesha theater in Bangkok.
"Freelance," which picked up a social trend in the millenial workforce, won Best Picture and Best Director for Nawapol. The movie was also awarded Golden Swans for Best Screenplay, Best Leading Actor and Actress, Best Supporting Actress, Best Editing and Best Original Score.
Trailing in second was "Snap," a romantic movie grounded in the context of Thailand's political conflict which received awards for Best Art Direction, Best Sound Recording and Mixing, and was co-awarded a Best Screenplay award along with Freelance.
The documentary film "The Songs of Rice" followed with two prizes for Best Cinematography and Best Documentary. The horror-drama genre film "Run Phee" picked up two awards for Best Visual Effects and Best Original Soundtrack.
Sunday night was the 25th edition of the Subannahongsa Awards.
Related stories: