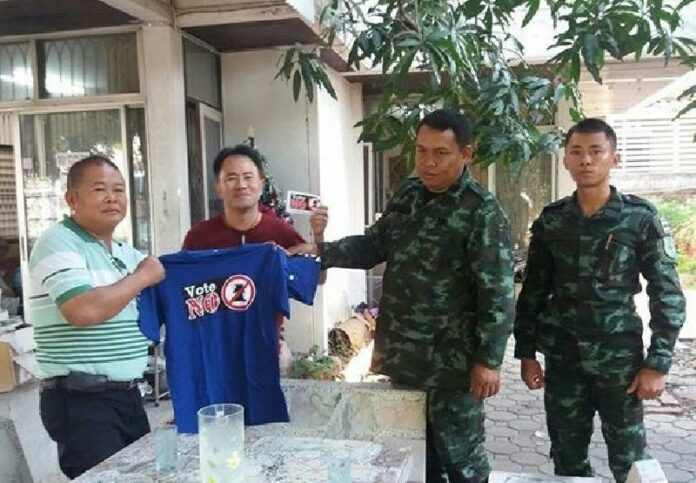 By Pravit Rojanaphruk
Senior Staff Writer
BANGKOK — A man who's become known for his Sunday campaigns against the junta-sponsored draft charter was visited by soldiers and special branch police this afternoon.
After having conducted his fifth straight Sunday protest in the Wongwian Yai area, Anurak Jeantawanich, aka Ford Red Path, wrote just before 5pm on Monday to say two soldiers and a police officer had just visited his home in Samut Prakan province in southeastern metro Bangkok.
---
Protesting With Precision, Anurak Jeantawanich Walks a Tight Legal Path
---
He said the trio politely asked questions but issued no warnings regarding his activities. Anurak didn't specify what questions were asked.
"May I ask friends not to criticize the military or police? This is because they came as friends," he wrote via Facebook. He added that he will continue to campaign every Sunday.
Anurak said he gave four "Vote No" T-shirts to the officers as well as some campaign stickers as memorabilia. Two attempts to reach him by telephone this afternoon were unsuccessful.