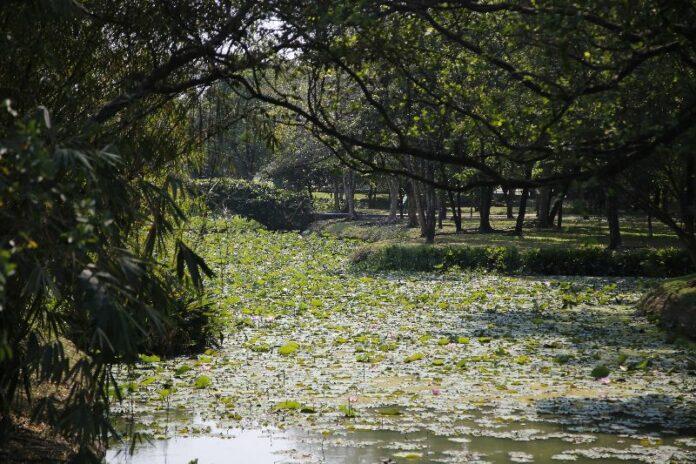 BANGKOK — Thailand's capital is infamously lacking in options for those seeking respite under a verdant canopy and fresh air. There is the "Green Lung" of Bang Krachao, but development is beginning to creep in along with the hordes of weekend warriors pedaling through its swampy causeways.
For a lush and quiet alternative, head just east of downtown behind the Paradise Park mall on Srinakarin Road to find a green and serene expanse of over 80 hectares known as Suan Luang Rama IX, or Rama IX Park.
Best of all, visitors have little competition to enjoying its sprawling grounds. After paying the 10 baht entrance fee and cycling through the gate on a recent visit, I was surprised to be greeted by an empty parking lot.
Two cyclists ride through Suan Luang Rama IX
It's the kind of park that seems to defy Bangkok norms. Staff, clad in perfectly pressed green uniforms, patrol the grounds and keep the trees and hedges neatly trimmed. Don't be surprised by a friendly salute and smile as you pass. There are bins for trash at every turn, and guests don't seem to even think about littering.
And there's something mysterious about the massive plot of greenery that can fool guests into believing they're hundreds of kilometers from Bangkok. It's hard to put your finger on at first, but then it hits: the supreme air quality. The park is so large and so well maintained that it's simply easier to breathe here than elsewhere in Bangkok.
A couple look across the park's expansive lake toward its Ratchamangkala Pavilion
Visitors are likely to walk away with a blissful feeling from Rama IX Park, and they may also pick up some knowledge of the local flora, as most plant species are labeled with plaques denoting their scientific name and origin.
Also find a Chinese garden, an herb garden showcasing plants used in local cuisine, a pretty amazing cactus garden and a hedge maze that may leave its explorers disoriented.
Lilies choke the Chinese garden in Suan Luang Rama IX Park in a recent photo
Forget the Green Lung, head to Rama IX Park for natural tranquility far removed from the city. If you have children they are sure to enjoy the paddle boats on the large lake.
For the car-free, the Rama IX Park can be reached by taxi from Paradise Park Shopping Center. The closest rail line is BTS Udom Suk, from there take a taxi or buses No. 48 then 207 to reach the mall. Find some basic information in English on its non-updated website.