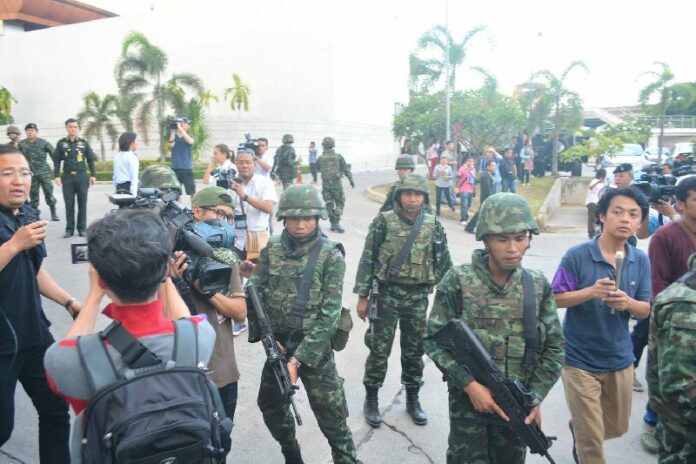 By Pravit Rojanaphruk
Senior Staff Writer
BANGKOK — Former unelected Prime Minister Anand Panyarachun said people should not see coups and their makers in black or white, adding that those in Thailand are different from those in Africa or Latin America.
Anand's comments came in a discussion following his keynote address on Thailand's future, which made no mention of the junta, at an annual dinner organized by Foreign Correspondents' Club of Thailand Wednesday night at the InterContinental Bangkok hotel.
However during in the discussion following his address "In Search of Thailand's New Normal," Anand, 83, ended up defending what he perceived as the unique nature of its military coups.
---
Democratic Governance: Striving for Thailand's New Normal
---
Anand said coups in Thailand are bloodless and nonviolent, adding that Western media often get things wrong when reporting about Thai coups. He said the most recent coup that installed the military regime of Gen. Prayuth Chan-ocha in May 2014 hasn't deterred foreign investment.
"They are not brutal and bloody," Anand said of the 12 "successful" coups in the eight-decades of modern political history. "I am not proud of that, but the damage is relatively insignificant."
At one point Anand was asked by a Singaporean journalist if the current military regime is capable of pushing for reform.
"Just because because they are a military government, it doesn't mean they are stupid or always stupid," he said.
Anand, a two-time prime minister, first became premier after 1991 coup leader Gen. Suchinda Kraprayoon asked him to take up the post. Asked by Khaosod English how the rule of law be maintained if military regimes are abetted by able and educated people such as himself in substituting the rule of law with rule by law and guns, Anand said there are no absolutes of black and white.
"We have to deal with the reality and the idiosyncrasy of the situation. To be working with them, it has nothing to do with the rule of law. I didn't agree with the coup. I have nothing to do with it," Anand said, saying that had he not taken the premiership back in 1991, "It would have been a real disaster."
"I worked with them. I was never under them," Anand said.
He said that while there's no argument about the legitimacy of him taking the position back then, he insisted his actions after assuming the post were for the benefit of the public.
Anand urged people not to blame him for "an act committed by the third party," in reference to the coup led by Suchinda.
Asked by a Thai CNN reporter if he would ever take the job again, Anand was demure.
"Nobody so far has made me an offer that I cannot refuse," he said.
The correspondents' club annual event traditionally draws sitting prime ministers, and junta leader Gen. Prayuth Chan-ocha has reportedly twice declined invitations to speak.
An FCCT aid handling seating for the event said three military officers showed up in the hotel's ballroom uninvited and took photos of the 200 or so people attending the dinner talk. The source also claimed one army general barged in to dine uninvited and without paying the 2,700 baht fee, claiming he had contacted the organizers in advance. The FCCT source said the club had no knowledge of such.
Pravit Rojanaphruk can be reached at [email protected] and @PravitR.
Follow Khaosod English on Facebook and Twitter for news, politics and more from Thailand. To reach Khaosod English about this article or another matter, please contact us by e-mail at [email protected].