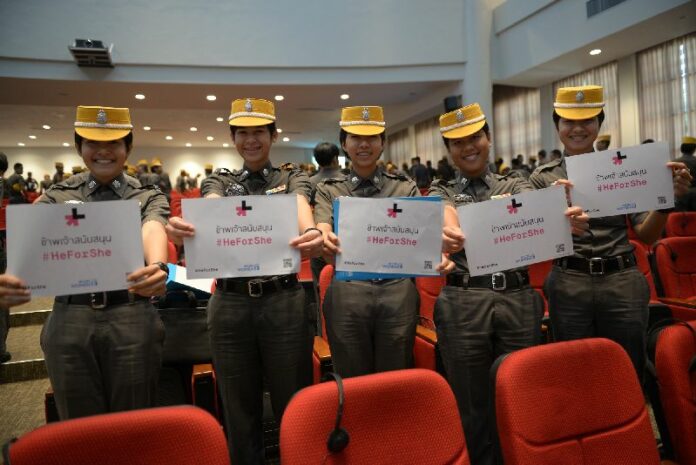 BANGKOK — Thailand will soon have not just its first female police superintendent, but three.
The announcement Tuesday that three women will take over three police stations in the capital is intended to change the long-standing image of the police force as a male-dominated institution, said acting Bangkok Metropolitan Police commander Sanit Mahathavorn, who personally handpicked the women for the jobs.
"It's about equality. Women are strong, too. There have been female world leaders like Margaret Thatcher and Angela Merkel," Gen. Sanit said Wednesday. "So I'd like to give the opportunity."
The three nominated officers are Col. Chatkaew Wanchawee, Col. Darunee Tassana and Col. Paweena Ekkachat. They are slated to head the Makkasan, Phahon Yothin and Somdej Chao Phraya police stations, respectively.
Although Sanit stressed the selection process is not yet finalized, as he's still consulting with other senior officers before the list becomes effective May 1, he believes there should be no problems.
"I think it will go ahead as planned. There's nothing wrong about it. But I still want to listen to all opinions … It's my power to appoint these people, but I want to listen first, I want to gather positive and negative opinions about it," the police commander said.
Chatkaew declined to discuss the news until it was final but said she felt "surprised" and thankful.
"I'm surprised I was nominated, and I'd like to thank the commander for seeing that women are capable of performing this duty, and for giving us this opportunity," Chatkaew said by telephone.
Paweena was unavailable for comment, and Darunee also declined to comment until the promotion was official.
Apart from the historic nomination as one of the first female station chiefs, Chatkaew was also among the first female police investigators, having joined the ranks in 1995.
"There were only 15 of us back then. Now there are more than 300, closer to 400, female investigators around the country," Chatkaew said. "My group was the pioneer project, and the commanders saw that it worked, so they expanded the program."
Men overwhelmingly make up the majority of Thai police force. The Royal Thai Police's anthem, penned in the 1950s, even includes the line: "We're born as men, and we will take pride as Thai police, we will help the people no matter where we are."
Because of the vast gender disparity, the police have occasionally been criticized for insensitive handling of criminal cases, such as sexual assaults, involving women and other genders.
Asked why the police have not previously pushed for broader diversity, Sanit, the Bangkok police chief, blamed a culture of prejudice.
"There's no regulation against it. The law says women and men are equal. But some men have prejudices. They say women aren't up to the job; women can't fight criminals; women can't serve as royal bodyguards for royal visits. But I believe they can do all these things," Sanit said.
Although it's high time for a change, Santi said he doesn't want to rock the boat too much.
"I don't want to speak much about this, because it may affect my predecessors. I just want to do proper things under my watch, that's enough."
Teeranai Charuvastra can be reached at [email protected] and @Teeranai_C.