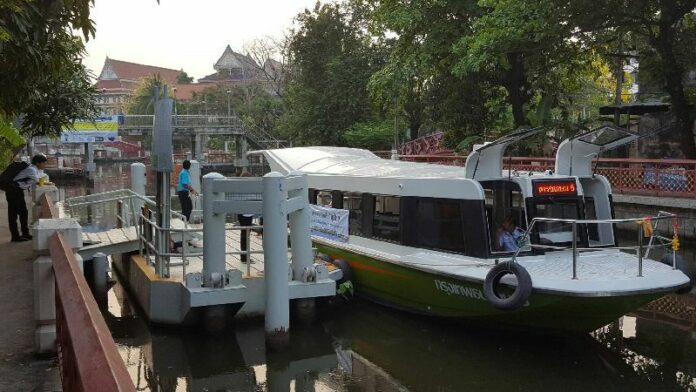 BANGKOK — Six new boats were launched today offering free service this month along Khlong Phasi Charoen in western Bangkok.
The new fiberglass boats have 40 seats and space for 60 people, according to the Transportation Department. They also include wheelchairs for seniors and people with disabilities, CCTV cameras, Wi-Fi service, bicycle space and protection from splashing khlong water.
To ensure safe operation, speeds will be monitored by GPS to make sure they stay under 10kph.
The route runs from the canal's east end near Khlong Bangkok Yai at the Pratunam Phasi Charoen pier to a one located where near BTS Bang Wa just off Ratchaphruek Road.
On weekdays the boats will stop every 20 minutes from 6am until 9am, then resume service 4pm until 7:30pm. For weekends, the boats leave every hour.
The schedule for April is available online and will be made more frequent in May.
Six more boats will begin operation in August, according to the department.
Passengers can ride the boats without charge until the end of April. Fare rates will be announced later.

Photo: Khlong Phasi Charoen Boat Service Project / Facebook

Photo: Khlong Phasi Charoen Boat Service Project / Facebook

Photo: Khlong Phasi Charoen Boat Service Project / Facebook