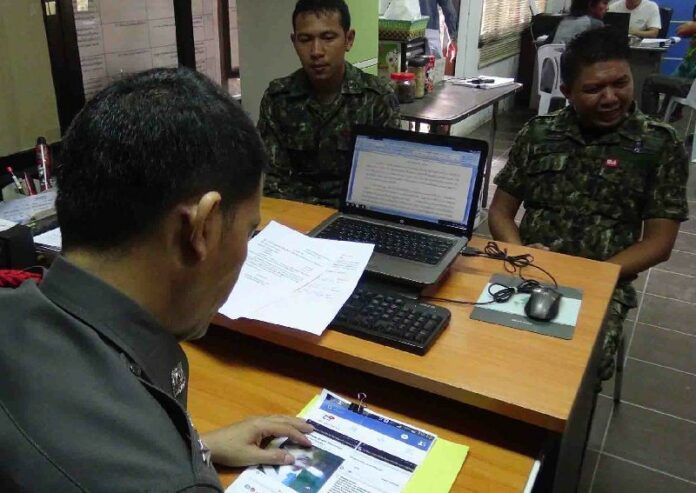 By Teeranai Charuvastra
Staff Reporter
YALA — More than 100 members of a paramilitary force in the southern border province of Yala filed a libel charge against a Facebooker today for allegedly insulting their service.
They said Facebook user Sating Banrao defamed the Territorial Defense Volunteer Corps by calling them stupid, arrogant and so incompetent they were easy targets for separatist militants in the region.
Cpt. Sunthorn Uraikul, an officer at the police station where the volunteers filed their complaint, said Sating had already deactivated his Facebook profile but stressed that investigation will go forward.
"We are collecting evidence, and we will submit it for inspection at the Ministry of Information Communication Technology," Sunthorn said.
According to the police report, Sating say corps members like to pose as soldiers and use their paramilitary status to intimidate local residents. Sating also alleged many such volunteers were targeted by local separatists because they were "stupid" and poorly trained.
Sunthorn said volunteers in other districts were similarly enraged by the post are also filing defamation charges at their respective police stations.
Founded during the Cold War, the defense corps program trains and arms civilians in far-flung provinces to serve as auxiliary forces for purposes ranging from combating Communist insurgents to assisting disaster victims and arresting criminals.
Today authorities also rely on the local volunteer forces to stamp out an Islamic insurgency that has plagued the southern provinces of Yala, Narathiwat and Pattani for over a decade. The bloody campaign has killed more than 6,200 people so far, mostly civilians, according to rights monitors.
Related stories:
Military To Send More Guns, Volunteers To Restive South
4 Southern Men Killed By Soldiers Innocent, Inquiry Reveals
Southern Unrest: 'Drunk' Private Kills 3 Soldiers
Teeranai Charuvastra can be reached at [email protected] and @Teeranai_C.