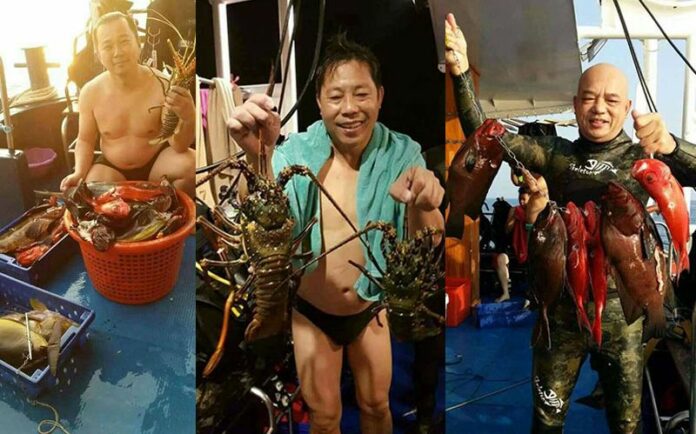 PHANG NGA — A tourist yacht has been banned from the pristine waters off Koh Similan for 30 days after its captain let a group of tourists to fish sea creatures without permission.
Although the fishing itself did not take place within the island's protected national park area, the boat operator ran afoul of the law because it was not permitted to carry any fishing equipment at all, said Nat Kongkesorn, director of Similan National Park.
"They were outside the boundary of the national park, and the boat and the company had proper licenses," Nat said Tuesday. "However, it's registered as a tourist boat, not a fishing boat, so it violates park regulations."
The yacht belongs to a company called Panunee. The incident reportedly took place between March 29 and Saturday.
Photos of the tourists posing with bucketfuls of their hauls, which included lobsters, surfaced on social media during the weekend and attracted a torrent of furious comments. The photos were initially thought to take place inside Similan's protected areas, a renowned and widely beloved attraction.
"This may be the last place that is safe for Thai marine life. Many agencies say they will protect it, but ultimately it turns out like in these photos," a user wrote in a thread called "Chinese Tour Group From Hell" on the popular Pantip webforum. "Is it time for Thai people to come out and defend our own sea? Or are we going to let our resources wither away without doing anything at all?"
Nat said national park officials and marine police took the boat captain to the spot in the sea where the fishing took place, which was concluded beyond the national park area.
According to Nat, the 30-day ban placed on Panunee will cost the company "hundreds of thousands of baht" in damages. He said the coming monsoon season, during which time Similan is off-limits, means that Panunee won't be able to return to the area until October at the earliest.
"This is a tough penalty. It's not just a 500 baht fine," Nat said.
Owner Apologizes
Jakarin Kittisarn, owner of Panunee yacht company, apologized on Facebook for the incident, saying he was "shocked" to learn what had happened.
According to Jakarin, the customers in the controversial photos were Chinese nationals from Hong Kong who did not tell his company beforehand they intended to do any fishing.
"They only notified [the captain] on the boat that they wanted to fish, but we explained that they couldn't do that, because they were inside the national park," Jakarin wrote. "No matter how hard the captain tried to stop them, the customers wouldn't listen. In the end, the customers negotiated with the captain to take them somewhere else outside the national park."
Jakarin said the captain tried to contact him about the situation but could not reach him because he was abroad.
"I understand the feelings of every sea lover out there, because I am one myself," Jakarin wrote. "I have been in this business for decades … I promise that this kind of incident will never happen again on Panunee boat."
Related stories:
Video of 'Greedy' Chinese Tourists Was From 2014, Restaurant Says
Authorities Mull Limiting Visitors to Similan Islands
No Royal Name for Southern Island, Official Says
Thailand to Expand Etiquette Brief as Chinese Tourists Put Foot in it
Teeranai Charuvastra can be reached at [email protected] and @Teeranai_C.