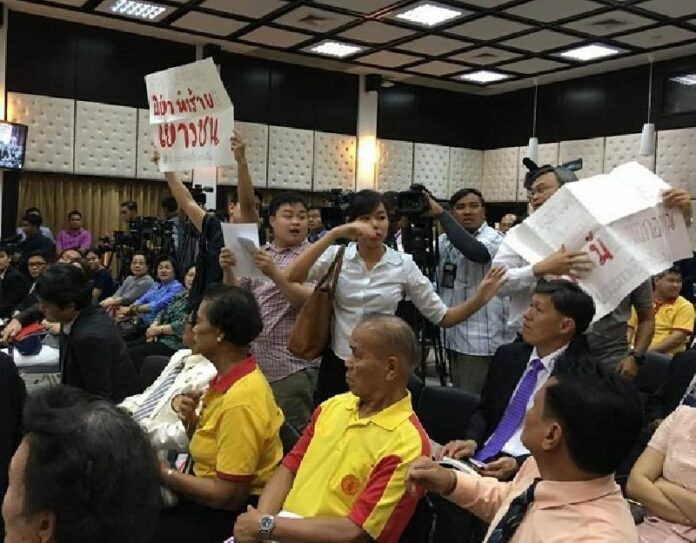 BANGKOK — A little chaos erupted this morning when three groups of activists separately interrupted a speech by the drafter-in-chief of the proposed constitution.
Three groups of student activists were led out of a conference room after they successively interrupted Meechai Ruchupan, chairman of the junta appointed Constitution Drafting Committee, at Thammasat University's Rangsit campus on Tuesday.
"I just started reading the first from 10 paragraphs of our statement when my friends and I were taken out by university staff," said Parit "Penguin" Chiwarak, the 17-year-old leader of Education for the Liberation of Siam, whose group was the first to protest.
Just when Meechai started to deliver his speech, Parit and two friends unfurled a banner reading "Don't hurt the youth" and started reading their statement calling for the reinstatement of free education through Grade 12, a right stripped from the final draft of the charter expected to go before voters Aug. 7.
Meechai was speaking at the university's Institute of East Asian Studies to speak on the occasion of a memorial day for former Prime Minister Sanya Dharmasakti.
Though they did not succeed in delivering their message to Meechai, Parit said he passed the letter through security guards in hope it would reach him.
After the three education activists were removed, the talk was interrupted again by three university students members of the League of Liberal Thammasat for Democracy, who stepped in front of the stage in masks of Prime Minister Prayuth Chan-ocha with a banner saying "Vote No" to protest the draft constitution.
That wasn't all. After Meechai concluded his talk, well-known activist Sirawith "Ja New" Seritiwat and several of his counterparts appeared holding a protest banner and tried to ask Meechai questions. They were quickly swept out by the university staffs.
The group said it was campaigning against the draft charter because it would allow the junta to perpetuate its hold on power long after a civilian government is installed.
Parit said he will continue to campaign to raise awareness about the draft charter before the referendum.
"I would like to ask Ajarn Meechai to be more respectful to the people's voice when working on the law applies to everyone as the constitution," said the Grade 11 student. "The power of issuing the law should not be held by a small group of people."
Following the chaos, 78-year-old Meechai told reporters the protest was the normal exercise of rights as long as they were not doing it at the behest of others.
"Those who disagree can also express their opinion in the place and time that they find suitable," he said.
Related stories:
Charter Draft Second Look: Full Education No Longer Guaranteed (Analysis)
Democrat Slams 3 Years of Education Written Out of Constitution