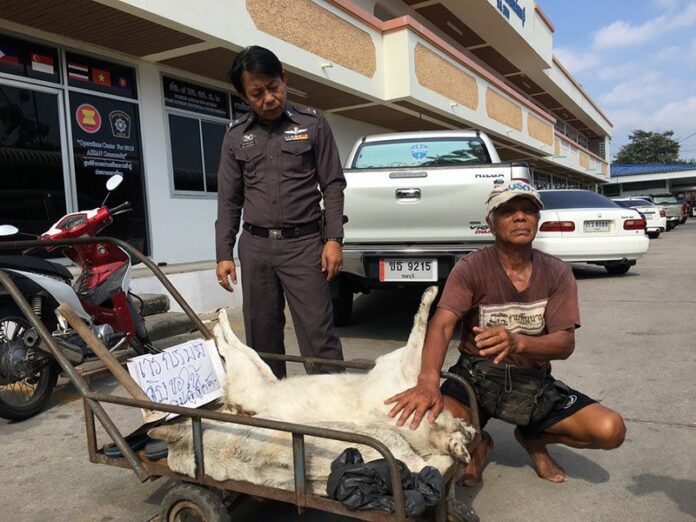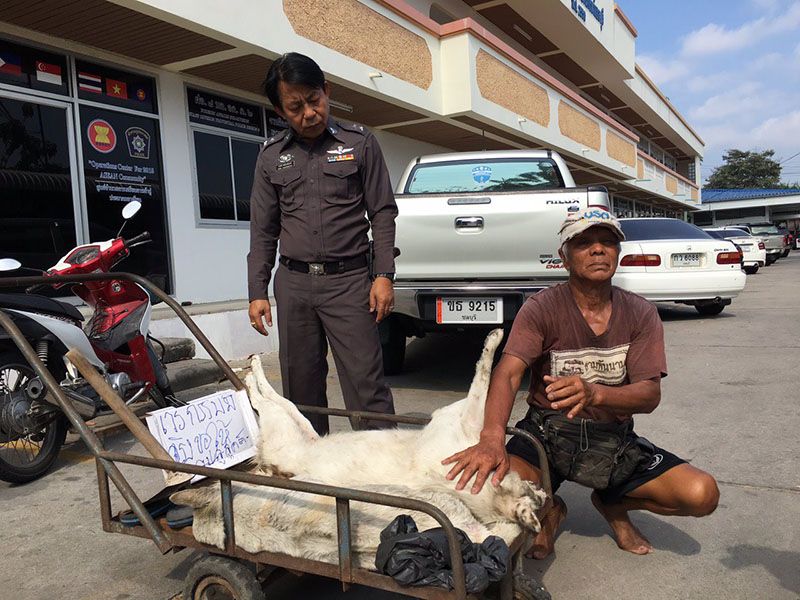 CHONBURI — A 65-year-old Chonburi man paraded two dead dogs – poisoned, he said – around city center today to protest their deaths and call on karma to punish the perpetrator.
The two female dogs, Khao Yai (big white) and Khao Lek (small white), were found dead Friday morning next to pools of their bloody vomit, which Niwat Chuansan said convinced him they had been poisoned.
Although Niwat said he's aware of the animal cruelty act, he did not file charges because he believed it would be futile, as the investigation would not go anywhere. A police officer told him as much when he arrived at the police station Friday morning with the two dead dogs in a push cart.
"I think it would be very difficult to [track down the perpetrator]," Niwat said. "A policeman also told me it would be difficult. So, if I press charge, it would just be a waste of their time, and a waste of their paper."
But Niwat hopes that what goes around will come around, and the cosmic force of karma will punish the wrongdoer.
"I want all the residents to jointly curse the perpetrator, because I believe that karma will catch up with that person faster than the law," he said.
Animal abuse is punishable by up to a 40,000 baht fine and two years in prison under the 2014 animal protection law, which covers killing animals in a cruel or "unnecessarily painful" way.
According to Niwat, someone poisoned dog food and left it in his community last night in an apparent attempt to kill stray dogs in the area. Five dogs took the bait, and three died, including one that had an owner. The other dogs survived but remain in critical condition, he said.
Niwat said he and his neighbors suspect that another neighbor might be behind the poisoning, because the man berated Niwat angrily two days ago for feeding the strays. He declined to name the person.
"He was yelling at me just two days ago. People around there have also told me those dogs would soon be dead if they stay here. And it really happened," Niwat said.
His neighbor who owned one of the dead dogs also declined to press charge because they don't want to create conflict with their neighbors, Niwat added.
He defended caring for Khao Yai and Khao Lek, saying they were kind and never caused trouble for anyone. Niwat pledged to continue to care for the rest of the stray dogs in the area.
"They were like ladies," Niwat said. "I am feeling disheartened about this, but if I am down, who will take care of the dogs?"
Related stories:
Drive-By Dog Shooter Gets Suspended Sentence
Pheu Thai Politico Insists He Shot Dog in Self-Defense
Soldiers, Police Arrest Condominium Manager for Beating Dog
Woman Jailed for Defenestrating Chihuahua
Teeranai Charuvastra can be reached at [email protected] and @Teeranai_C.
Follow Khaosod English on Facebook and Twitter for news, politics and more from Thailand. To reach Khaosod English about this article or another matter, please contact us by e-mail at [email protected].