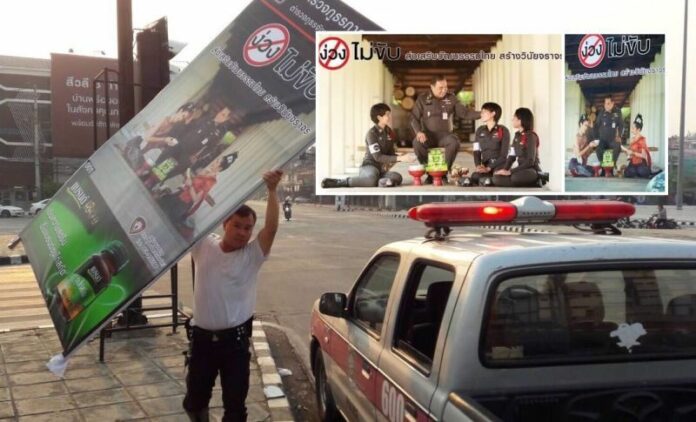 CHIANG MAI — Posters campaigning for safe driving during the Songkran holidays issued by Chiang Mai police were taken away on Sunday after receiving criticism for being sexist.
Posters put up around Chiang Mai city since Friday to promote road safety during Songkran were removed after they were criticized by netizens and gender activists.
The two sets of billboards feature the chief of Police Region 5 in Chiang Mai city Lt.Gen. Thanitsak Theerasawat. In one poster Thanitsak is sitting on a bench with two women clad in traditional Thai costumes sitting at his feet. Another poster features the same police chief with three woman police officers kneeling beside him.
Both billboard campaigns read "No drowsy driving. Promote Thai culture and traffic discipline" and show Thanitsak touching the women while receiving a blessing from them.
"It obviously shows gender inequality. Plus, the billboards didn't convey any messages," gender rights activist Wipa Daomanee said by phone Monday morning.
"Why do the younger people have to be only women? If they want to promote a respect for seniority in Thai culture, they could've portrayed grandparents with their grandchildren," the independent scholar said.

Chiang Mai Traffic Police apologized online on Sunday for the 'inappropriate' depictions while Chiang Mai Provincial Police explained on their Facebook page on the same day that the signs were full with good intentions. The provincial police threatened those who have criticized the signboards.
"[We] intended to campaign to reduce road accidents and preserve revered Thai culture — respecting seniority. However, the signs have been posted and shared online which caused a lot of misunderstanding towards our objective," the post reads. "[We're] asking those to 'stop doing such behavior' because some comments were found distorting our intention and violating the Computer Crime Act and Criminal Code."

Related stories
Breaking the Brass Ceiling: First Women Tapped to Top Police Posts