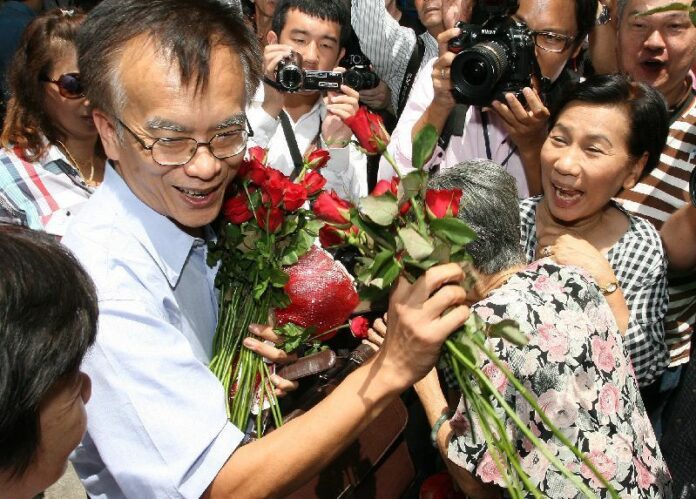 By Pravit Rojanaphruk
Senior Staff Writer
BANGKOK — The Central Administrative Court today ruled that the dismissal of exiled Thammasat University history professor Somsak Jeamteerasakul by his employer was unlawful, thus reinstating Somsak's status as a lecturer at Thammasat.
The court ruled that Somsak, 57, had no intention to abandon his duties, therefore his dismissal was unlawful.
Somsak, known for his anti-junta and critical stance on the monarchy, fled to France in the aftermath of the May 2014 coup. He maintains a large following on Facebook. His lawyer, Pawinee Chumsri of Thai Lawyers for Human Rights Group told Khaosod English that it's unlikely he would return to Thailand anytime soon, however.
"Somsak has received asylum seeker status [in France] as his life [in Thailand] is in danger," said Pawinee, referring to a threat against Somsak's life before the coup. Somsak's refusal to report himself to the National Council for Peace and Order (NCPO) soon after the coup carries a two-year maximum prison term and there is also a lese majeste case against him for a 2013 television interview that's still sitting at the Office of the Attorney General.
Pawinee, said the best Somsak can hope for is that the university to accepts his resignation, a move that would offer Somsak some financial benefit. Somsak submitted a resignation letter to Thammasat on 19 December 2014 but the university claimed that by then he was already being investigated for his failure to report to work after the coup and they resolved to fire him.
To be valid under university regulations any resignation letter must have been filed 15 days prior to his departure.
It's unclear if the university would lodge an appeal to the Supreme Administrative Court, said Pawinee. Pawinee said unfortunately, the court's ruling today did not take Somsak's precarious situation into consideration as a factor for Somsak not being able to return to Thailand to teach.
Somsak could not be reached for comment at the time of publication owing to the time difference between France and Thailand.
Related stories:
Ruling in Somsak Jeam v. Thammasat Shelved Indefinitely
Thammasat Dismissed Somsak Jeam Unfairly, Judge Agrees
Monarchy Critic Faces Charge for 2013 Interview
Pravit Rojanaphruk can be reached at [email protected] and @PravitR.