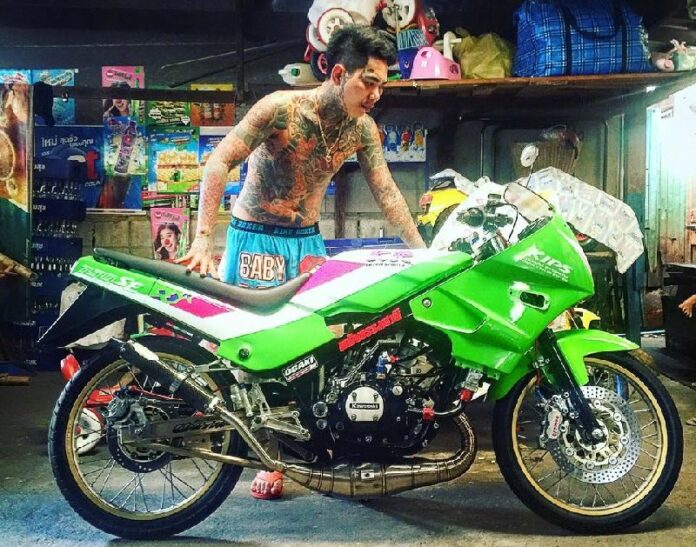 BANGKOK — An internet celebrity known as Nae Wat Dao reportedly shot himself this morning during a streaming broadcast on Facebook Live, leaving netizens to speculate whether it was an attempted suicide or internet hoax.
Makharin Phumsaart, aka Nae Wat Dao, was said to be in stable condition at Siriraj Hospital according to a friend after he shot himself during the live broadcast streamed via his personal Facebook account followed by more than 1 million people Saturday morning. The video is no longer available online.
"He shot himself in his right temple," said friend Wannapa Pongson in a video posted on Facebook. "But he is now safe." Wannapa said Nae's attempted suicide stemmed from personal problems.
A 25-year-old former street gangster, Nae Wat Dao first became known by the public in a video challenge to a gang rival shared via SocialCam in 2012. He later claimed to have left the criminal life behind and became a popular internet figure for his "gangster" persona. As with many internet celebrities in Thailand, he leveraged his online platform to sell skin cream.
His wife, Chanikarn Kaewsingh, briefly posted to Facebook today saying she was on her way back to Bangkok to see him at the hospital.
Prior to the live broadcast, Nae posted photos of his son on Facebook, saying he was running out of energy.
After word spread, a lot of encouragement as well as doubts were expressed online. While many netizens expressed support for the internet personality and his family, others questioned whether the incident was actually a publicity stunt, suggesting it was implausible to survive such a wound.
"If he shot right into his forehead, he was not supposed to be okay," wrote Facebook user Eye Sirichonlada. "If he really wanted to die, he wouldn't survive. He is the first person I have ever heard of shooting his own temple and remaining alive."
Facebook Live is a new service recently launched by Facebook with availability limited to media organizations and users with large followings. It allows them to stream live video from their smartphones to audiences.
A still image from his streaming broadcast on Facebook Live on Wednesday.