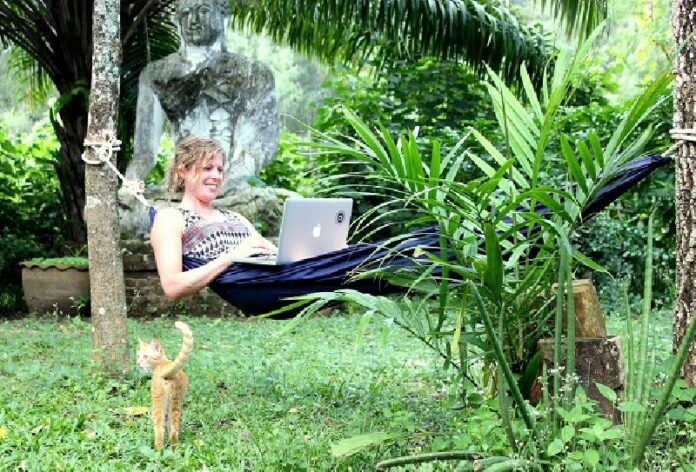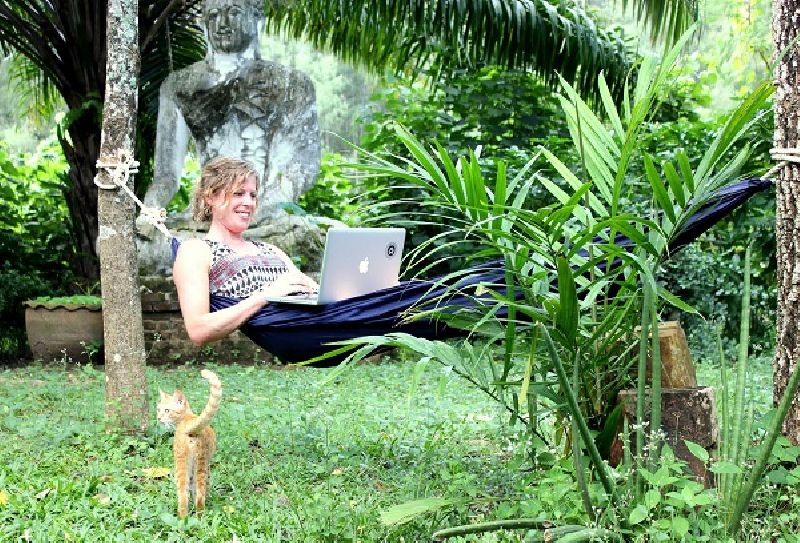 BANGKOK — On Aline Dahmen's first evening in Bangkok, a 58-year-old Japanese man in her dinner group could not conceal his surprise at the fact she had no idea where life would take her next.
"You have no plan, how can it be possible?" he asked the 22-year-old German as he taught her how to use chopsticks.
For the man, who had recently bought a condo in the capital as part of his carefully planned retirement, the idea of hopping around the world without a plan was unimaginable.
But for Dahmen and others young enough to have never known an unwired world, the idea is just simple: travel and see as much as Wi-Fi allows.
Meet the Digital Nomads, a location-independent workforce for whom work and travel are no longer mutually exclusive. Whereas leaving home to live abroad once required a trust fund or getting weighed down by a steady job, a new generation is making a living while traveling the world.
And most often, they're coming to Thailand. At Nomad List, a source of information and community for digital nomads, many of the best places to live and work remotely, or just go on a "jobbatical," are in Thailand. Chiang Mai, Bangkok, Phuket, Koh Samui and Koh Lanta are among the world's top destinations.
Most nomads work in virtual-friendly professions such as digital marketing, blogging or online education. Some come from traditional fields such as law or medicine but have found a way to move their services online. As varied as the working hours they keep, they sit down to work in everything from specially designed coworking spaces in Chiang Mai to the beaches of Koh Lanta.
Aline Dahmen, a digitally empowered member of the hypermobile workforce, is schooled in chopstick use by a fellow nomad's client on her first evening this past February in Bangkok.
Traveling from snowbound February winter in Germany, Dahmen landed in the heat of Bangkok some days before she would join DNX, a global conference for digital nomads now in its second year.
Within a few hours she discovered the perfect spot with free Wi-Fi and affordable coffee: Thailand Creative & Design Center atop the Emporium shopping mall.
Dahmen, who recently took up the nomadic lifestyle, once had more conventional goals.
"I also saw my future having kids, having a partner and having a normal job, but then the digital nomad concept completely changed that," she said. "My life shouldn't fit to my job … my job should fit to my life."
As long as there is a link to the net, Dahmen believes her job and many others can be done without sitting next to each other, or even being on the same continent. Dahmen works as a virtual assistant for an online course, managing newsletters for the program.
"We are really living in the modern time that everyone has internet access," she said. "I actually just published a post at the airport."
Aline Dahmen, a 22-year-old German, found a place to work at the cafe of Thailand Creative & Design Center the first evening she arrived in Bangkok.
Digital Dream or Mirage?
According to the sales pitch, cutting all cords and hitting the road is a viable way for the average wage rat to become an international playperson.
What's unclear is how much of the dream being shouted – and sold – online is practical and how much is hype. Sites such as Digital Nomad Academy talk about "building a network" to achieve "accelerated personal growth and self-actualization," the kind of language normally found in multi-level marketing. It appears to sell access to a message board and video clips for USD$47 (about 1,700 baht) per month.
The buzz on social media does make the lifestyle seem more glamorous than it is, said a Californian writer who left a Bangkok job to rove Asia for the past 18 months.
"As a freelance journalist, I spend a lot of time schlepping a heavy backpack between hostels and limiting my time in expensive cities like Tokyo," Natalie B. Compton said. "It's exciting but exhausting, definitely not something I can keep up forever, at least on my current income."
Which careers can best support a life nomadic? IT workers, programmers and other "tech guys," Compton said.
Marcus Meurer and Felicia Hargarten, the poster couple for the digital nomad lifestyle, at a condo they rented near BTS Phaya Thai during their March stay in Bangkok .
But there are those for whom the dream is working. Marcus Meurer and Felicia Hargarten quit their jobs and came to Thailand three years ago to figure out a way to make money while traveling.
The 30-something couple recently returned to spend a few weeks training Muay Thai on Phuket before flying to Bangkok for an international conference they organized last month.
A year after holding the first gathering of the nomad tribes in their native Germany, why Bangkok?
"It's a very big hub for digital nomads in Southeast Asia," Hargarten said."And it has good visa rules for many nationalities."
Meurer said it offers a good balance of what makes the lifestyle attractive.
"The infrastructure is very good," he agreed. "The internet is quite fast and reliable. People are very friendly and nice and welcoming."
Apart from offering reliable basic infrastructure at an appealing cost, Thailand, the pair agreed, seems much safer than other parts of the world.
Stability was also a motivation for a tech entrepreneur who wrote code in Bangkok for about 12 years.
"For a 22-year-old," Karsten Aichholz said, "Thailand seemed to have a general climate attractive for investment, and never any history of anti-foreigner riots."
Karsten Aichholz, seen here in a Bangkok Starbucks, considers himself a slow-moving nomad who spends nine months in Bangkok to manage his team of game developers.
He attributed it to structural advantages at the right price point.
"You have a very dependable legal system compared to other neighboring countries," he said. "It's not Singapore; it's not Hong Kong. But it also doesn't have the costs you have in Singapore."
The 34-year-old German now considers himself a very "slow-moving" nomad who spends nine months a year running a game developer shop in the Thai capital.
Through his years in the business, Aichholz met a lot of people who abandoned homes and job opportunities at big companies to live and work remotely in a tropical climate not for better pay but to serve their top priority – lifestyle.
"They will probably do better if they just go to Silicon Valley, especially the tech experts," he said. "It's something Silicon Valley cannot offer – they cannot change the weather."
Bureaucracy Behind the Times
While nomads have embraced Thailand as an ideal location, the kingdom isn't sure what to make of them.
In late 2014, dozens of digital nomads were typing away at Punspace, a coworking space in Chiang Mai, when 20 police officers stormed in and demanded they report to the immigration office.
The incident turned out to mostly be a misunderstanding. Police had no notion of the nomad concept and thought they were all illegally employed by Punspace, where people can sit at a desk and use the internet for 100 baht to 200 baht per day.
Two years later, authorities' esteem for the untethered workforce is still low. Amarit Charoenphan, founder of the nation's first coworking space Hubba, said the country holds a negative view of foreigners who arrive without deep pockets.
"We need to understand that they did not do anything illegal," said the 29-year-old entrepreneur. "They do not steal any jobs from people here. It is no different from a foreigner just checking his email inside an internet cafe."
Though nomads may not immediately inject as much money into the economy as luxury travelers, both Amarit and Aichholz said they bring a lot of know-how which can seed longer-term gains.
"If they found a company, it can turn into a success for the country," Amarit said. "In the United States, 43 percent of the billion-dollar Silicon Valley startups are not formed by Americans, but by immigrants or their children."
Aichholz said he has trained more than 40 Thai programmers during the past decade, some of whom have gone on to start their own businesses. Therefore, he believes Thailand should consider easing restrictions for those who could contribute to local economic capacity.
"You can get an entrepreneur at a bargain if you can make it easier for them to stay," he said.