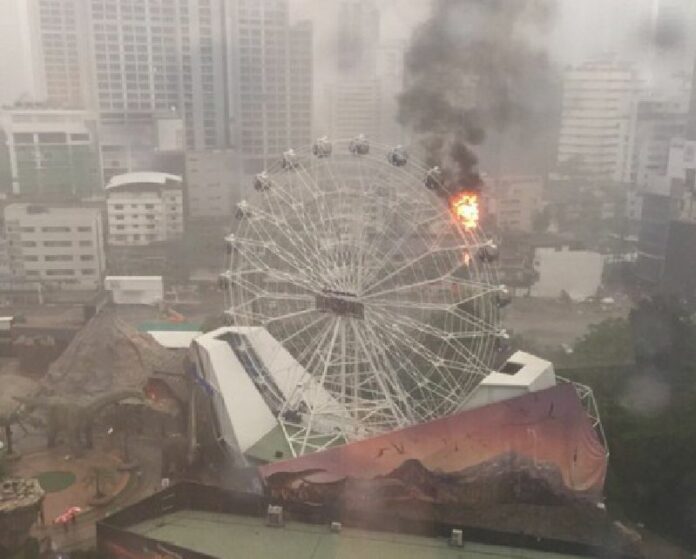 By Teeranai Charuvastra
Staff Reporter
BANGKOK — A dinosaur-themed amusement park in Bangkok was forced to close down this afternoon by a fire that broke out on its giant ferris wheel.
No injury was reported in the incident which happened at around 3pm Saturday at Dinosaur Planet, which opened just a month ago. The fire appeared to have been extinguished.
It was unclear yet whether the fire was related to a powerful thunderstorm which erupted earlier today, but there were reports of power outages and transformers exploding in the same neighborhood.
An operator at Bangkok Fire and Rescue Department said cause of the fire is not yet determined, adding that there is no report of any casualties so far.

Calls to Dinosaur Planet went unanswered.
According to reports on social media, the park briefly re-opened after the fire was put out, but the decision was later reversed and people were asked to leave.
Local media also say that a rollercoaster got stuck while in operation at Dreamworld, another amusement park in Bangkok's northern suburb. All passengers were safely evacuated.
Related stories:
Dinosaurs Come to Life at Bangkok's Own Jurassic Park
Uninsured 'Fun Fair' Shut Down in Korat
Teeranai Charuvastra can be reached at [email protected] and @Teeranai_C.