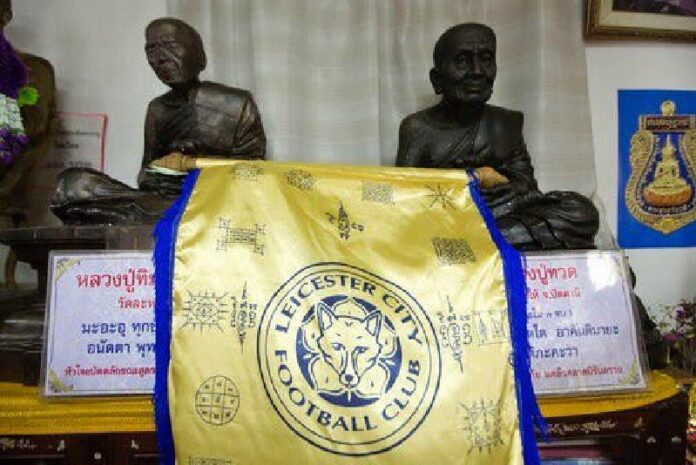 BANGKOK — The Thai owners of Premier League champion Leicester City aim to keep the victorious squad together despite expectations that many players will be lured away by lucrative offers from richer clubs.
Aiyawatt Srivaddhanaprabha, son of club chairman Vichai Srivaddhanaprabha, attended Monday's game between Chelsea and Tottenham which ended in a draw, meaning Leicester cannot be overtaken for the title.
Aiyawatt, speaking on television, said "we are not selling anyone."
"We are not a team who produces players to be developed later by other teams." Aiyawatt said. "All players want to stay and keep on fighting together to see how far they can go. So selling players is not on our agenda."
Star Foxes players such as midfielders Riyad Mahrez and N'Golo Kante, striker Jamie Vardy and goalkeeper Kasper Schmeichel are expected to attract big-money offers from rival clubs, but the revenue from competing in the Champions League next season will aid Leicester's bid to retain them.
Leicester was a 5000-1 outsider at the start of the English top-flight competition, and Aiyawatt said when his father Vichai — head of duty free company King Power — invested in the club six years ago, winning the title "was not what we dared to dream."
"He was already proud of being the owner of an English Premier League team. Now he has owned an English Premier League Champion team, he can't be prouder," Aiyawatt said of his father.
"I have to say on his behalf that he has managed the club with his heart and he just hopes to gain a reputation for the country."
Aiyawatt said that when the trophy is presented to Leicester's squad at this weekend's home game, it will be decorated with ribbons of blue and yellow; blue as Leicester's color, and yellow as the color of Thailand's royal house.
He said there are plans to bring the Leicester City team out to Thailand for a visit during the offseason, even though a similar visit last year resulted in some youth team players involved in a scandal which contributed to the firing of manager Nigel Pearson.
"They are coming to Thailand very, very soon," Aiyawatt said. "This is unbelievable. Thai people should be given a lot of credit as all players acknowledge how much support they have been given."
Story: Associated Press
Related stories:
Leicester Wins Premier League for First Time
Thai Volleyballers Chase Leicester Success to Same Magic Monk
To reach us about this article or another matter, please contact us by e-mail at: [email protected].