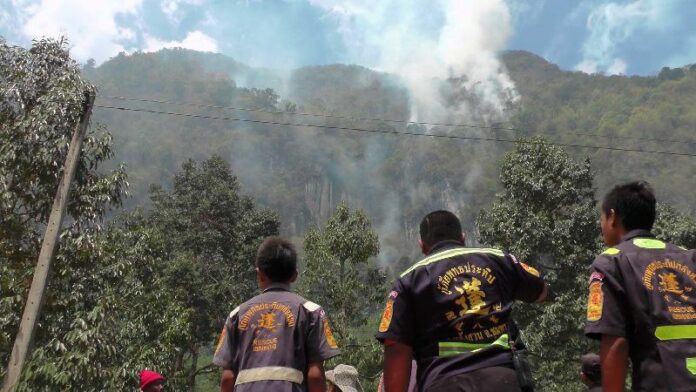 CHUMPHON — A wildfire has been burning out of control for two days on a limestone mountain in the south of Thailand, one of many fires in a season of record temperatures worsened by severe drought.
Since about 2pm on Sunday, the forest fire which started on Khao Thalu has gutted over 500 rai (80 hectares) of forest in three subdistricts — Khao Thalu, Khao Kai and Na Sak — local official Tiwa Panchan said Tuesday afternoon.
Although no injuries or deaths have been reported, Tiwa said the giant blaze has killed wildlife, destroyed a large swath of forest and local agriculture.
He said the sizzling heat and forest foragers were to blame for the fire.
It's among a number of wildfires which have sprung up across the country, according to the nation's top forest fire official, which were caused by an accumulation of fuel, and fires set by foragers.
While the severe drought and water shortage are not directly responsible, Uthon Sutthinimit said they have intensified fire conditions.
On Sunday, a massive wildfire burned for 12 hours in Chiang Mai's Doi Suthep-Pui National Park.
Last week firefighters had difficulty bringing a large fire which broke out in a Narathiwat province swamp forest under control. That fire is believed to have destroyed nearly 2,000 rai (320 hectares) in total, and brought unhealthy levels of smoke to many living in the area.
"Many locals living at and near the hills have been affected because of the serious smoke haze," Uthon said.
More than 30 families have been evacuated from their homes in Narathiwat's Yi-ngo district, Uthon said.
The chief of the Forest Fire Control Division said he just arrived at the southernmost province's Su-ngai Padi district, where the fire has destroyed around 800 rai (128 hectares).
An officer works to extinguish flames Tuesday in Narathiwat province's Yi-ngo district
Related stories:
Brush Fire Sends Smoke Over Bangkok
Massive Chiang Mai Fire Likely Caused by Humans
Huge Forest Fire in Chiang Mai
Chayanit Itthipongmaetee can be reached at [email protected] and @chayaniti92.
Follow Khaosod English on Facebook and Twitter for news, politics and more from Thailand. To reach Khaosod English about this article or another matter, please contact us by e-mail at [email protected].