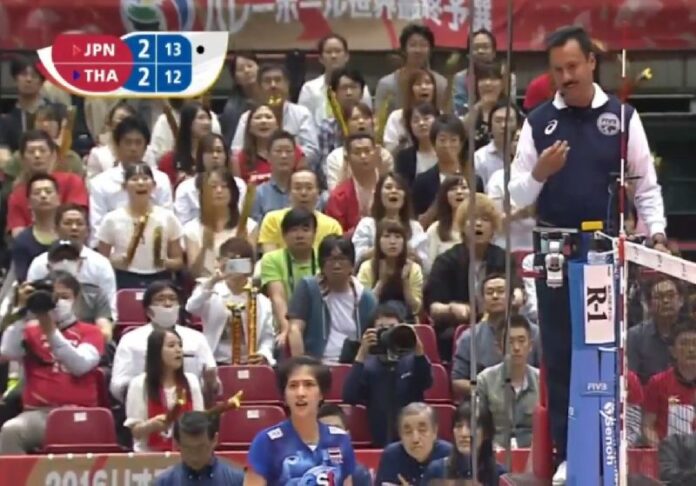 BANGKOK — Thai volleyball fans were left seething with anger after the national women's team seemed to snatch defeat from the jaws of victory last night, a loss many attributed to underhandedness by host Japan.
The focus of the rage roiling through social media was an incident during the final set of the Olympics qualifier, which began with Thai team was trailing at 12-13. Thailand called for a timeout to swap a player, but the signal didn't reach the referee.
After the players protested, the referee, Mexican national Luis Gerardo Macias, ruled it an unnecessary challenge intended to delay the match and awarded one point to Japan. Visibly demoralized, the Thais went on to lose the set 13-15, leaving the team one set shy of victory.
Head coach Kiattipong Radchatagriengkai told The Nation the timeout didn't reach Maclas because his tablet computer provided by the Japanese suddenly malfunctioned. He said the tablets haven't worked right from the start.
Thai coach Kiattipong Radchatagriengkai facepalms after he learns his team was penalized Wednesday night in Tokyo.
The match was broadcast live in Thailand, where the response was immediate.
"Just watched Japan – Thailand, women Volleyball Q for Rio. What a disgrace to see that Thailand is not allowed to switch a player at the end of 4 set cause the 'Technology' did not work … I call it CHEATING," wrote user John Wallander on the International Volleyball Federation's page, which has been flooded with negative comments.
Per tradition, many Facebook users changed their profile pictures to protest the match's outcome and perceived cheating by the Japanese.
"This is not the first time, but we'd like to ask this to be the last time," wrote the admin of a Thai volleyball fan page. "Thanks to all the athletes on this journey. You have done your best."
Apart from the rage online, several hashtags were trending on Twitter by Thursday morning. Unsurprisingly, they were filled with tweets condemning the Japanese staff.
"I thought #japan is one of the most honest country in the world? But from today #VolleyballOlympics2016 match, I think I change my mind," Prin Puyakul tweeted.
According to a report on The Nation, Thai team manager Pisit Nuttee will file an appeal to the International Volleyball Federation and the match organizers in Japan to protest the signal failure.
Japan holds the rights to the 2020 games.
Relates stories:
Thai Volleyballers Chase Leicester Success to Same Magic Monk
Japan's Olympics Minister Says Tokyo's 2020 Bid Was Clean