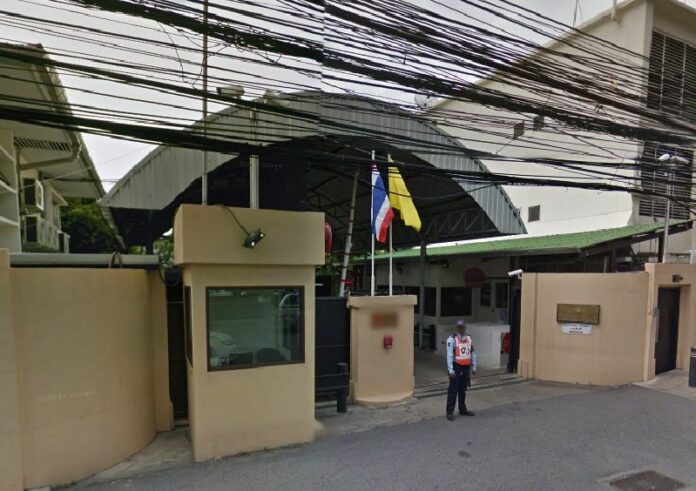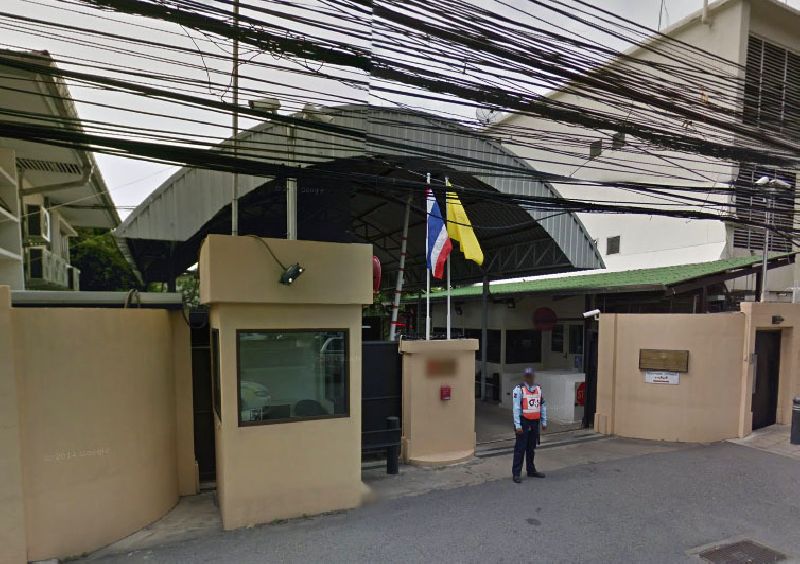 By Khaosod English contributor Cole Pennington
BANGKOK — I walked up to an unassuming door on a Sathon Road corner, marked only by a gold plaque inscribed with "JUSMAGTHAI," pushed the buzzer and waited. I was expecting a stern voice over the intercom ordering me to state my rank and file, but instead the door buzzed open.
That led to a fenced-in area, a metal detector and another door.  Surely this couldn't be a bar serving craft beer, right? It felt more like a high-security prison.
I handed over my ID to a security guard, clipped on a visitors badge and headed inside the government compound to find out.
But first, some background.
In 1950, the United States set up a Military Assistance Advisory Group in Bangkok in order to strengthen a military partnership, and Thailand would become a key ally during the rise of a Communist-backed insurgency in what was then South Vietnam.
Three years after its inception, the unit was renamed JUSMAG Thai (Joint U.S. Military Advisory Group) and was staffed by both American and Thai personnel. It become the center of all U.S. military operations during its entanglement in Vietnam; as many as 50,000 U.S. military personnel were active in the kingdom during this time.
By the time the war wound down in 1976, the American military presence fell from tens of thousands to hundreds as G.I.s were ordered home. But JUSMAG Thai remained open, and operations are still very much active to this day.
While important military and diplomatic missions are planned and carried out at this compound on Sathorn Road, I visited the high-security facility with a mission of my own: Get a nice buzz from tax-free craft beers that can't be found anywhere else in the kingdom.
It pains me to publicize this little-known joint, but with the price of craft beer in Bangkok soaring into the stratosphere, JUSMAG Thai offers beer at prices guaranteed to rekindle US-Thai affections.
It's just a few bucks – and by that I mean 100 baht – for a Flying Dog Doggie Style Pale Ale, or a Redhook ESB, and sometimes, if you're lucky, they'll stock Sierra Nevada, an enduring favorite of hardcore craft beer enthusiasts.
Sierra Nevada is America's largest privately-held craft brewery and the demand is high enough inside the country it rarely leaves. I've seen Sierra Nevada bottles in China and Taiwan, but outside JUSMAG Thai, Southeast Asia hasn't gotten the pine-powered hop bomb yet. It's worth the trip alone for this refreshing beer.
Inside the JUSMAG Thai compound is Aderholt's Annex, a small bar seemingly trapped in time, named after legendary American airman Brig. Gen. Harry "Heine" Aderholt, who took command of JUSMAG Thai in 1975 and was the last U.S. General to leave Southeast Asia.
The Annex is decorated with wood tables, a Mahogany-colored bar that's developed a nice patina, and plaques dedicated to military personnel who have served the Unites States, Thailand and Canada throughout the organization's over 50-year history. It's a far cry from the ubercool, blue-steel vibes of Thong Lor or Ekkamai, but there's something interesting about drinking inside a government compound among war veterans and embassy employees.
I wandered over to the self-serve fridge and grabbed a bottle with a familiar label slapped on it: Flying Dog Doggie Style Pale Ale. This is a staple beer found pouring in about half of the popular bars up and down America's East Coast. For American expats, Aderholt's Annex will offer a taste of home.
The refreshing, hoppy bite of the beer was familiar, but the vibe at JUSMAG was not. It's not an easy place for a civilian to fit in. I felt like I needed a distinguished service record to pull up a stool and drink under plaques of those who left their country to fight in the same far-off lands I was now delighted to discover tax-free beer.

It's easy to picture ole' Heinie himself propped up on the bar, telling tales of flying too close to the trees and narrowly escaping a deadly crash in his favorite airplane, the prop-driven North American T-28 Trojan.
Aderholt joined as deputy chief of JUSMAG in 1973. He's best known for his harrowing evacuation of U.S.-backed Hmong soldiers, leaders and pilots as the Pathet Laos communist army closed in on a secret American Airbase in Laos that hosted 40,000 inhabitants but was never officially recognized. The airbase was the center of operations for Air America, a civilian airline set up by the CIA to carry out covert operations in Southeast Asia.
Aderholt felt an allegiance to the Hmong community with which he worked so closely, so when the communist forces advanced on Long Tieng, he ordered three US planes to be stripped of any military markings and secretly extract the US-supported Vang Pao and his forces. Roughly 2,000 Hmong were evacuated.
Sipping on a beer and peering around the dimly lit bar, I wondered how many soldiers put down a few brews in the same spot, decades before, on their way to fighting in a war. And how many of them may have never returned.
It's not really the ideal place for a rowdy night out, instead it's the sort of place to have a conversation with a friend or two. Other than the insanely cheap beer–we're seeing craft beer prices sometimes creep over 300 baht for a single bottle outside the complex–there isn't much ambiance that will interest the typical Thong Lorite seeking sophistication or even the emerging tribe of trendy Sathorn dwellers scoping out the next cool spot.
The atmosphere may come across as strange to those unfamiliar with the history of American politics in the region.
Bangkok's affection towards speakeasies is dying, but at the peak of the trend bar owners tried to keep the locations of their entrances hidden in order to maintain an exclusive air to the place and thus maintain the ability to overcharge. At JUSMAG, it's unintentionally very much like a speakeasy, and there isn't a single establishment in Bangkok that offers American craft beer at better prices.
True to form, there's no website, Facebook page, or Snapchat for JUSMAG Thai's Aderholt Annex. Just go to the MRT Lumpini, walk out Exit No. 2 onto Sathon Road and walk about 70 meters south to the entrance located just past the corner of Soi Sathon 1. Set your NavCom here. – Ed.