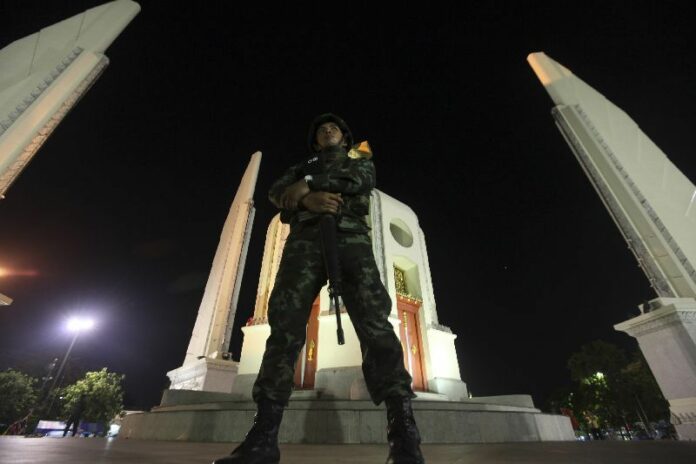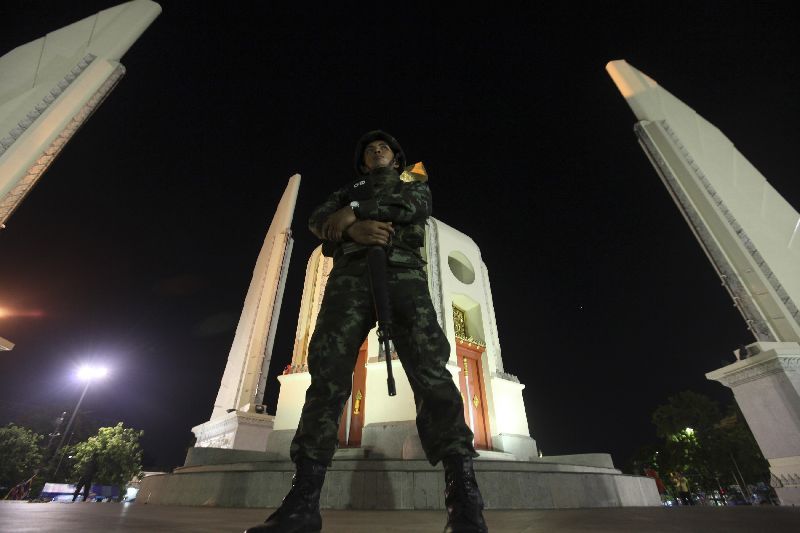 By Pravit Rojanaphruk
Senior Staff Writer
BANGKOK — Today marks two years since the 2014 military coup. Some will gather in illegal protest while others will let it pass as just another Sunday. For those cerebrally inclined, it's worthwhile to reflect upon the lessons of the past two years. Here are some of mine.
Believe the Junta at Your Own Risk
Does anyone still remember the song "Returning Happiness to the People," supposedly penned by junta leader Gen. Prayuth Chan-ocha, asking for "just a little more time" in power? Two years have passed, and now his deputy, Gen. Prawit Wongsuwan, won't even commit to elections next year, as they had earlier promised should their draft charter be rejected by the public.
Prayuth added to the climate of uncertainty Friday by saying that if the draft charter, which was wheeled in by junta-appointed drafters, were to be rejected Aug. 7, then the process of writing it would begin again for a third time. This would mean more time in power for the junta, again.
When the coup was staged two years ago, I was interviewed by international broadcast media, including Al Jazeera, who I reminded that Prayuth, as army chief, publicly stated there would be no coup just before staging a coup. I concluded that Prayuth either lied or had an abrupt change of heart. Either way, not a reliable person.
Two years on, what other promises do you want to hear from Prayuth and his men now?
Reconciliation Cannot Be Forced
Nobody wants to remember anymore that, once upon a time, the junta talked about national reconciliation. Today, if anything, the political hatred is still there for all to see on social media. It's made worse by the perception among Thaksin-Yingluck supporters that the military is absolutely partial toward the other side.
Reconciliation can only come about through dialogue and willingness to admits one's mistakes, making mutual sacrifice to accommodate and forgive one another. Repression and lack of justice for those killed by political violence on both sides cannot lead to reconciliation. Two years on, no sensible public figure – well actually no public figure – even talks about reconciliation under the junta anymore.
Blurring the Line
Detention for up to seven days without charge is not considered a human rights violations because it was done "politely" and those detained were "invited?" If you buy into this euphemistic PR bullshit, then you are likely qualified to join the junta's Foreign Ministry PR team, because detaining someone, without charge and against their will, is incarceration and a crime, period.
The same goes with the self-contradictory gimmick that the junta is a dictatorship for democracy. When was the last time Prayuth showed any sign of understanding what democracy is all about? When he held court in his latest weekly and lengthy monologue on national TV and radios Friday to continue to preach, despite dismal viewer ratings?
Society Not Always Moving Forward
What Thailand experienced during the past two years and counting, to borrow from economic jargon, is not just negative growth in liberty and democracy, but an attempt to bankrupt it by a group of determined military men who mistook their own interests for national interests.
How far will Thailand slide back into its dictatorial past is up to the people, and what kind of resistance they are willing to put forward. For those who care not an iota about the plunge in freedom and democracy, that's their choice. Thailand will eventually get the kind of society it deserves, and if people are happy being docile and unthinking, then a docile, repressive and unthinking society will Thailand be.
In the past two years, the junta has been like a python squeezing its prey when it comes to freedom and democracy. Little by little, society loses basic civil rights such as the freedom to assemble, or the ability to hold critical debates about important matters. These are rights hard-won long ago which have been taken for granted for over three decades. The stranglehold on the prey is slow but firm. You can all sit and watch for another year or more as the repression continues if that's enjoyable.
The bottom line is, young activists such as Ja New and his cadre, plus the United States and the European Union, won't be able to save Thailand from the onslaught of militarization. Not if the majority of people upset by the repression just eat popcorn in the front row and watch the ongoing spectacle being played out by the junta, whose torture of language and logic being with its name: the National Council for Peace and Order.
Peace and order through abductions, detentions and political repression?
As stated at the beginning: Believe the junta at your own risk.