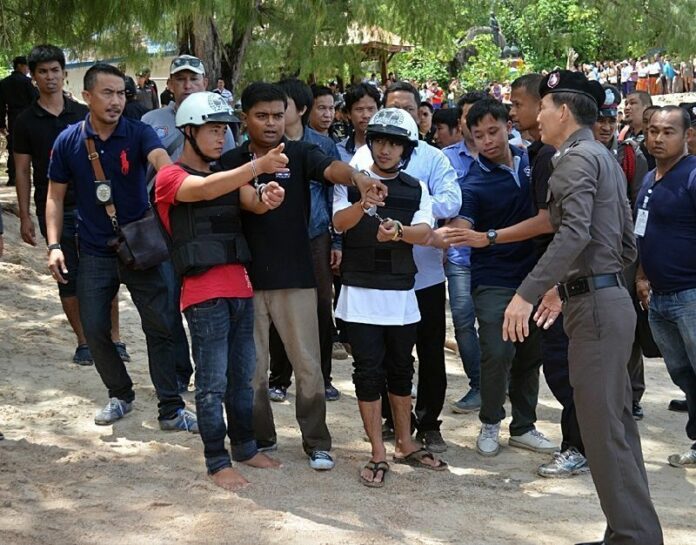 By Panarat Thepgumpanat and Pairat Temphairojana
Reuters
BANGKOK — Lawyers filed an appeal on Monday against the conviction of two Myanmar migrant workers sentenced to death in Thailand for the 2014 murder of two British backpackers on a holiday island, another twist in a case mired in controversy and dispute.
The bodies of backpackers Hannah Witheridge and David Miller were found on a beach on Koh Tao in September 2014. Police said Witheridge, 23, had been raped and bludgeoned to death and Miller, 24, had suffered blows to his head.
A court sentenced Myanmar migrant workers Zaw Lin and Win Zaw Htun to death after convicting them of the crime on Dec. 24 last year.
The 198-page appeal says that DNA evidence used in the case was inadmissible and had not been collected, tested, analyzed or reported in accordance with internationally accepted standards, representatives of the two men said in a statement on Monday.
The appeal also states that the questioning and charging of the migrant workers was unlawful because it was done without lawyers or trusted persons present, according to the statement. Confessions, which the two later retracted, were extracted through torture or abuse, it said.
Police have denied mishandling the evidence or that confessions were extracted under duress.
The mothers of the two Myanmar men accompanied the lawyers to court on Monday after visiting their sons on death row in a prison near Bangkok at the weekend, the statement said.
"We have submitted this to the appeal court so they can understand more, so they can see the importance on how death sentence decision needs to be perfectly clear," Nakhon Chompuchat, the defense team's head lawyer, told Reuters.
"We don't have new evidence, we are basing this on evidence that was presented earlier," he said.
The court would likely rule on the appeal in 2017, he said.
Police drew widespread domestic and international criticism for their handling of the case and the evidence. Protests erupted in neighboring Myanmar after the verdict, with many people there believing the two workers were scapegoats.
Related stories:
Koh Tao Convicts 'Still Hopeful' as Appeal Looms
Koh Tao Murders: Defense Asks Court to Drop Charges
Koh Tao Murders: DNA on Weapon 'Does Not Match' the Accused
Lack of Evidence, Local Media Coverage Adds to Mystery of Koh Tao Murder
Koh Tao Trial Resumes, Court Shown Footage of Victims' Final Night
Koh Tao Murder: Top Forensic Scientist to Testify for Defense
To reach us about this article or another matter, please contact us by e-mail at: [email protected].
Follow Khaosod English on
and
Twitter
for news, politics and more from Thailand.