BANGKOK — Vina is fearless and outspoken about what she wants, and has the agency to defy society and her family to go after it.
What she wants is Santi, and in the restored 1954 classic bearing their names, "Santi-Vina," she presents a stark contrast to today's reimagined notions of "how women were" in the past.
Among eight fresh flicks hitting theaters Thursday is a chance to see Thais and Thailand of past and as they really were in the beautifully restored version of the once-lost film which showed again for the first time in six decades earlier this month at Scala Theater.
Directed by Tawee Na Bangchang, aka Marut, the film was the first Thai feature shot in color on 35mm film with sound, a project championed by producer and studio head Rattana Pestonji, who wanted to elevate Thai film standards at a time most were still shot on 16mm film.
As a result, it became the first Thai film to win international recognition including best cinematography, best art direction and a special award for portraying Asian culture at the 1954 Southeast Asian Film Festival in Tokyo. After the film was rediscovered, restored and premiered at Cannes in May, it showed to a packed Scala Theater on July 15.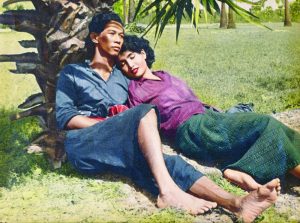 One of the most remarkable traits in Rattana's features were what today seem ultramodern portrayals of women. These weren't cloying kittens or passive maidens of chaste virtue. In Rattana's third feature, 1957's "Rongraem Narok (Country Hotel)," the mysterious Riam is far from shy in employing her sexuality to get what she desires. A few years later, he would portray a poor widow who's taken a new lover in Thailand's first noir film, "Phrae Dum (Black Silk)," in 1961.
"Santi-Vina" is a stock love-triangle story entwining the poor, visually impaired Santi (Poonpan Rangkuan) who lives in a cave temple; Vina (Rewadee Sriwilai), the strong woman who loves and stands up for him, and of course, Santi's competition embodied by Krai (Paichit Putiyos), who's got his sights on Vina and is her parents' preferred suitor.
Vina isn't afraid to show how she feels by touching and kissing Santi, and voicing flirtatious lines such as telling him that "before long, Santi is going to be my husband, and I'm going to be your wife." She's even prepared to elope with him despite parents' disapproval – but not until she's gotten the dowry money from Krai's family.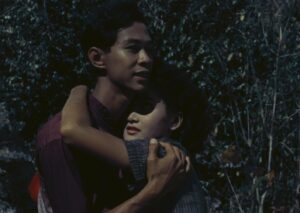 Despite her love and attempts to be with Santi, Vina faces disappointment in the end. But even then she shows strength as she calmly accepts her love's decision and moves on with her life, keeping her love alive within.
The movie is melodramatic and predictable but a fun watch, especially for its surprisingly sarcastic dialogue. Weirdly dubbed scenes of the characters as children are bound to get some laughs.
Culture and country lives are beautifully portrayed in the film. Simple yet spectacular scenes show students in a classroom; pretty paddy fields; and villagers celebrating the the Loi Krathong festival in song and dance. It also captures the structures of relationships in the community, and the rites of passage from birth to death that connect the community to Buddhism.
Rattana's cinematography is excellent, and when combined with Urai Sirisombat's art direction all presented in ultra-hi-def 4K, the restored film remains a highly watchable crowd-pleaser today.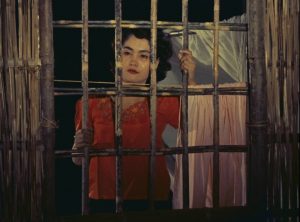 The actors in the film offer very natural performances. Poonpan is calm and charming as the visually impaired Santi, while Rewadee stuns as the daring Vina, walking the role confidently between mischief and misery.
Those who missed the the restored classic's premiere earlier this month have another chance.
The newly restored "Santi-Vina" will show in Thai with English subtitles twice a day at 2pm and 7pm from Thursday to Sunday only at SF World Cinema, CentralWorld. Tickets range from 190 baht to 580 baht and can be booked online.