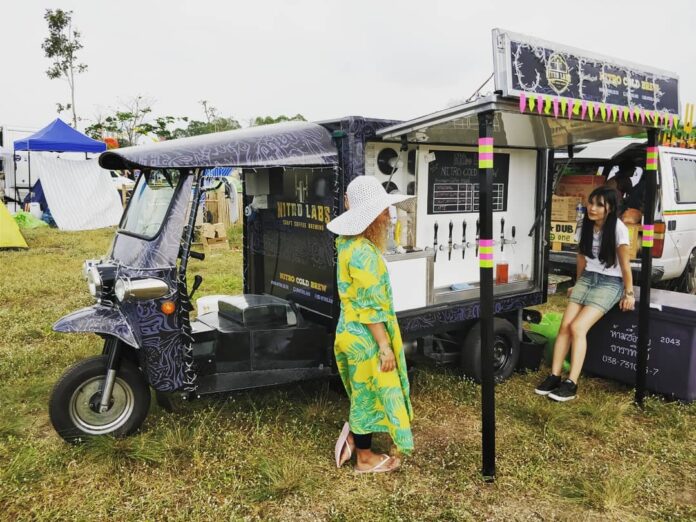 BANGKOK — Cold coffee. Infused with nitrogen. From taps in tuk-tuks.
From the side of a pimped-out motorized tricycle hang a dozen taps serving cold draft coffee infused with nitrogen. The project, Nitro Labs, has adopted this brewing technique to give coffee a creamier texture, mounting its gear on a tuk-tuk to service the city – the latest of which will be at Bangkok Hospital.
To the untrained tongue, it feels smoother than normal coffee with a more aromatic stout-like taste. It's especially pleasing to watch the colors blend as it is being poured into the glass.
To produce this flavor and texture, the cold brewed coffee is combined with nitrogen and pushed through a pressurized valve studded with tiny holes.
Nitro Labs also serves chilled Thai tea, lemon tea and matcha tea from its taps.
The coffee is made using both Thai and foreign beans. It is recommended to drink it neat, but there are also non-dairy options, syrup and fresh milk available. Drinks range from 60 baht to 110 baht.
The Nitro Labs tuk-tuks open 7am to 7pm on weekdays and 9am to 6pm on weekends. They are located in W District in Phra Khanong and Soi Sukhumvit 21 in front of Ping's Shark Fin. A new branch opens Friday at Bangkok Hospital.