Top: A boy eats papaya donated to House of Blessing Foundation.
Cabbages, kale, chilis, garlic, dragon fruit, onions, pineapples, mushrooms and even prepackaged salads are wheeled out of Tesco Lotus On Nut's loading dock in green carts. Slightly bruised but still perfectly edible, they are bound for the trash.
At a five-star hotel, it was a few boxes of day-old pastries. At indie El Mercado meat market, it was two bags of charcuterie sandwiches that just a day before were selling at steep prices.
All that food, headed straight for the dump.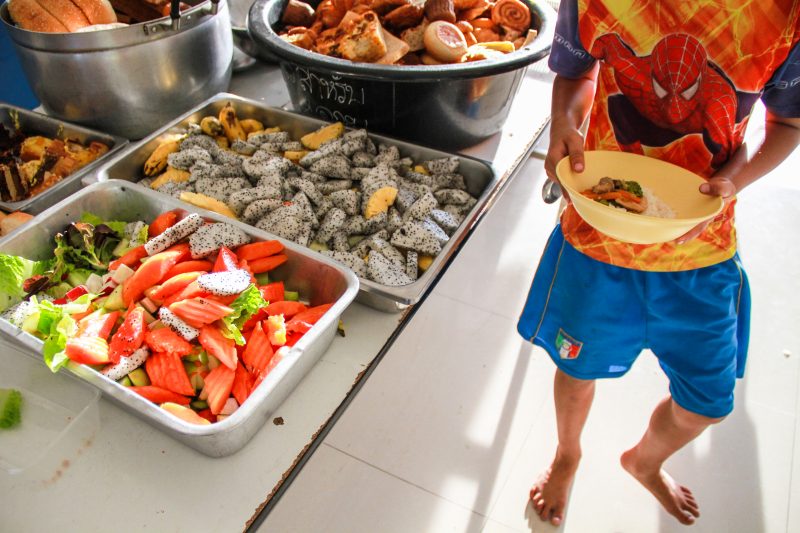 Enter two men with two trucks. At each stop, they stepped out to rescue the bounty, dragging, lugging and wheeling crate after crate of leftover food into their refrigerated vehicles.
A few hours and 10 kilometers later, one of the trucks pulled into an orphanage where teens and adults scrambled to unload the food. They dumped breads into a bucket, prepared foods into another. A cook rushed to peel the fruits and pickle vegetables to feed a hundred hungry tummies.
It's a ritual repeated daily by the drivers and trucks from the Scholars of Sustenance Foundation, which visit supermarkets and luxury hotels across Bangkok to divert tons of excess food from rotting in landfills to eager mouths.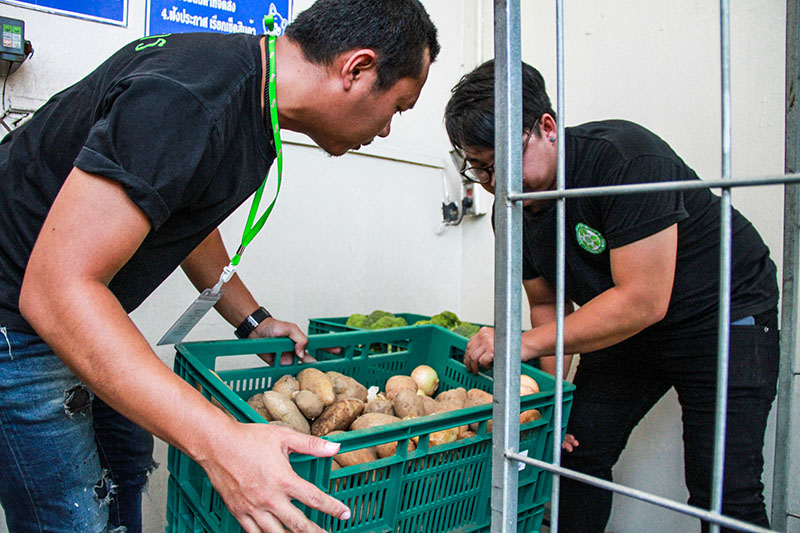 The United Nations estimates that one-third of all food produced in the world – about 1.3 billion tons – is lost or wasted. Europeans and North Americans waste 95-115 kilograms annually per person; in Southeast Asia, it works out to 6-11 kilograms per capita.
Driving one of the organization's two trucks on a recent ride-along was Wisanu "Toto" Samona.
"They're still fresh, but they're just not pretty enough to sell," Toto said, wheeling jungle green carts filled with cabbages into his refrigerated truck. "But a bit of cutting up and dressing up, you can totally eat them."
According to the foundation, it has collected over 200 metric tons (218,739.39 kilograms, to be precise) of edible food since it began collecting in March 2016 through this past April.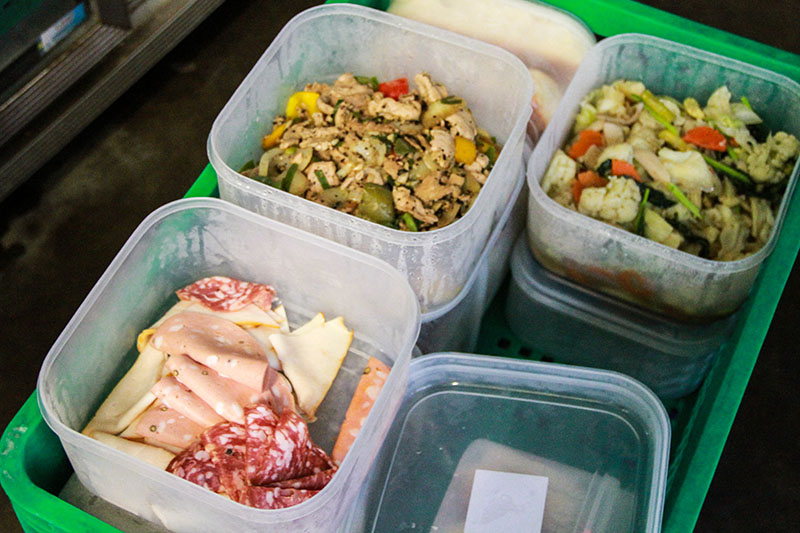 "Food waste is a big burden when they are mixed with other trash. It gets in the way of recycling. It attracts pests if not managed properly," said Bruce Chen, a foundation manager.
The foundation spends about 120,000 baht monthly to operate its four trucks and charges nothing from either donors or beneficiaries, he added. It has been largely supported by Danish retiree Bo Holmgreen but is looking to find sponsors and donors to continue operation.
Toto started his daily route on a recent weekday by picking up some bakery items from indie grocery store-restaurant El Mercado downtown near the Rama IV Junction. Then he lugged a ton-heavy haul of fruits and vegetables, the lion's share of the day's haul, at Tesco Lotus On Nut. The chilled truck then pulled into a few downtown hotels to pick up plastic containers packed with cakes, cold cuts and stir-fried chicken with cashews.
"Only one truck's haul in a single day weighs a ton. What about all those malls and hotels that aren't participating yet?" Toto said passionately.
Rather than selling food at discounted prices with its distinctive yellow labels, Tesco Lotus's On Nut branch has signed on to donate it to the foundation. Surprisingly, the store said it's making more money by donating the food because its fresher stock is selling at full price instead of competing with marked-down goods coveted by coupon-clippers.
"It is a good thing they are doing this. I want those kids to get this food," said Supastra Hassatol, a Lotus employee in charge of handling food stock.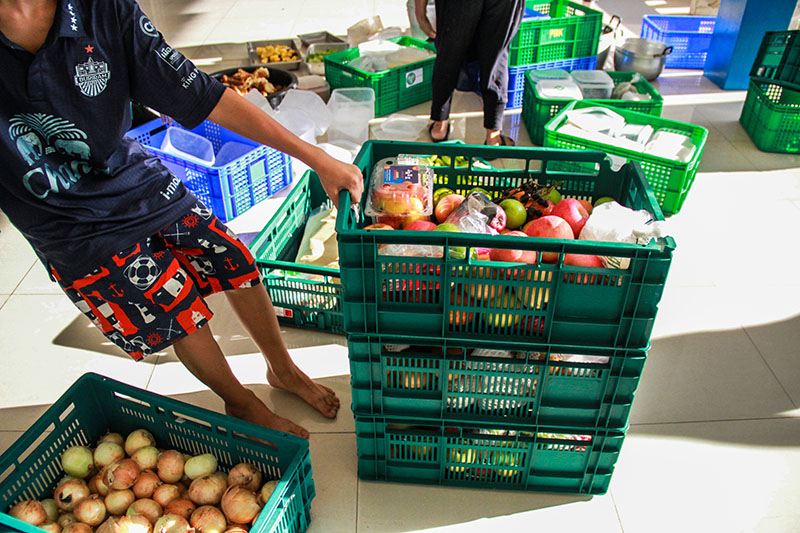 Young Hearts, Full Bellies
Journeying through Bangkok's severe traffic and blazing road heat for hours, Toto was on his way to his last stop: Delivering the food to those who need it.
The foundation's beneficiaries include a homeless shelter, migrant labor camps, orphanages and a home for children with disabilities.
For the recent ride-along, Toto parked at the House of Blessing Foundation, where children streamed out to unload the food carts, dragging them with surprising speed into the kitchen. One boy sprinted to a bucket filled with pastries, waved the flies away and stuffed a raisin swirl into his pocket.
"Middle-class people like us sometimes take for granted simple things like a sandwich or a piece of fruit," he said. "But for the disadvantaged, who normally only get to eat plain porridge, getting to eat yummy cakes and good bread helps them regain a sense of self-worth."
House of Blessing is an orphanage that houses about 120 people, from infants to seniors. Many of the children are children of prison inmates, and the adults are ex-convicts who have trouble finding work, or disabled ones abandoned by their families.
Khaosod English was asked not to identify the orphans who are minors.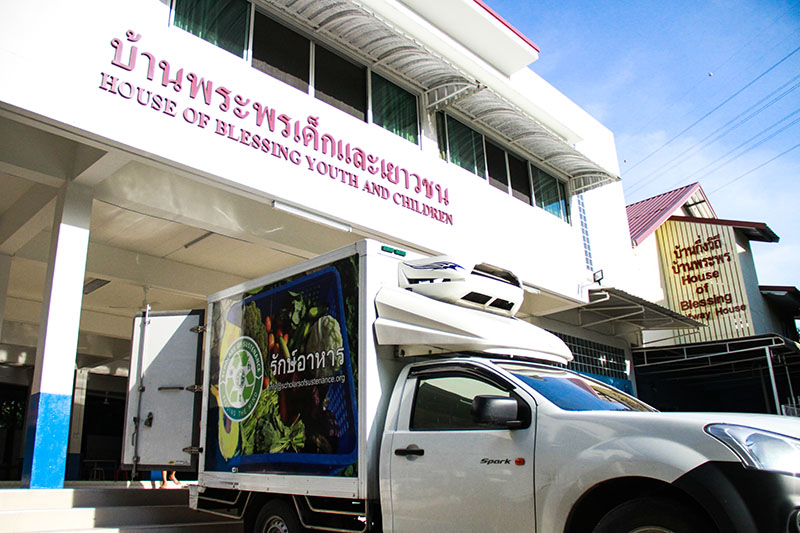 Soon the orphanage's cook laid out what would be that night's dinner. The smallest children lined up for their food, gobbling down mushrooms, carrots, pork and broccoli stir-fry. Some finished off their meal with dragon fruit or papaya, but almost all went straight for the baked goods.
"The kids get happiness from eating, especially from eating foods they never get to eat," Rungrak Sapmak, 44, the cook of House of Blessing said. "Before, we would only eat rice with vegetables or stir-fried mama noodles. Sometimes we would even have food shortages."
Rungrak's learned to be creative with the deliveries of irregular food. If there's nothing but cabbages, she may add kanom jeen noodles and fish balls to make a tom jued soup, and she may boil the rest in salt so they keep longer. A large shipment of mangoes? Serve them with a chili and salt dip, and quickly pickle the rest. Too many onions? She shares them with the Hmong community living nearby.
"There was a lot less food during Songkran, because hotels have a lot of tourists eating up the food," Rungrak said. "But now the supply is rebounding. Still, a durian's never slipped through to us," she said, laughing.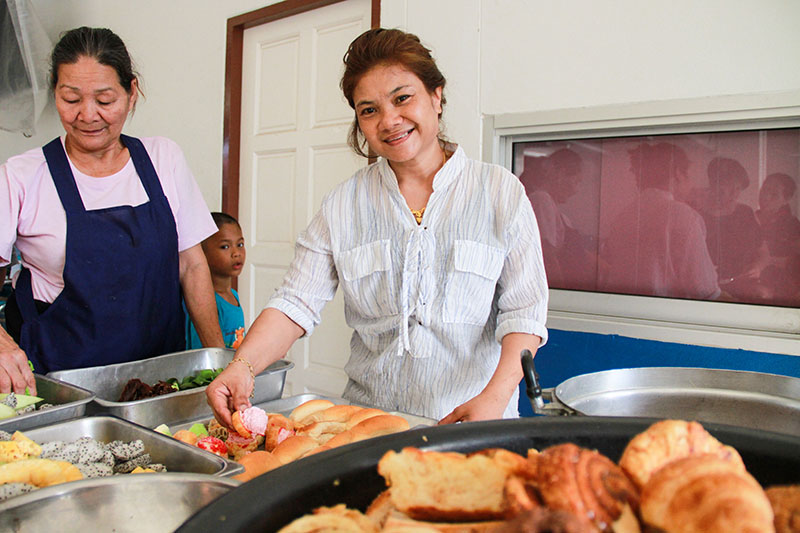 The biweekly food deliveries have cut by half the orphanage's 50,000 baht monthly food costs, according to manager Parnapa Parnpetch.
"We throw nothing away," Parnapa said. "Once, we got a shipment of a lot of bread. So we put Ovaltine and condensed milk on it to serve as dessert."
Toto plays ping-pong with some of the children who have already finished their meals and are sneaking more cakes and cookies into little pockets.
As he drove out and back into Bangkok traffic, Toto smiled through his windshield at the sunset. "This part of the day is when all the exhaustion goes away."
Thai SOS can be found on Facebook.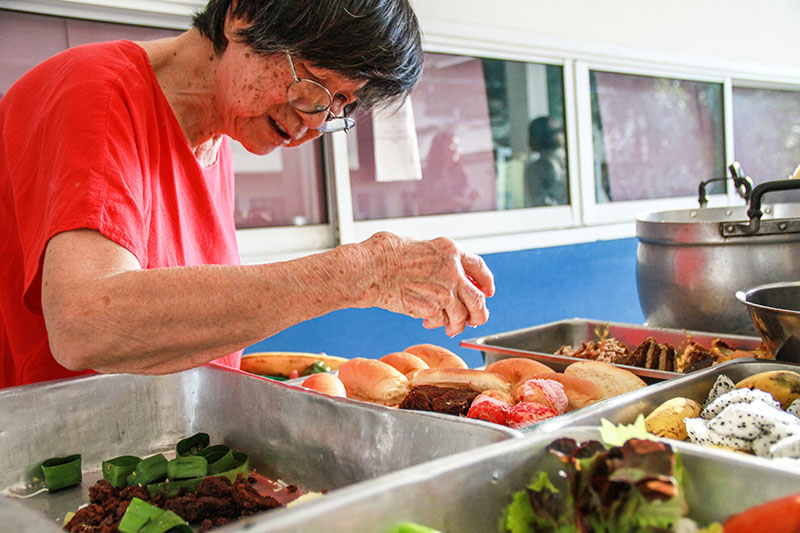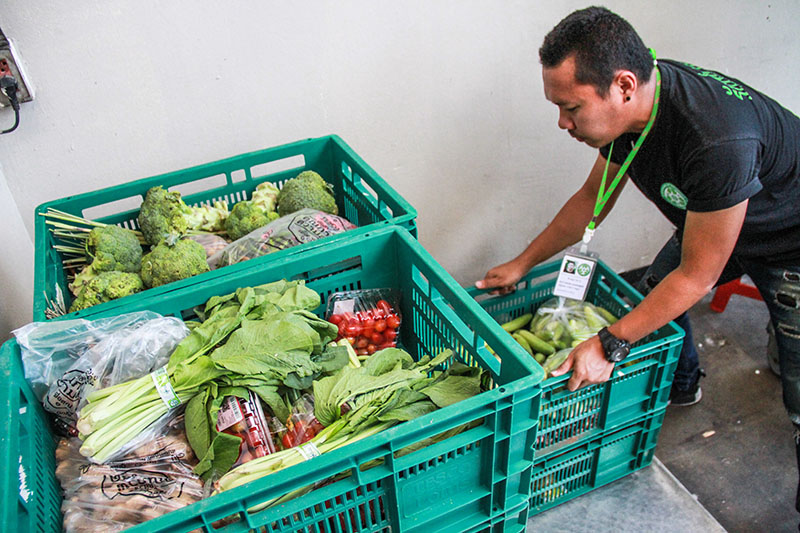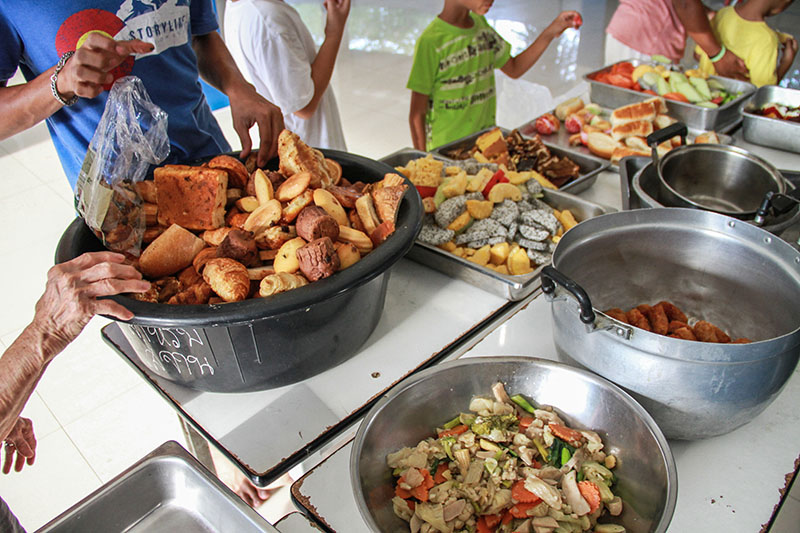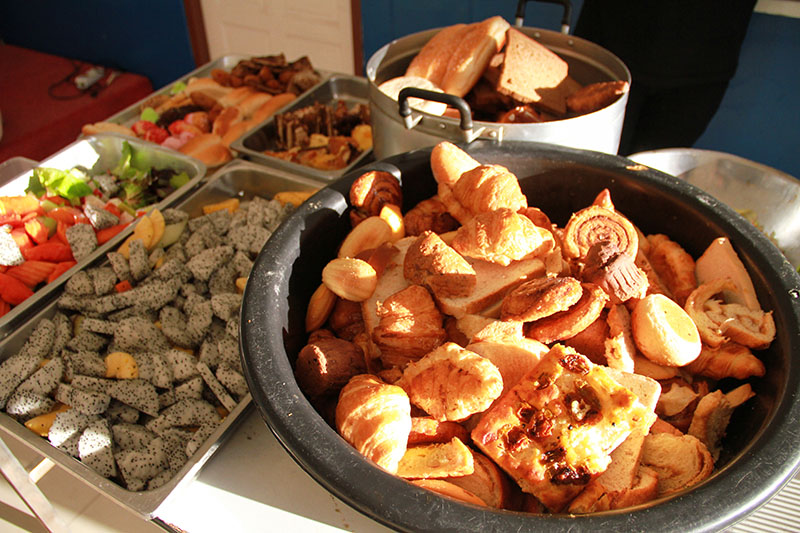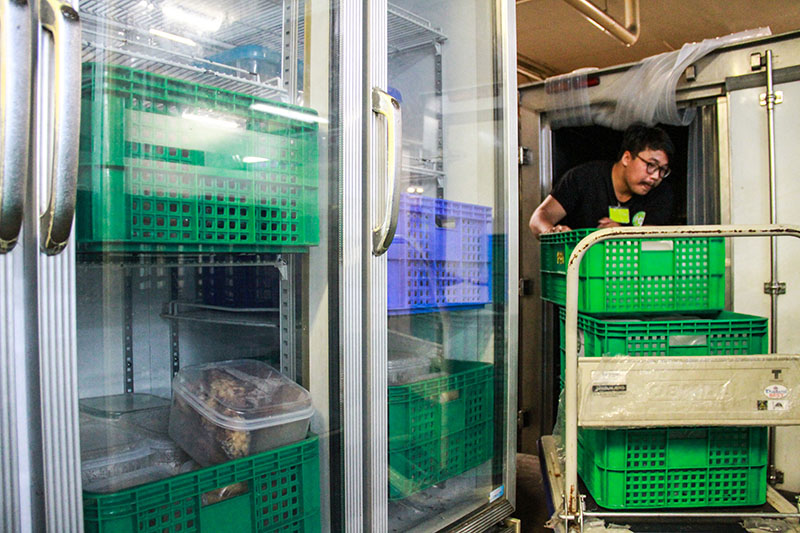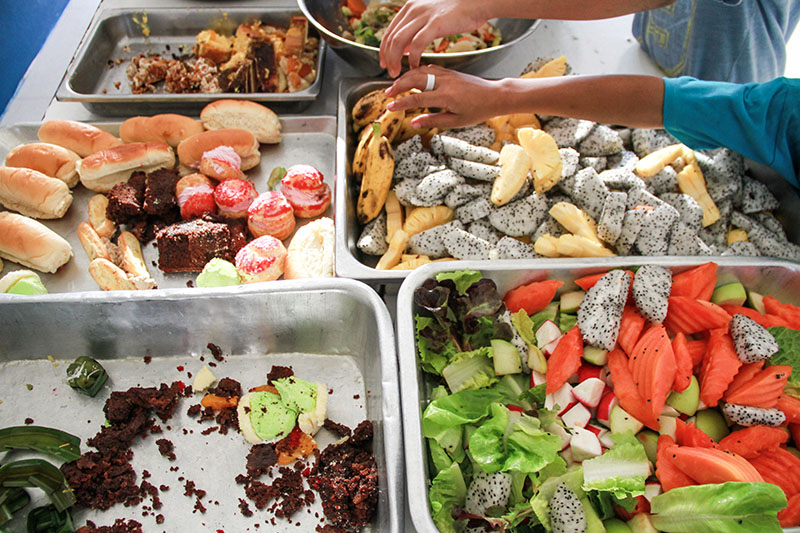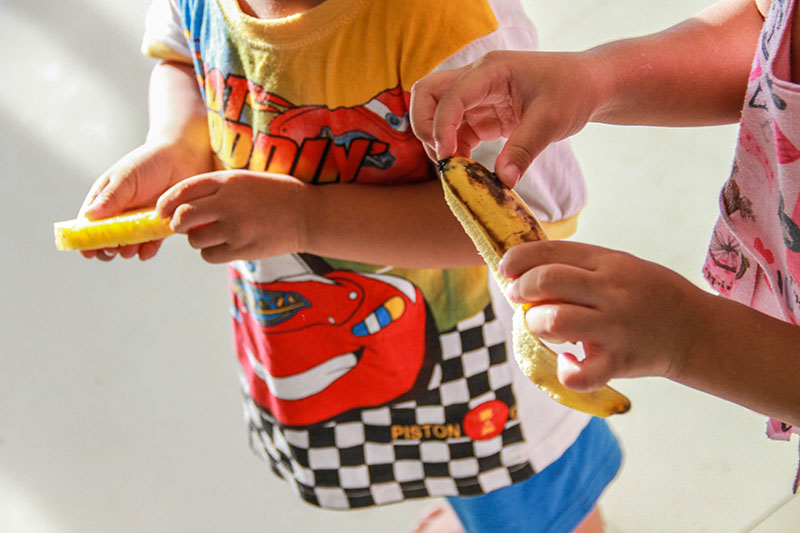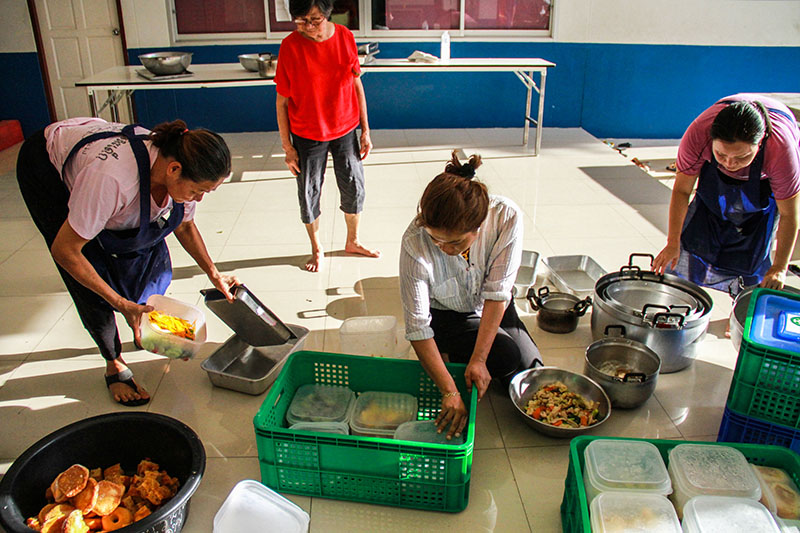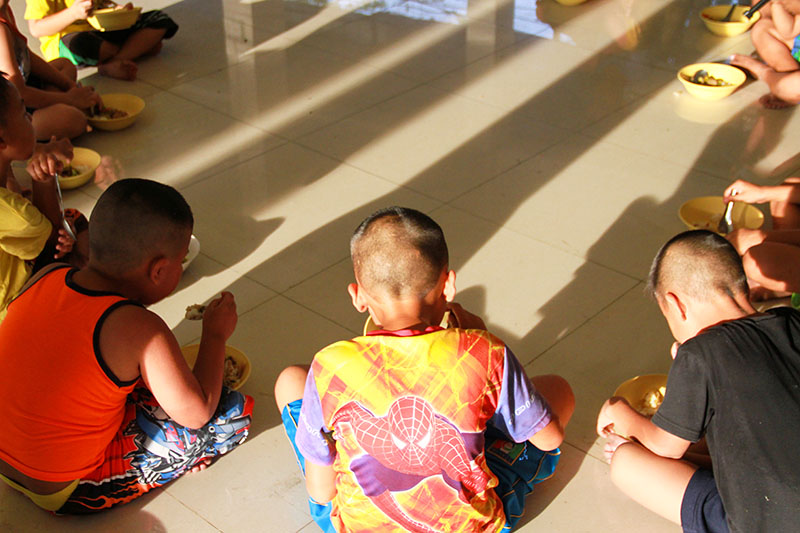 Additional reporting Chayanit Itthipongmaetee