'Being Nor Chor means being prisoners, showing that we're inferior /
Comrades come to see if I'm alright, saying that my family is in agony /
… Being Nor Chor is to live behind the bars, a place that's inferior'
– Nor Chor (Male Prisoner) Song
On stage, he's earned the name Bak Nuat Ngoen Lan, or The Million-Baht Mustache Man.
Jailed for two years for performing in a play that satirized the monarchy, Patiwat "Bank" Saraiyam turned to his enduring passion for singing mor lam, writing what he said was 100 songs. Some expressed his feelings. Others, he said, helped soothe fellow inmates.
"Mor lam is the only thing that can affirm who I am, and what I'm capable of," Bank said. "There, you're forced to feel hopeless and isolated. That's when you try to retrieve the smallest glimpse of being human. Mor lam and art could regain my essence as a human being, where others turn to the dark side."
Not all were grim jailhouse ballads. His song "The Benevolence of Yoni," was a bawdy poem about a kind vagina that gave birth to many lives and instilled men with courage.
He said two years in jail made him realize mor lam was "my life and my soul, as it consoled me through the hard times to keep on breathing and have some hope" of returning to the stage.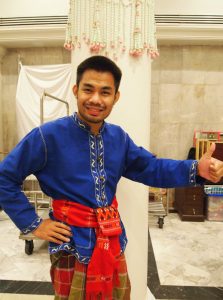 Bank studied mor lam at Khon Kaen University. There as in much of the northeastern provinces that comprise Isaan, In mor lam is the singer and mor lam is the song.
"My voice wasn't melodious like other singers, but I persisted in singing mor lam, and I was determined to succeed," he said.
He got stage experience performing on and off campus, discovering and developing his talents for improvisational humor in songs about love and politics and devising colorful costumes.
During this time Bank also became involved with pro-democracy causes.
Bank got what he considered a big break in 2013 when he was asked to perform in a play. He felt honored to participate, as it was the biggest performance for a "nobody" such as him. That play was "The Wolf Bride," in which he played a royal adviser. He would be arrested for it, putting a halt to his studies and shows.
The play's satire reportedly stretched thin with references to the royal family, leading to the charge under 112 of the Criminal Code, the crime known as lese majeste.
Prosecuting lese majeste was a priority for the junta which seized power in May 2014. Bank lost his freedom with his arrest in August 2014. Deeming offense to the royal family as a threat to national security, the regime sent cases such as Bank's to military trial. He was convicted by a tribunal in early 2015 and sentenced to 2.5 years in jail. After two years behind bars, he was allowed early release last month on a pardon.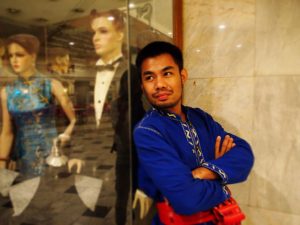 Bank's conviction struck some as ironic, for just three years earlier he received a government medal recognizing morally upstanding youth. Labeled a "good guy gone bad," Bank said his different ideology made him a target in prison.
"Certain guards hold different ideologies and tried to make me feel ashamed of myself in front of others, which I didn't think was appropriate. It hurt me a lot," Bank said.
He heard of royal defamation convicts being beaten up. But if anything, the surge in arrests and imprisonment of people for lese majeste has meant an influx of such prisoners, so they are singled out less. Harassment and verbal abuse continue, he said.
After walking out of Bangkok's Remand Prison on Aug. 12, Bank was back one week later on the stage at the launch party of a nonprofit prisoner welfare group.  Taking the stage for 15 minutes, he seemed to slip easily back into his stage persona and charm to perform an amusing song and dance.
Afterward, he returned to Khon Kaen to spend some time as a monk and hopes to complete his studies and earn his bachelor's degree.
One thing certain is that he will continue singing mor lam. And get back to being "the same funny and cheerful person" he once had been.
"I'm not going to flee from the arts and performing arts, because this is who I am," he said. "If I'm not doing this, I'm already like a dead man."
Bank urges those who would condemn him for his crime to keep in mind that he's been punished and served his time.
"If you hate me, please hate the person who had paid his dues in prison," he said.