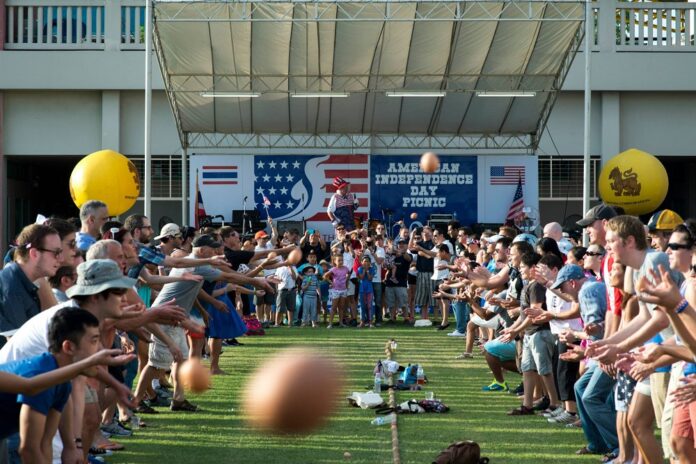 BANGKOK — Celebrate that other red, white and blue in Bangkok with some beer, pie and barbeque for American Independence Day.
There's some form of hangin' out for everyone, including pie-eating contests for the family, beer pong with the buddies and indepen-dancing at da club.
AMCHAM Independence Day Picnic – July 1
American appetites for hot dogs, burgers, chicken wings and pie will be satisfied at the AMCHAM Independence Day Picnic – as will alcohol. Enjoy live music by bands such as Ample Soul and Matthew Fischer & The Fishes while tossing water balloons, bouncing on trampolines and busting a gut at a pie-eating contest. There's also a raffle for plane tickets to the United States for those homesick or wanderlusting.
Roadhouse BBQ will lug over their grills to the school July 1, too.
The picnic, hosted by the American Chamber of Commerce, will be held July 1 from noon until 7:30pm at Bangkok Patana School in Soi Sukhumvit 105. The closest skytrain station is BTS Bang Na, and the school will provide shuttle services from 11am until 8pm. Advance tickets are 200 baht and 300 baht at the door. Children under 12 enter free.
Californian 4th of July – Tuesday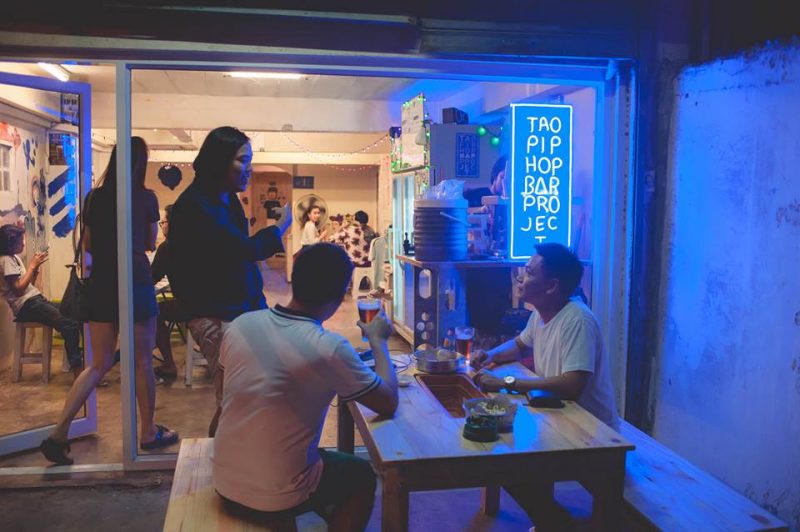 If the best of America means listening to Minor Threat while skating through sun-soaked parking lots in Orange County, then the Californian 4th of July just may be the place to celebrate your independence.
This is the place owned by bandit brewer Taopiphop Limjittrakorn – who was arrested and fined for operating it out of his home back in January.
"I want everyone to come looking like they're from the West Coast, like they're into the skater vibe," he said. "I'm gonna turn up the pop punk."
Okay, maybe more Green Day than Minor Threat.

Expect food trucks bristling with ribs and drinking games such as flip cup and beer pong. Skaters are encouraged to come geared and with deck for a 10 percent discount for those who can perform a proper ollie. American draft beers are 20 percent off at Tuesday's party, which kicks off at 5pm and ends at midnight. Expect a more Thai crowd than downtown venues, but they should be hella cool.
Take the Purple Line to MRT Nonthaburi Civic Center and walk or get a ride 800 meters toward Soi Rattanathibech 18. Taopiphop's place is 30 meters from a 7-Eleven.
Mikkeller 4th of July – Saturday-Tuesday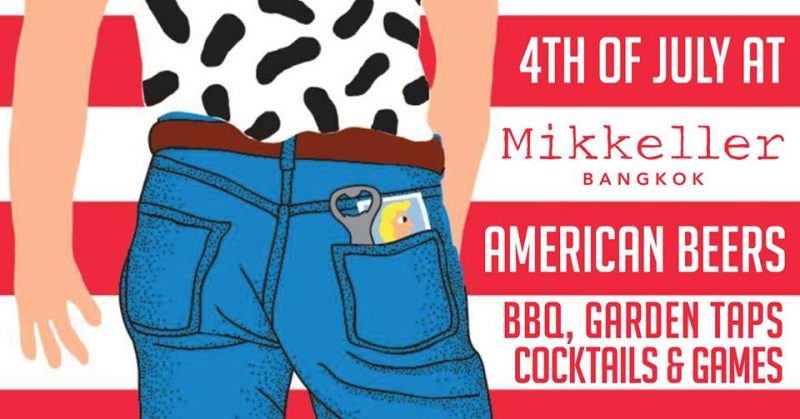 If you associate the taste of freedom with a frothy head of beer, head to BTS Ekkamai and make your way to local watering hole Mikkeller Bangkok.
Enjoy 30 different taps of American beer, such as the imported Mikkeller San Diego and Modern Times. A glass costs from 130 baht to 480 baht. Fourthy fare such as burgers, breadsticks with pizza dip and spaghetti will be sold to soak up some of the suds while a barbeque chars things in the backyard.
The Independence Day weekend event starts Saturday and ends Tuesday.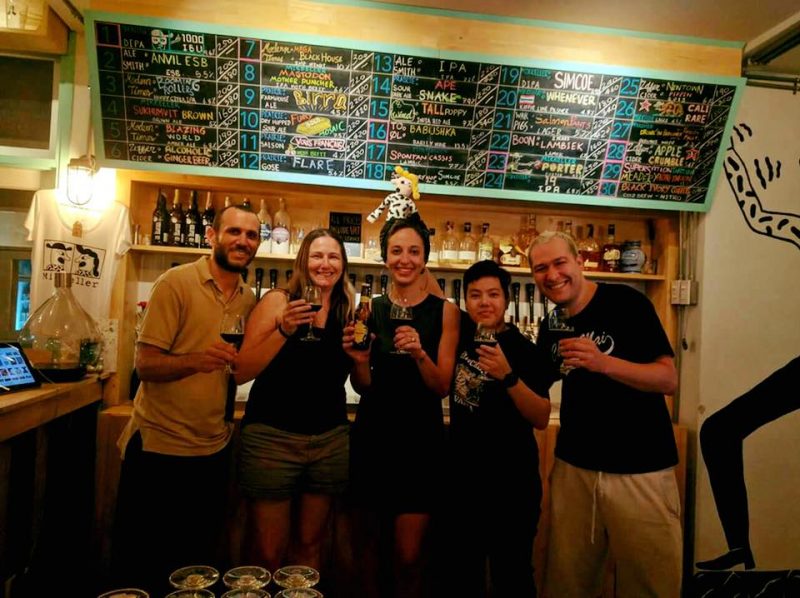 Beer Pong and Ribs – Tuesday
You can't get more American in Bangkok than by dominating at beer pong and gnawing on ribs while President Whitmore declares "Independence Day" like it's 1996 again in the background. Actually go ahead and drape an American flag cape from those shoulders to top it all off Tuesday at Game Over Lounge and get a 10 percent discount.
Reservations can be made by phone. The venue is a taxi ride away from BTS Thong Lo. The event begins at 5:30pm and ends late.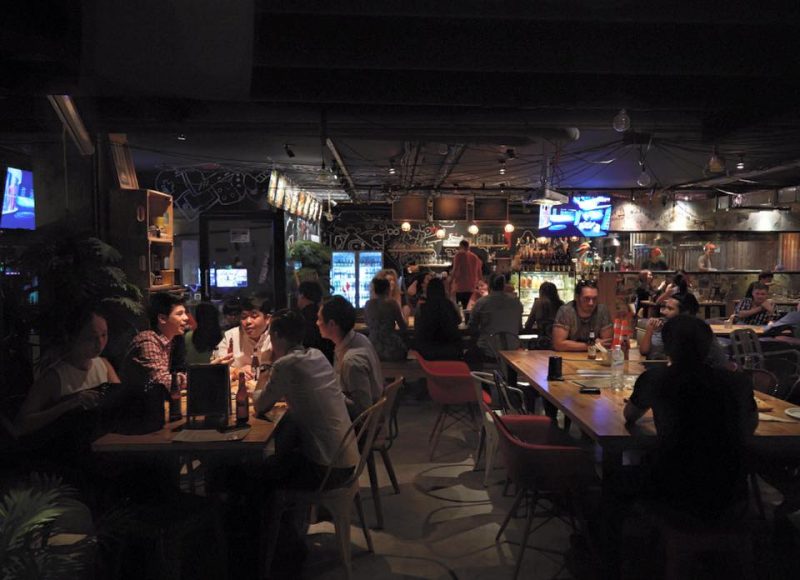 Indepen-dance Insanity – Tuesday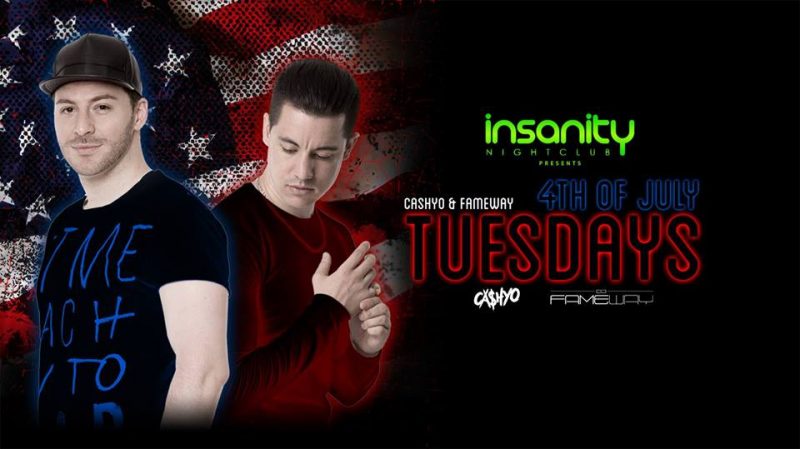 Go to a club where you can beat your chest and scream your lungs off like a true American wild one Tuesday night at downtown nightclub Insanity.
Drown your sense and sensibility with born-and-bred American liquors such as Jack Daniels and Tennessee Honey while unleashing those indepen-dance moves to DJs Cash Yo and Fameway.
Doors open at 10pm on Tuesday, and the cover charge is 300 baht.