Top: Golden Axe Throw Club co-founder and three-time Canadian axe-chucking champ Ryan Nelson poses between throws.
BANGKOK — Got an axe to grind? Put both your mitts around the shaft and raise it behind your head, like you're holding a back scratcher instead of a razor-sharp weapon. Take a moment to access your deepest rage and then hurl that thing.
What was once a ping-pong parlor was taken over recently and converted into a place where people can unleash their inner Gimli by throwing axes. And if alcohol is needed to fuel your dwarven rage? No problem, the Golden Axe Throw Club has a bar.
When three-time Canadian axe-throwing champ Ryan Nelson moved to Bangkok, he found a city completely lacking in axe-throwing facilities. So to capitalize on his favorite hobby and share his love of throwing heavy weapons, he opened the place with Siriluk "Aom" Sathanart, his wife who, despite being quite pregnant, can throw the hell out of an axe herself.
"I kinda miss axe-throwing, living here," 31-year-old Nelson said. "In Canada, it's a really big sport, but in Bangkok it's nothing, so I brought it here so I can throw axes every day," Nelson said.
Golden Axe currently has eight throwing lines in addition to its bar.
According to Nelson, there are now 150 axe-throwing clubs around the world – mostly in Canada, the United States, Russia and Australia. He believes his is the first in all of East Asia.
Nelson is happy to see others discover the joy of axe throwing as well. He explains the basic form – it's something first-timers can totally do, but expect to throw about 10 axes to get the hang of it.
After release of axe comes release of endorphins: axe throwing is very cathartic.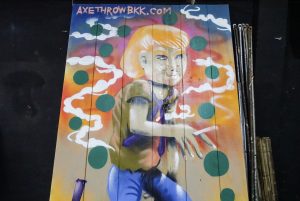 Once the basics are down and it's time to get serious, make it a mini-challenge. Score cards are available on a wooden bar to keep track of strikes made. Hitting inside the outermost circle is one point, the inner circle scores three points, and a bullseye means five points. Up the game by aiming for green dots in the corners for a clutch throw worth up to seven points.
Then there's the bar to nurse that Viking spirit with various beers or a shot of soju (30 baht). Water and Coke (20 baht) are available for those who don't like to drink & throw, while real bastards can opt for a glass of pickle juice (150 baht).
Drink and throw at your own risk: All players must sign liability waivers to play. Nelson assures that the bartenders are trained to cut anyone off before they get drunk.
"[Axe throwing] is fun because it's a sport you can do while you drink," Nelson said. "You throw some axes, you work up some sweat, and you have something to drink. It's not about getting drunk. We're an axe-throwing range with a bar, not a bar with axes."
What else is in store? Nelson and Aom plan to add some knife-throwing ranges.
"Axe-throwing and more!" Nelson said.
Walk-ins are allowed, but booking in advance is recommended. It's 500 baht per person for one hour of all-you-can-throw axe fun. Come with a group for longer to save money: Groups of at least six can pay 800 baht per person for two hours.
The Golden Axe Throw Club is located on Soi Lat Phrao-Wanghin 69 Soi Lat Phrao-Wanghin 71 (Update on Jan. 7, 2019). Get off MRT Lat Phrao and hop take a taxi or hop on a motorbike for 40 baht to the venue. It's closed Mondays and Tuesdays.