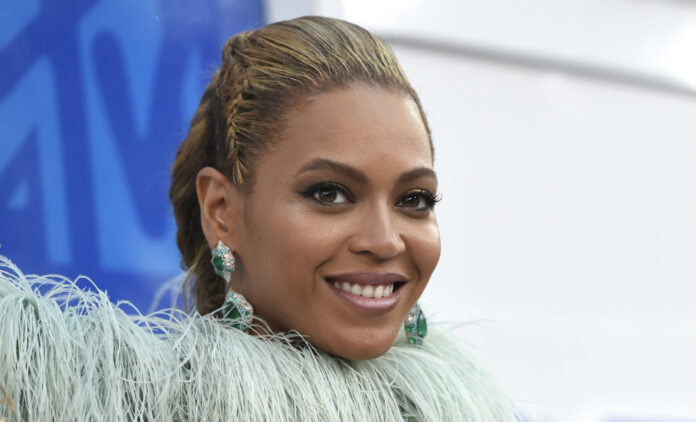 NEW YORK — Beyonce owned the MTV Video Music Awards by winning video of the year and giving a 16-minute performance featuring her recent hits from "Lemonade," working various stages with strong, layered vocals, skilled dance moves and even an outfit change — all as the audience watched in awe and cheered her on.
Beyonce won the top prize for "Formation," besting Adele, Kanye West, Justin Bieber and Drake.
"First of all I'd like to thank my beautiful daughter and my incredible husband for all of their support," said Beyonce, who walked the carpet with Blue Ivy by her side. "I dedicate this award to the people of New Orleans."
Queen B kicked of her strong set with "Pray You Catch Me" as blue lights beamed onstage. She was wearing white, but later stripped down to a black leotard with full sleeves as she sang "Hold Up" and "Sorry." She grew angry and twerked while performing "Don't Hurt Yourself" and ended with the anthemic "Formation."
"If y'all came to slay, sing along with me," she said.
The audience at Madison Square Garden watched intensely Sunday, at times recording the performance with their phones.
It was reminiscent of the 2014 VMAs, when Beyonce also performed for 16 minutes and accepted the Michael Jackson Video Vanguard award. This year it is being awarded to Rihanna, who split up her performances throughout the night, singing hits such as "Work," "We Found Love" and "Love on the Brain."
But the biggest moment for Rihanna came when Drake — in a tuxedo — presented the award to his former girlfriend. He said he met Rihanna in 2005 on the set of her first music video for "Pon De Replay."
"She's someone I've been in love with her since I was 22 years old," Drake said as Rihanna blushed and the audience cheered loudly. "She's one of my best friends in the world. All of my adult life I've looked up to her even though she's younger than me."
Rihanna, 28, thanked her family, friends and hometown of Saint Michael, Barbados for helping her succeed in her 11-year-career.
"All I can think of is my country, they're gonna be so proud, this is the first Vanguard to land anywhere near my country," she said. "My success started as my dream, but now my success is not my own. It's my family, my fans, my country … it's women, it's black women."
Beyonce's top-notch performance starkly contrasted with that of Britney Spears, who returned to the VMA stage after 10 years. Not only did she lip sync, in typical fashion, but she did so badly. Spears performed her hit "Make Me…" and danced slickly, but she didn't actually sing a word of the song live. She was joined by rapper G-Eazy — and she lip synched the hook to his hit song, "Me, Myself and I."
Beyonce won best female video for "Hold Up," presented to her by four of the Final Five gymnasts, excluding Gabby Douglas, who is hospitalized for a mouth infection.
"Thank you to my fans. I love you," Beyonce said. "Have a beautiful night."
In typical and true Kanye West fashion, the rapper ranted onstage, touching on subjects from music to his beef with Taylor Swift to violence in his hometown Chicago before he debuted his music video for "Fade." He talked about his "Famous" video which features what appear to be naked images of West, Swift, Kim Kardashian, Donald Trump and more. He even pointed to former girlfriend Amber Rose, who was in the audience and is also in the video.
"It was an expression of our now, our fame right now, us on the inside of the TV, you know, the audacity to put Anna Wintour right next to Donald Trump," he said.
"I put Ray J in it bro," he said, referring to Kardashian's ex with whom she did a sex tape.
"But if you think about last week it was 22 people murdered in Chicago," he continued. "You know, people come up to me like, 'Man, that's right! Take, tell Taylor this. Bro, like I love all y'all."
"That's why I called her," he said with a laugh, referring to his recent drama with the pop star, who didn't attend the VMAs and was not nominated.
Other performers including Ariana Grande, who brought spin class to the VMA stage when she sang the reggae-tinged "Side to Side" with Nicki Minaj. Grande cycled while singing and was backed by female dancers imitating her, while her male dancers lifted dumbbells and did other exercises. At the end of their performance, Grande and Minaj put their male dancers' faces in front their crotches.
In another ode to the Olympic Games just past, Michael Phelps said he's been inspired by hip-hop music before introducing Future, who Phelps said he listened to before swimming and making the grimace that went viral. The rapper-singer-producer performed his hit "(Expletive) Up Some Commas."
Drake won the first award for the night — best hip hop video for "Hotline Bling." Puff Daddy, who presented the award, said Drake was stuck in traffic. Calvin Harris won best male video — beating West's "Famous" — for "This is What You Came For," which featured Rihanna and was co-written with former girlfriend Swift. Harris accepted the award in a video message.
David Bowie — who died from cancer earlier this year — received four nominations for "Lazarus" and won best art direction. The music video, which shows him looking frail in bed with bandaged eyes, was released just days before the icon's Jan. 10 death.
Fifth Harmony and Ty Dollar $ign won best collaboration video for "Work from Home." The girl group also won song of the summer for "All In My Head (Flex)." The pop band DNCE, led by Joe Jonas, won best new artist.
Beyonce, was the top nominee with 11, arrived angel-winged and green-feathered with daughter Blue Ivy in tow along with Sybrina Fulton, Lezley McSpadden and Gwen Carr, the mothers of Trayvon Martin, Michael Brown and Eric Garner, among others. They appeared in videos for Beyonce's "Lemonade" visual album and also make up the Mothers of the Movement, women of color who lost children to violence.
Jimmy Fallon introduced the top nominees and dressed as Ryan Lochte, with platinum blonde hair. As Lochte, who is dealing with trouble after filing a false robbery report over an incident during the Rio Olympics, Fallon lied onstage about writing Justin Bieber's "Sorry" and directing the videos nominated for video of the year.
Adele was behind Beyonce with eight nominations, but the British singer did not attend the show.
Story: Mesfin Fekadu