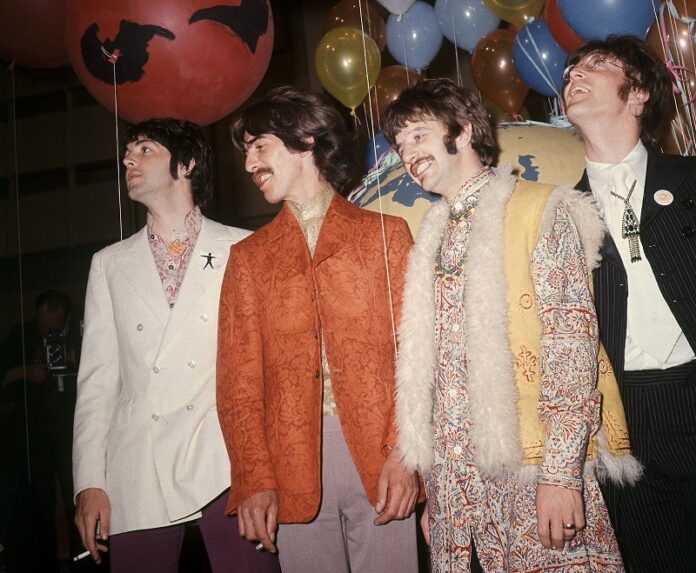 NEW YORK — The world still celebrates the Beatles' "Sgt. Pepper's Lonely Hearts Club Band," which came out 50 years ago in June. But 1967 was an unusually rich year for music overall, with acclaimed work from artists old and new, from Jimi Hendrix and the Velvet Underground to Frank Sinatra and Duke Ellington. Here are 10 other notable albums:
1
'The Velvet Underground & Nico'
The debut work of the avant-garde band led by Lou Reed received a fraction of the sales and attention of "Sgt. Pepper" in 1967, but over time became nearly as influential. Reed's lyrics for "Heroin" and "I'm Waiting for My Man" were far more explicit than other songwriters dared at the time and the music, alternately droning and childlike, was equally revolutionary. Years later, musician and producer Brian Eno would observe that while just 30,000 people initially owned the album, "everyone who bought one of those 30,000 copies started a band."
Jimi Hendrix wasn't the first guitar hero, but he was the greatest and most visionary. "Are You Experienced," his debut record, opened up popular music to new sounds the way Reed and Bob Dylan expanded the range of lyrics. It was a revolutionary mix of rock, blues and jazz that countless musicians have imitated, but never surpassed. The album featured such originals as "Foxy Lady" and "The Wind Cries Mary," along with Hendrix's explosive cover of the folk standard "Hey Joe."
3
'Buffalo Springfield Again'
Led by Neil Young and Stephen Stills, Buffalo Springfield only lasted two years but influenced the Eagles, Linda Ronstadt and other artists with its unique blend of rock, folk and country. "Buffalo Springfield Again" was the band's second and most consistent record, featuring Young's "Mr. Soul" and "Expecting to Fly" and Stills' "Bluebird" and "Hung Upside Down," a showcase for the band's tight harmonies and fierce instrumental standoffs between Young and Stills.
Otis Redding's popularity had been growing for years, but he was on the verge of superstardom when he was killed in a plane crash in December 1967. Earlier in the year, he had dazzled audiences in the U.S. and overseas with his stomping covers of Sam Cooke's "Shake" and the Rolling Stones' "(I Can't Get No) Satisfaction" and his wrenching performance of his own ballad, "I've Been Loving You Too Long." Redding never sounded more dynamic than on "Live In Europe," recorded in Paris in March 1967.
5
'Francis Albert Sinatra & Antonio Carlos Jobim'
By 1967, Frank Sinatra was in his early 50s and still making hits despite being on the older side of the generation gap. Eager to try new sounds, Sinatra teamed with Brazil's Jobim and eschewed the heavy strings of his recent smash "Strangers in the Night" and the brash swing of his "Sinatra at the Sands" live album from the year before. Whether a cover of the Jobim standard "The Girl from Ipanema" or such American favorites as Cole Porter's "I Concentrate On You," Sinatra settles nicely into the warm, dreamy mood of bossa nova. Joking during sessions that he hadn't "sung so soft" since he had laryngitis, Sinatra is at his romantic, conversational best on Irving Berlin's "Change Partners."
6
'I Never Loved a Man the Way I Love You'
Aretha Franklin had been making albums for years, but her first release for Atlantic Records and producer Jerry Wexler was fresh and startling and made her a superstar. Franklin turned from the show tunes that she had been pushed to sing by her previous label, Columbia, and reconnected with the gospel of her childhood. Backed by some of the country's best session players, and by her own piano playing, Franklin peaked on the slow grooves of "Dr. Feelgood" and "Do Right Woman, Do Right Man" and changed lives with her electrifying reworking of Redding's "Respect."
Brian Wilson's reign as the Beach Boys' leader and conceptual genius would soon end. He failed to complete "Smile," the album he hoped would top "Sgt. Pepper," and the band was on the verge of irrelevance in the age of hippies and flower power. "Wild Honey" was the last record before Wilson went into a prolonged decline. It's surprisingly intimate and stripped down compared to such Wilson production epics as "Pet Sounds" and the single "Good Vibrations," but still melodic and engaging, especially on the would-be nature anthem "Country Air" and a spirited cover of the Motown hit "I Was Made to Love Her."
Duke Ellington turned 68 in 1967, but adventurous and creative as ever. This Grammy-winning album drew upon Ellington's tour of India, Iran and other nearby countries and was among his last collaborations with Billy Strayhorn, who died in May of that year. "Far East Suite" featured such longtime Ellington band members as the saxophonists Paul Gonzalves and Johnny Hodges, whose rich, mellow solo carries one of Ellington's most inspired pieces from his later years, "Isfahan." And Ellington never played a catchier, more instantly memorable piano riff than on "Mount Harissa."
The second album by Jefferson Airplane, but the first to include Grace Slick, who had replaced Signe Anderson late in 1966. To a band already blessed with the soulful tenor of Marty Balin and the nimble playing of guitarist Jorma Kaukonen, Slick added a bold contralto that defined the Airplane's signature hits, "White Rabbit" and "Somebody to Love." The album also features Balin's tender "Today" and Kaukonen's fluid instrumental "Embryonic Journey."
Psychedelic music made headlines in 1967, but for much of the year Bob Dylan quietly mapped out a different direction. In a basement outside of Woodstock, New York, with the gifted musicians who later named themselves the Band, he sang dozens of old country and Appalachian ballads and such originals as "I Shall Be Released" and "Tears of Rage." Many of those performances weren't heard for years, but "John Wesley Harding" was a preview of the spare approach he had come to favor and that the Band would help popularize. Hendrix turned the volume high when he covered the album's best known track, "All Along the Watchtower."