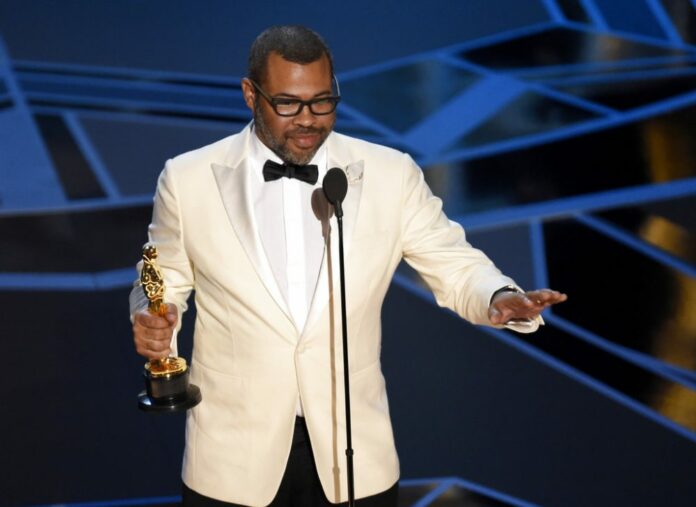 LOS ANGELES — Jordan Peele had to dig deep to get the horror-satire "Get Out" to the screen, and his reward was the first original screenplay Oscar for an African-American.
"This means so much to me," Peele said as he accepted the trophy Sunday. "I stopped writing this movie about 20 times because I thought it was impossible. I thought it wasn't going to work. I thought no one is ever going to make this movie."
"But I kept coming back to it because I knew if someone let me make this movie, that people would hear it and people would see it," he said.
The film's lead character, played by best actor nominee Daniel Kaluuya, is a young black man plunged into a nightmare suburb where African-Americans' bodies are stolen for use by whites.
"Get Out" is Peele's big-screen directorial debut, but he's been honing his skills as an actor, writer, director and producer for more than a dozen years.
He started getting awards notice in 2008, when he shared in an Emmy nomination for a sketch he wrote for MADtv. He was nominated seven more times for his contributions to "Key & Peele," the hit Comedy Central sketch show he created with Keegan-Michael Key. Peele also co-wrote and co-starred (with Key) in the 2016 action-comedy "Keanu."
His upcoming projects include "The Last O.G.," a TV comedy series starring Tracy Morgan and Tiffany Haddish.
More Oscar history was made with the original screenplay award, as 89-year-old James Ivory became the oldest winner in any category for "Call Me by Your Name," a story about young love adapted from Andre Aciman's 2007 novel.
It was the first award for Ivory, who was half of one of the most acclaimed independent filmmaking duos in movie history. He and Ismail Merchant, his partner and producer, made up Merchant Ivory Productions, which came to embody refined period dramas including "Remains of the Day," "Howard's End," "Maurice," "A Room With a View." Their regular screenwriter was Ruth Prawer Jhabvala.
Ivory acknowledged his late colleagues in his acceptance speech.
"Working with them for 50 years lead me to this award," he said.
He lauded Aciman's story, about the romance between two young men, as a story to familiar to most people, "whether gay or straight or somewhere in between."
Story: Lynn Elber