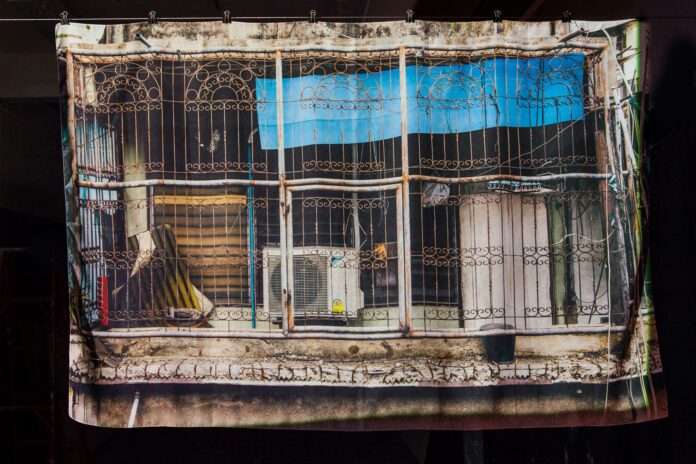 BANGKOK — Step up to the second floor of WTF and drown in facades of Bangkok shophouses.
Based in the capital for more than 15 years, photographer Christopher Wise wandered around Bangkok's streets and documented its old, rusted and rain-stained edifices, the bleak-yet-homey fruits of which will be shown off at "The Way of Quality Living."
Wise's photos portray the decaying language of '70s architecture and nostalgic longing. They also show contemporary Bangkok's ongoing social, economic and political issues in an offbeat way Wise described as "other than prints matted and framed behind glass."
"I wanted to observe Bangkok," said Wise, co-owner of WTF Bar & Gallery. "I suspect that most all of the protective gates and cages came long after the buildings were completed. Were they a reaction to the flood of new arrivals to the city, or an evolving response to the boom and bust cycles of hope, disappointment, failure, desperation, crime?"
Instead of hanging framed photos on the walls like most photo exhibitions, Wise said his images will be printed on fabric and hung at the center of the gallery so his audience can experience the real "Old Bangkok."
"The fabric printing itself creates a veil or covering, so that were one to dispense with its display, one would be able to literally enwrap oneself up in the gauze of old Bangkok," Wise wrote in a reply.
The opening party starts at 7pm on Saturday. The installation runs until Aug. 14.
Admission is free. The three-storey WTF is located just off Soi Sukhumvit 51, which can be reached on foot from BTS Thong Lo exit No.1. The shophouse-bar-gallery is open 4pm to 10pm, Tuesday through Sunday.
Wise's previous works include "Pattayaland," part of the Angkor Photography Festival in Cambodia in 2007 and exhibited locally in 2009 in Silom Road's Kathmandu Gallery.