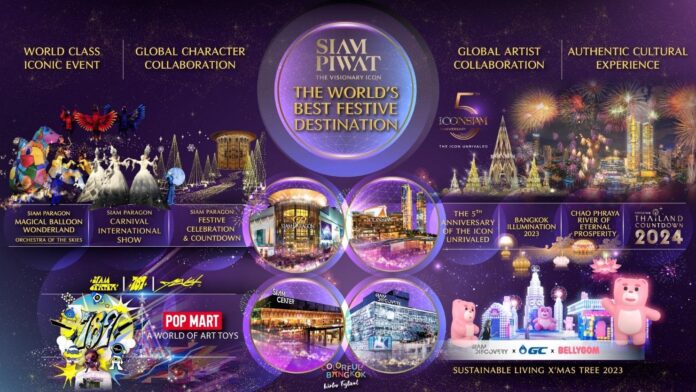 ❖ No.1 Developer of Global Landmark Destination: Achieving traffic of over 100 million visitors across all shopping malls in 2023 and reigning as the No.1 destinations for Thai and international tourists.
❖ No.1 Creator of Holiday Season Experiences: Delivering global experience through over 40 iconic events in the final quarter of the year.
❖ No. 1 Countdown Landmark: #1 Delivering a spectacular celebration as a Global Countdown Destination
(Bangkok – October 31, 2023) As part of its efforts to reinforce its leadership in global destination development, Siam Piwat Group, a leading real estate and retail developer, the owner and operator of Siam Paragon, Siam Center, and Siam Discovery, and a joint venture partner of ICONSIAM, ICS, and Siam Premium Outlets Bangkok, is joining forces with global partners to launch a series of world-class events all through the last two months of 2023. The objectives are to strengthen the position of Siam Piwat's shopping centers as the world's best celebration venues, exponentially boost the traffic of each mall, stimulate the tourism economy, as well as solidify Thailand's reputation as a premier destination to attract tourists from across the globe.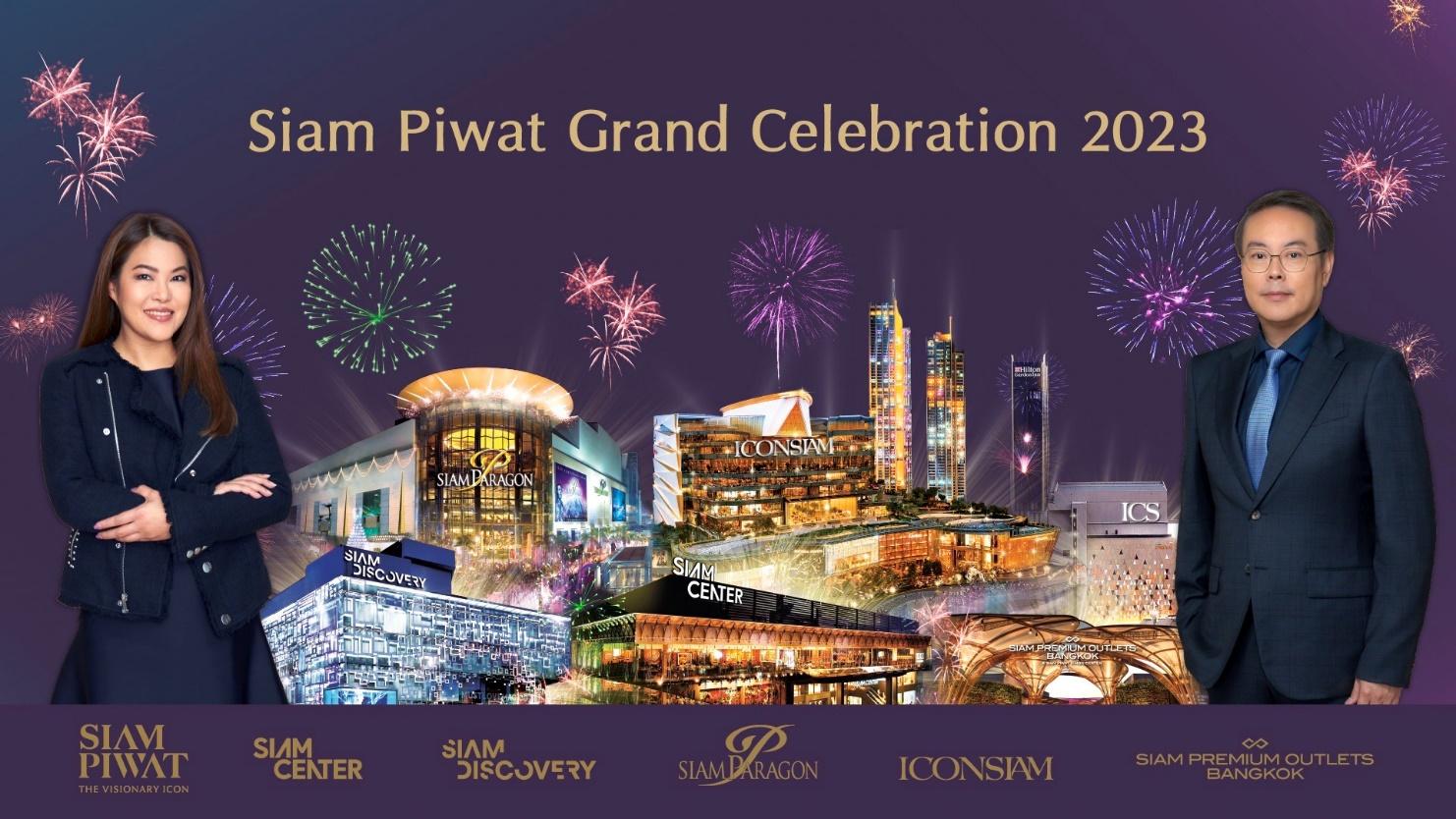 Mr. Supoj Chaiwatsirikul, Managing Director, ICONSIAM Co., Ltd., stated, "ICONSIAM is recognized by Thai and international visitors from across the world as a global destination and Thailand's landmark by the Chao Phraya River. Over the past three years, we have achieved the record number of visitors, with a remarkable 70% year-over-year growth in the first half of 2023. During weekends, we are seeing exceptional traffic, with daily visitors numbering between 120,000 to 140,000, and we are confident that in the final quarter of this year, we will be able to increase the number of visitors by over 70%."
ICONSIAM is launching the "World Collaboration" project in collaboration with five world-class partners from China, Hong Kong, Japan, Australia, and France, who are coming together to deliver a series of world-class entertainment events, leveraging soft power to stimulate the economy in the final stretch of the year.
The 5th Anniversary of The ICON Unrivaled

– A magnificent celebration by the Chao Phraya River featuring a full lineup of Thai and international artists, to be held on November 9-11, 2023

Bangkok Illumination 2023

– The annual spectacular lighting festival by the Chao Phraya River featuring a colorful and breathtaking display and a unique Thai-style Christmas tree, to be held from November 1, 2023 – January 5, 2024

and

"ICONSIAM UNRIVALED WORLD OF ILLUMINATION 2023",

to be held on December 1-31, at River Park, ICONSIAM

ICONSIAM CHAO PHRAYA RIVER OF ETERNAL PROSPERITY

– A grand Loy Krathong celebration with a dazzling light and sound display and an array of Thai cultural activities from SookSiam, to be held on November 27, 2023

Amazing Thailand Countdown 2024

– A majestic global-scale New Year's Eve countdown by the Chao Phraya River at Thailand's most magnificent landmark recognized worldwide as a

global countdown destination,

with a full-scale entertainment extravaganza and concerts by top Thai and international artists, to be held from December 29-31, 2023 at River Park, ICONSIAM
Ms. Saruntorn Asaves, First Executive Vice President, Head of Shopping Center Business Division, Siam Piwat Co., Ltd., stated, "Siam Paragon, Siam Center, and Siam Discovery are joining hands with global partners to launch a more spectacular and colorful celebration than ever before, transcend all limits of entertainment with world-class iconic events featuring top Global Artists, as well as inspire and dazzle all with beloved Global Characters, with the goal of solidifying Thailand's position as "THE WORLD's BEST FESTIVE DESTINATION" and creating a Global Experience of happiness that will bring people from all around the world to join in the celebration."
Siam Paragon is reaffirming its position as one of the world's best luxury destinations by collaborating with the globally renowned luxury brand "Bvlgari" to create a unique Christmas celebration under the theme "Magnificent Wonders" to offer a luxury experience for all from November 30, 2023, to January 16, 2024.
Furthermore, Siam Paragon will also transform itself into "The Grand Stage of the World" with a grand celebration featuring World-class Iconic Events that will bring joy to everyone and exceed all expectations – a series of spectacular weekly international shows throughout December at Parc Paragon.
Siam Paragon Magical Balloon Wonderland: Orchestra of the Skies

– Enjoy a spectacular balloon festival by

Plasticiens Volants from France

featuring a full 360-degree immersive light and sound show, complete with a world-class orchestra performance, taking place from December 8-11.

Siam Paragon Carnival International Show

– Experience the exclusive performances "

Le Dame e La Serva" & Pappagalli from the Netherlands

," which will immerse you in a dazzling world beyond the bounds of imagination featuring many fantastical characters, to be held from December 15-17.

Siam Paragon Christmas Celebration

– Enjoy the

Amorous Ballad from France

, a performance promising to immerse you in Christmas festivities and deliver smiles, music, and special surprises for everyone, to be held from December 22-25.

Siam Paragon Festive Celebration & Countdown

– Bid farewell to the year 2022 with a full-scale concert featuring a spectacular lineup of top artists on December 30-31 and a countdown to the New Year that promises to impress and delight all visitors.
Siam Center, the Ideapolis, is actively promoting creativity and cultural diversity in support of the Bangkok Metropolitan Administration's Colorful Bangkok 2023 policy. As part of this effort, Siam Center is partnering with XEVA or Yoo Seung-Baik, a renowned female street artist from South Korea who has worked with various world-class brands, to bring her signature vibrant graffiti artworks to Siam Center's venue of festivities under the concept "Cosmic Playground," with the Thai idol group 789 contributing their youthful energy to this project. Siam Center presents XEVA X 789 COSMIC PLAYGROUND will be on display from November 14, 2023 to January 7, 2024.
Siam Discovery, the Exploratorium, is also delivering a unique and innovative Christmas experience. To celebrate the holiday season while meeting sustainability goals of the future in all dimensions, Siam Discovery is collaborating with PTT Global Chemicals Public Company Limited (GC) and Bellygom to create the Sustainable Living X'mas Tree 2023, made from discarded HDPE (high-density polyethylene) plastic bottles, known for their flexibility, strength, and toughness.
This event will feature the renowned pink teddy bear Bellygom from South Korea as well as Bellygom-themed wrapping paper. In addition to the Christmas tree, a full range of entertainment activities by artists and singers will also be hosted throughout December to offer an exciting and joyful experience for everyone, to be held from November 17,2023 to January 14,2024.
In addition, ICONSIAM, Siam Paragon, Siam Center, and Siam Discovery are hosting an exclusive promotion campaign through the last two months of 2023. In celebration of the one-of-a-kind experience that exceeds all expectations on ONESIAM SuperApp, the "VIZ Member Day 2023" campaign will also be hosted on November 7-9, 2023 to offer a full range of privileges and benefits to VIZ members.
During this campaign, members can receive double the VIZ Coins when shopping and accumulating them through Snap & Collect and earn 10 times the VIZ Coins when making purchases in the Digital Mall category. In addition, they will spend VIZ Coins, they will receive the same amount of VIZ Coins in return.
Additionally, members can transfer and convert points from participating credit cards into VIZ Coins. This is not to mention an array of many other privileges and benefits that will be offered to both Thai and international shoppers to deliver happiness and enhance their shopping experience on this special occasion.
Siam Piwat Group believes that this grand celebration on a global scale will not only deliver moments of joy and memorable experiences but will also serve a significant driver of the economy and help to enhance Thailand's tourism industry sustainably.