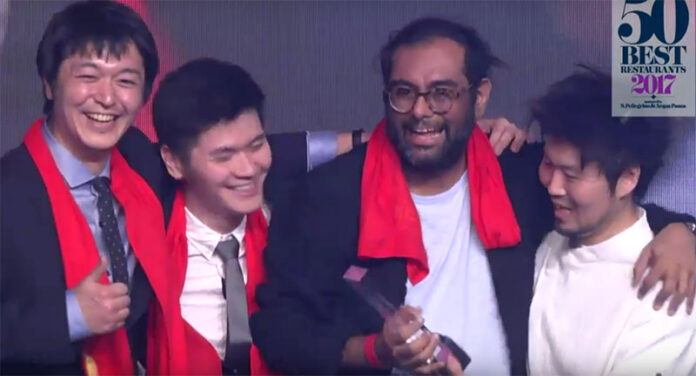 BANGKOK — A Bangkok Indian restaurant topped the "Asia's 50 Best Restaurants" list for a third consecutive year on Tuesday.
At an awards show held in the capital Tuesday evening, nine Bangkok restaurants found places in the "Asia's 50 Best Restaurants" list announced, a prestigious award recognizing the best restaurants in the world.
"I had a choice today to give the most arrogant speech ever, but today I'm humbled and I wish I could break this into 50 pieces and share it with all the chefs in this room," Gaggan said, accepting the award. "This is not for me, this is for Asia."
Read: Popularity and Profits: Bangkok's Chefs Anxiously Await 'Asia's 50 Best'
After a year of anticipation, gastronomes finally know their next destinations to explore fine food as the fifth edition of the list was announced Tuesday night at the W Hotel.
The winner was, no surprise, two-time champion Gaggan Anand's Gaggan. The progressive Indian cuisine has held the list's top spot since 2015.
Along with Gaggan, other Bangkok restaurants included Nahm (No. 5),  Suhring (No. 13), Bo.Lan (No. 19), Issaya Siamese Club (No. 21), Eat Me (No. 31), The Dining Room (No. 36), Le Du (No. 37), and Robuchon (No. 40).
Combining Chinese heritage with American upbringing, Hong Kong chef May Chow was named Asia's Best Female Chef in December, while Kim Dae-Chun's Toc Toc restaurant in Korea was chosen as Asia's One to Watch.
Bangkok hosted Asia's 50 Best Restaurants for the second time with interesting events being held including talks, local food discovery and food demonstrations. Apart from the international recognition, the award also help guarantee the listed restaurants' acceptance and profits.
Full list of winners:
| | | |
| --- | --- | --- |
| 1 | Gaggan | Bangkok |
| 2 | Restaurant Andre | Singapore |
| 3 | Amber | Hong Kong |
| 4 | 81/2 Otto E Mezzo Bombana | Hong Kong |
| 5 | Nahm | Bangkok |
| 6 | Narisawa | Tokyo |
| 7 | Nihonryori | Tokyo |
| 8 | Ultraviolet | Shanghai |
| 9 | Odette | Singapore |
| 10 | Burnt Ends | Singapore |
| 11 | Den | Tokyo |
| 12 | L'Effervescence | Tokyo |
| 13 | Suhring | Bangkok |
| 14 | Florilege | Tokyo |
| 15 | Mingles | Korea |
| 16 | Les Amis | Singapore |
| 17 | Lung King Heen | Hong Kong |
| 18 | Quintessence | Tokyo |
| 19 | Bo.Lan | Bangkok |
| 20 | Waku Ghin | Singapore |
| 21 | Issaya Siamese Club | Bangkok |
| 22 | Locavore | Bali |
| 23 | Corner House | Singapore |
| 24 | Raw | Taiwan |
| 25 | Jungsik | Seoul |
| 26 | Sushi Saito | Tokyo |
| 27 | Tippling Club | Singapore |
| 28 | Le Mout | Taichung |
| 29 | Ministry of Crab | Sri Lanka |
| 30 | Indian Accent | New Delhi |
| 31 | Eat Me | Bangkok |
| 32 | Jade Dragon | Macau |
| 33 | Ta Vie | Hong Kong |
| 34 | Hajime | Osaka |
| 35 | Gallery Vask | Manila |
| 36 | The Dining Room | Bangkok |
| 37 | Le Du | Bangkok |
| 38 | La Yeon | Seoul |
| 39 | The Tasting Room | Macau |
| 40 | Robuchon | Bangkok |
| 41 | L'Atelier | Hong Kong |
| 42 | Jaan | Singapore |
| 43 | Mume | Taipei |
| 44 | Shinji | Singapore |
| 45 | Ronin | Hong Kong |
| 46 | Wasabi | Mumbai |
| 47 | The Chairman | Hong Kong |
| 48 | Fu He Hui | Shanghai |
| 49 | Nihonbashi | Colombo |
| 50 | Takazawa | Tokyo |
Related articles:
Popularity and Profits: Bangkok's Chefs Anxiously Await 'Asia's 50 Best'
https://www.youtube.com/watch?v=99UAWvXREU8