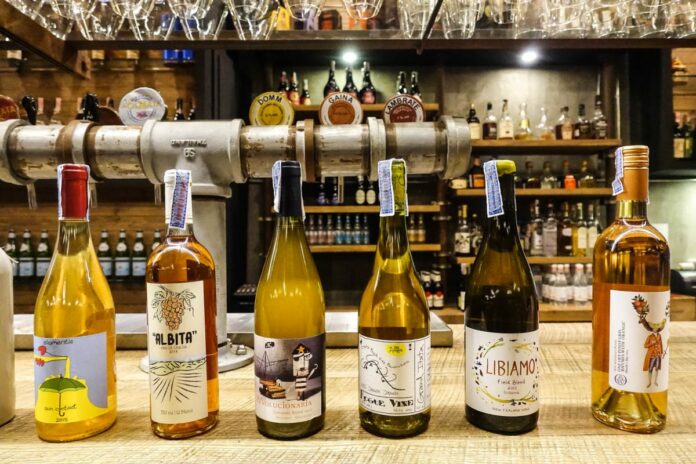 BANGKOK — Giulio Saverino snaps his fingers and a waitress comes over, decanting a persimmon-colored alcohol into his class. He's drinking orange wine.
The Italian wine expert says orange wine is the hot new thing – despite being thousands of years old – especially for those avoiding impurities or animal products. While conventional wine may use egg whites, fish oils or fish bladders during filtration, Saverino said "nothing is added or removed during the process of making orange wine."
"You get the freshness of the white wine and the tannins of the red," Saverino said. "It's very popular among women here. Seventy percent of my orange wine customers are women."
The process of making orange wine itself is over 6,000 years old. It involves one of the simplest forms of winemaking, in which organic white grape juice is left in contact with the grape skin for a much longer period, creating a cloudy amber color rather than the mirror-like clarity of conventional reds and whites, according to New York Times food writer Eric Asimov.
Recently, orange wine has made a comeback as part of the natural wine movement in the greater organic food trend.
To an uncritical tongue, the orange wine was easier to drink with less of the tannin bitterness of many reds and a fuller, fruitier flavor than whites – and without the morning-after headache. The cloudy unfiltered ones also lend a fruity aroma that paired well with cold cuts and vegan bruschetta. Or, as Saverino put it: "even Asian food."
Our favorite of the five sampled at a press event last week was the 2015 Jamon Jamon from Chile.
Saverino first brought orange wines from his homeland in northeast Italy in 2016 and says he will expand the selection at About Eatery this year.
You can try them yourself, but as anyone with a nose for wine knows, they are expensive in Thailand. Expect to pay 125 baht to 395 baht for a half glass, 250 baht to 790 baht for a full glass 1,250 baht to 3,950 baht for a bottle.
Saverino broke from sales mode to warn that drinkers should not associate cost with quality.
"Price doesn't equal quality for orange wine," Saverino said. "The wine differs bottle to bottle because it depends on the grapes used for each bottle."
Vegan and meat tapas to munch on with the wine cost 150 baht to 380 baht.
"Of course, you don't have to be vegan to try the endive with beetroot dip," Saverino said. "I decided to bring in vegan wine because, nowadays, people want to eat healthy."
Saverino claims About Eatery is the first natural wine bar in Thailand, as well as the first to serve orange wine. It's open 11:30am to 2:30pm and 5pm to 1am daily. The restaurant is accessible by foot from MRT Sukhumvit or BTS Asok.