Finding an unpretentious yet stylish restaurant serving homey portion sizes at reasonable prices in Asok is rare. For it to serve authentic southern Thai food is even rarer. In that tiny interval of probability, there's Klangsuan.
A low-key restaurant serving Chumphon province food and passed around by word of mouth, Klangsuan opened July 2017 deep in Soi Sukhumvit 22. In an interview with Khaosod English, owner Nuttavut "Tum" Mandrananda, 39, talked about growing up to the sound of chili dip being pounded, the sharp scent of turmeric curry being boiled and how the restaurant is an ode to his family.
"I know people are having fun with fusion food right now, but I want to bring back childhood nostalgia," Tum said. "I'm cooking like my grandma did, staying faithful to the things she made for me growing up."
For Tum, and many diners, Klangsuan spells nostalgia and childhood, a homecoming to filling and delicious homestyle food.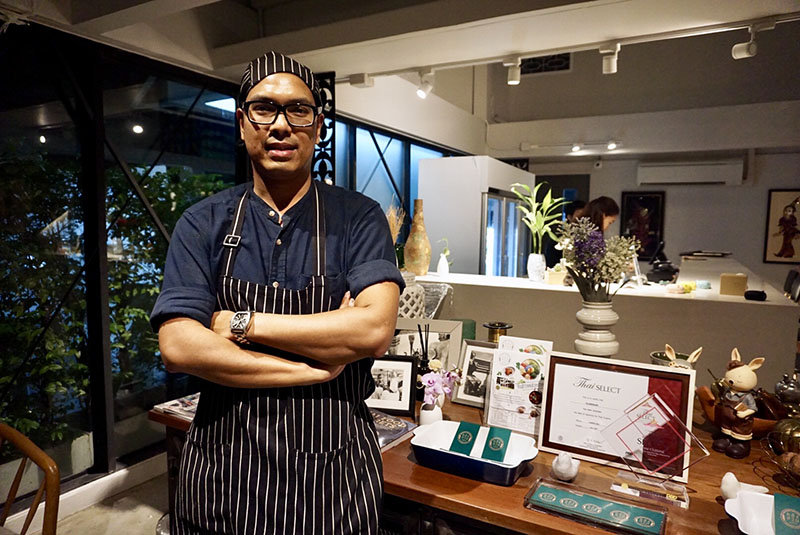 From Grandma, to Mom, to Son
Tum grew up averse to everything related to cooking. Growing up, he saw his grandmother struggle as she hawked food and ran a small eatery with his mother in their native Lang Suan district in Chumphon.
"Cooking was always something I tried to run away from. I wanted to be an artist, so I became a freelance photographer and went to Australia to work. I was searching for myself. All the while I didn't go close to Thai food," Tum said of his three-year stint from 2007 to 2009.
Unlike many Thais who work overseas in the food business, the closest Tum went to touching food was waiting tables in a bar and delivering catering. But it was one night in a pub, chatting to farangs, that he decided it was time to stop running.
"They were asking about what I had back home, so I talked about my grandma's shop. Then, they said, 'if I were you, I wouldn't come here to struggle. I'd go back home, help the family out and pass on the tradition,'" Tum said. "Farangs really give credit to chefs and people that can feed others. So that changed my perspective."
Tum came back home to reconnect with his mother, Ngam-nit Mandrananda, 65, – and memories of dishes by granny Cha-leaw Mee-sombut, who died in 2001 at 75, came rushing back.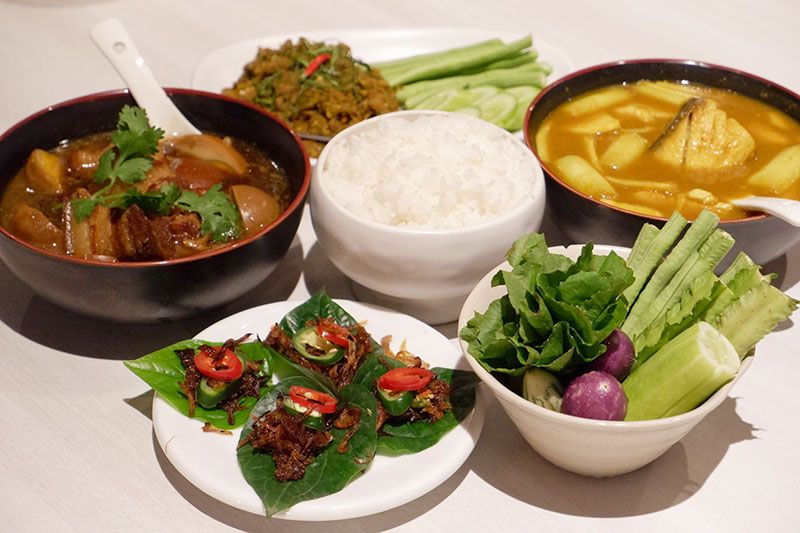 "There was something surreal linking me to cooking old tin and wood house. It's like how the kid is an artist when their parents were, because they're used to seeing wrists flicking brushes," Nuttavut said. "I remembered the little tips my mom said to herself while cooking, like not putting liang [melinjo] leaves while boiling coconut milk."
He saw his childhood in a new light as his mom taught him her trade.
"My mom never told me to go into cooking. She said it was a hard job with many problems. You have to chop things repetitively every day until your hands crack," Tum said. "I realized then that I had been selfish. I experienced the difficulties my mom went through in running her shop to raise me, like going to the market at 3:30am. It got emotional."
Tum then decided to open Klangsuan, (a dialectal name for a house garden) to pass on his grandmother's dishes.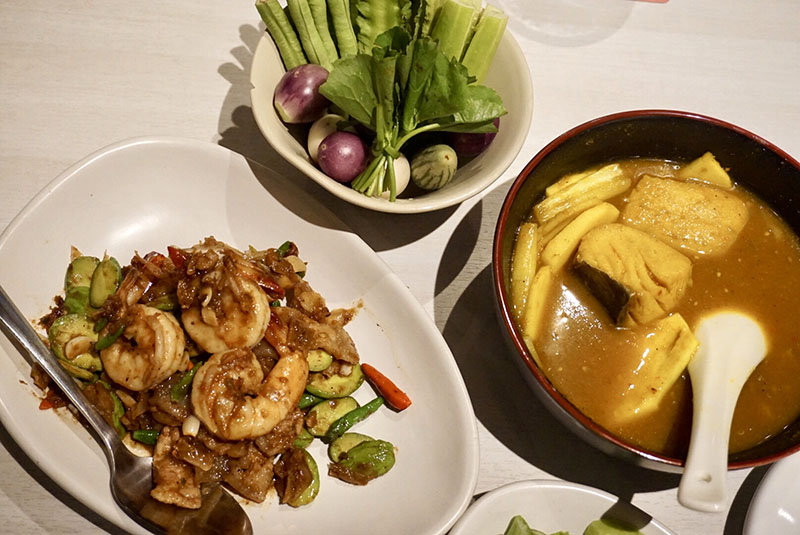 The Food
The attention is in the details: 80 percent of the ingredients are Chumphon-sourced. Nuttavut insists the lemongrass from his hometown is softer and more fragrant than those in Bangkok. Mackerel must be fished from the Gulf of Thailand, not the Andaman Sea, for firmness. Cumin is only from Lang Suan district and he uses coconut sugar, not white sugar. Coconut milk must be fresh, not boxed. All curry pastes are made in-house and some of the veggies are grown in the garden by the restaurant.
"If I run out of chili, I say so and have to tell the customers that I can make them something else. It won't taste the same if I run out and get chili here," Nuttawut said.
I'm cooking like my grandma did, staying faithful to the things she made for me growing up
It's near impossible to miss when ordering at Klangsuan, unless you dislike southern food. The miang pla kraben waan (฿120) are 12 betel leaves with shredded rays and lemongrass, a sweet opening to the wild spiciness of the khua kling moo (฿150) of roasted spicy pork and kaeng som Klangsuan sour yellow curry (฿350), generous in its mackerel and crunchy bamboo shoots.
The spiciness builds up until cloaked by the coconut milk soup with prawns (tom kati hua maprao, ฿180). The sparks of heat in the mouth is extinguished in one go with the sweetness, like how a gust of wind blows out all the lights in a candle-lined Tibetan cave.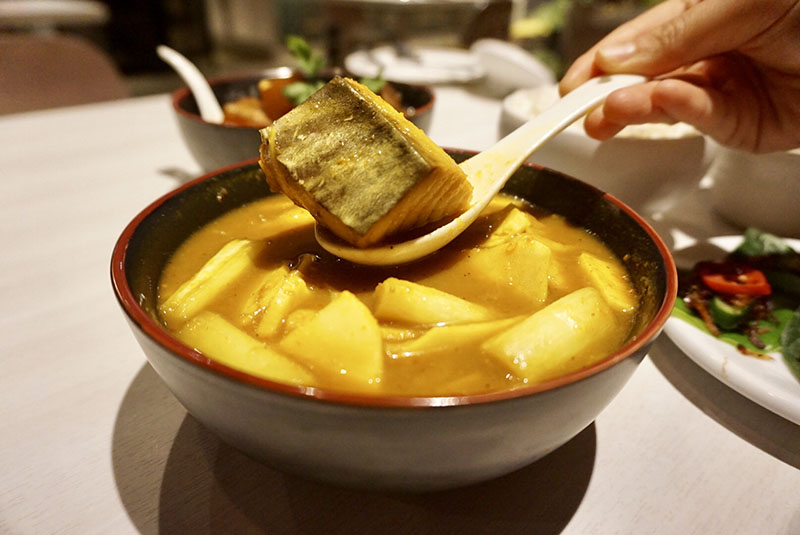 When things are getting too sweet, turn to the dish of sataw khao phad kapi (฿160 with pork belly, ฿180 with prawns.) It brings to mind better versions of hot seaside summers, with crunchy, fresh, stir fried stink beans. The kapi paste used is sharper and fishier than usual shrimp paste since it's made of krill.
Again, extinguish excess spice with the Southern-style five-spice Chinese soup, khai palo koo rak, sweeter than usual egg-and-pork palo dishes (฿200.) Take a palate-cleansing, crunchy break with the complementary vegetables of Asiatic pennyworth and spherical green and purple eggplants.
In a world of fad foods and calorie counting, it's nice to simply slurp down sweet and spicy without a care.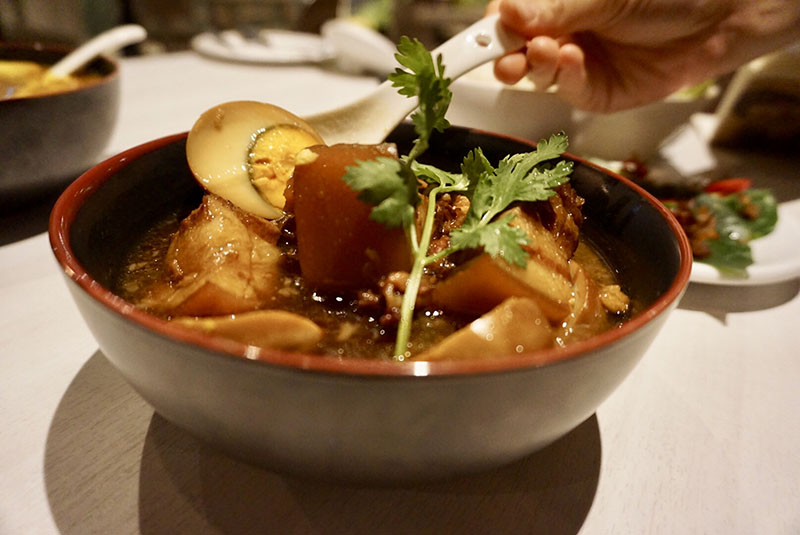 Other than the lunch office crowd in the fern-and-polished concrete space, the clientele is largely family-oriented, like the restaurant's story.
"Actually, there's a lot of elderly. They're past the point of eating fusion food with fancy plating in small portions," Tum said. "This 70-year-old granny who came to eat khao yum [rice salad] said it immediately made her think of cracking wild tamarind seed pods for her mom as a child."
One can tell that the food at Klangsuan isn't meant to trick, show off or even impress one with showmanship. It's food to nourish you, making you reach for different flavors, and switching them up if things get too hot or too sweet. The food tastes what a southern granny, if you had one, would have made for you to eat until you're stuffed. The food tastes like love.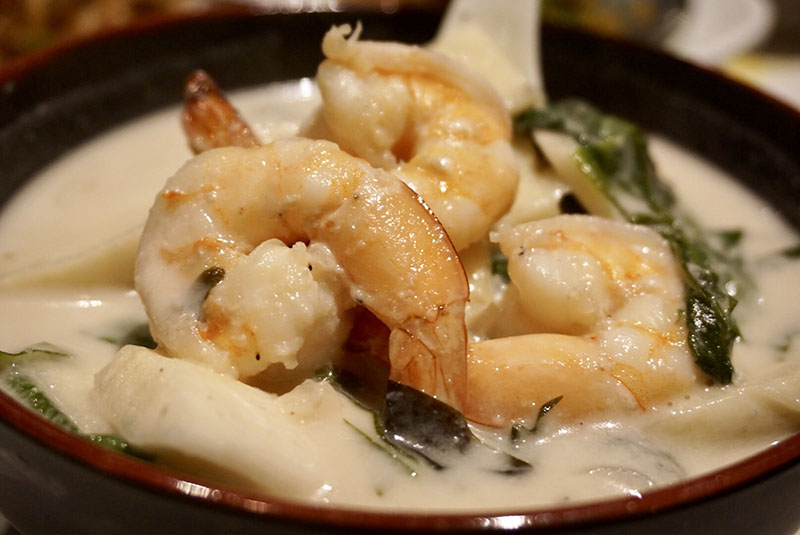 Photos by Jintamas Saksornchai
Klangsuan is open 11am to 2pm and 6pm to 10pm on Tuesday to Friday. It opens 11am to 10pm on weekends. The restaurant is closed on Monday. It's reachable by a short taxi or motorcycle ride into Soi Sai Namthip 2 in Soi Sukhumvit 22 from BTS Phrom Phrong, BTS Asok, MRT Sukhumvit or MRT Queen Sirikit National Convention Centre.