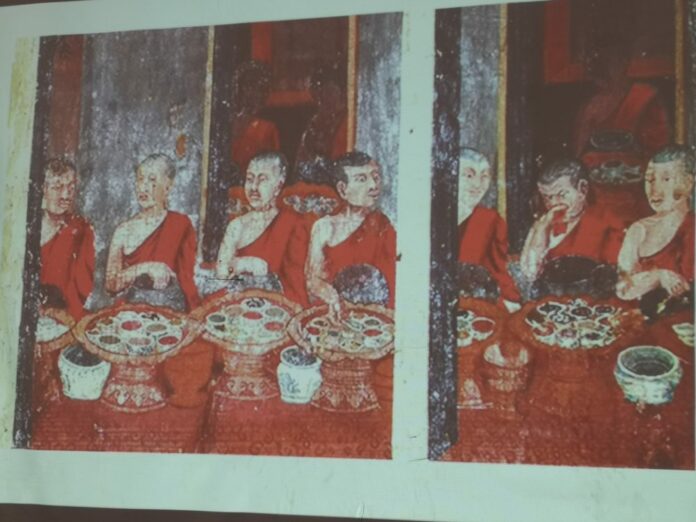 BANGKOK — Chicken red curry, crispy Thai omelette and chilli paste are three of the centuries-old recorded Thai dishes still common today, an expert said Thursday.
The three were listed among a dozen meals offered to Buddhist monks at the Temple of the Emerald Buddha, or Wat Phra Kaew, in 1809 in Bangkok during the reign of King Rama I, according to retired folklore professor Sukanya Sujachaya.
Now, they're on a new list of dishes the Culture Ministry hopes to register as cultural heritage with UNESCO.
Little or no written record about Thai dishes existed during the Ayutthaya period, Sukanya – who is researching food history for the ministry – said during the talk at Matichon Academy. She believes this is because food was so abundant back then that people didn't bother paying attention, leaving foreigners to make the records. Some of them concluded that the Siamese were lazy because they didn't have to work hard to fill their stomachs.
Another Western account also noted a spike in the popularity of alcohol consumption from 1620 to 1628 during the reign of King Songtham of Ayutthaya, credited to his prodigious drinking.
Old murals and foreign chronicles show people ate communally, but with women and men segregated by gender and class.
Another discovery was that sweets were not so sweet during the Ayutthaya period – at least not until sugar cane plantations became common much later.
Sukanya – who is writing a book on ancient Thai dishes for the Culture Ministry – said fish sauce, or nam plaa, as we now know it existed during the Ayutthaya period. However she said it came from China, as the Siamese had previously fermented freshwater fish and not saltwater fish.
Other world-famous Thai dishes such as tom yum goong are shrouded in mystery, as there aren't early written records about their provenance, although Sukanya believes the soup probably existed since the Ayutthaya period because freshwater prawn is common in the river.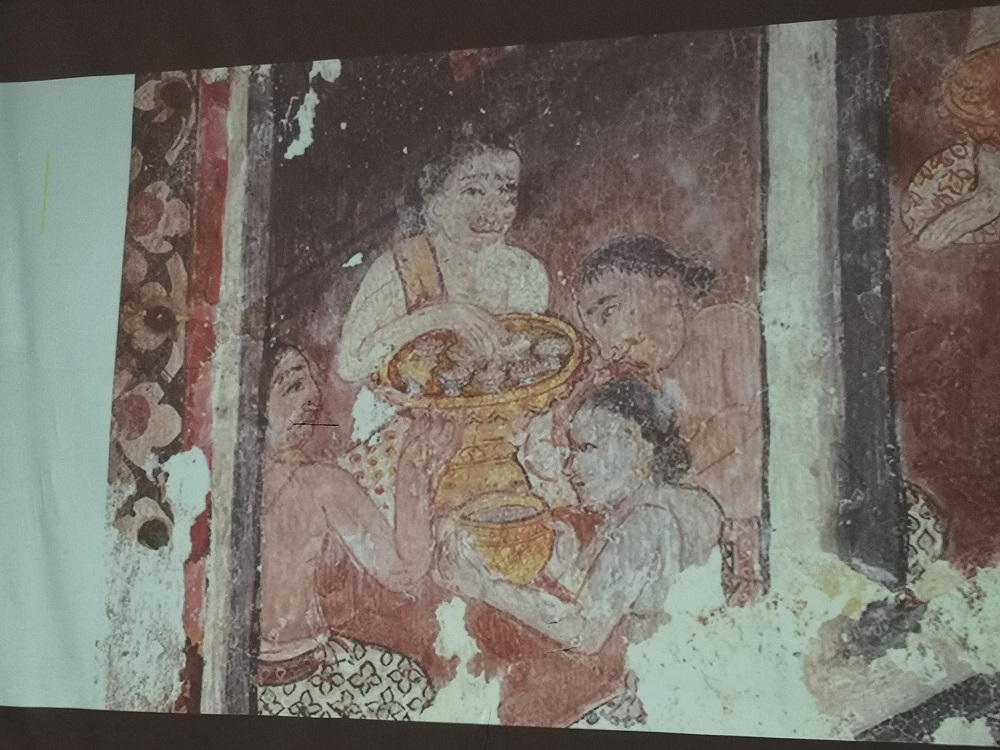 "Prawns were common so the dish most likely existed back then," Sukanya said, referring to the period that lasted from 1351 to 1767. Records from King Rama I's period also contain a dish described as boiled prawn.
Another dish on the list still eaten in a similar way today is fried fish and watermelon. Today however, the dried fish is shredded, whilst previously it was eaten whole.
As for the use of forks and spoons, Sukanya credited King Chulalongkorn, or Rama V, for the selective adoption of western cutlery – namely smaller forks and spoons that suited Thai dishes instead of larger forks and knives, as meat is mostly cut into smaller pieces before being served. This replaced the use of hands to pick up food and scoop rice – which is common in South and Southeast Asia.
"It was chosen from the many pieces of Western cutlery. It's very convenient to eat with forks and spoons as one can sturdily press food down with them."
Another notable eating habit – long before one-plate meals became common – is that Thais used to eat rice with a few side dishes that came together, instead of the western tradition of serving dishes one at a time. Again, this is depicted in old temple murals dated back to the Ayutthaya period.
Although food was not really mentioned in detail in Ayutthaya period literature, a wind of change came after the kingdom's fall, as famine struck the old capital when it was sacked and burned down by the Burmese.
Sukanya said King Taksin of Thonburi Kingdom – which succeeded Ayutthaya – had to import rice from China for seven years after the incident. Since, literature touched on food which was once abundant – at least for a period of time – before people became obsessed about it given its scarcity.