'I've been the one to party, until the end.
Looking for the after party to begin
I'm going down to … La La Land'
-Green Velvet
Bangkok is known for its vibrant nightlife, but these days it isn't the 24-hour party city people think it is.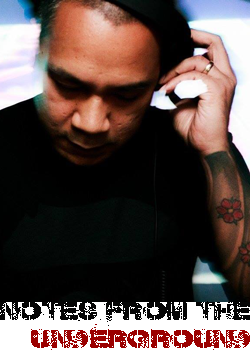 A closing time of 2am can be early for those who like it late, and in the electronic music scene, early closing times prevent DJs from fully working their magic and promoters from making money.
Today the forces of fun are in retreat from the onslaught of killjoys, and venues catering to those who like it late and later are vanishing. Apart from some cheesy dance clubs packed with old foreigners and the women who love them, there aren't many places to get jiggy to an all-night techno or drum 'n bass session.
That said, there are still some places for starry-eyed nighthawks to check out.
Here are a handful of late venues, but keep in mind that closing times can change in the blink of an eye and surprise visits from the boys in brown can happen when you least expect it.
1. Dark Bar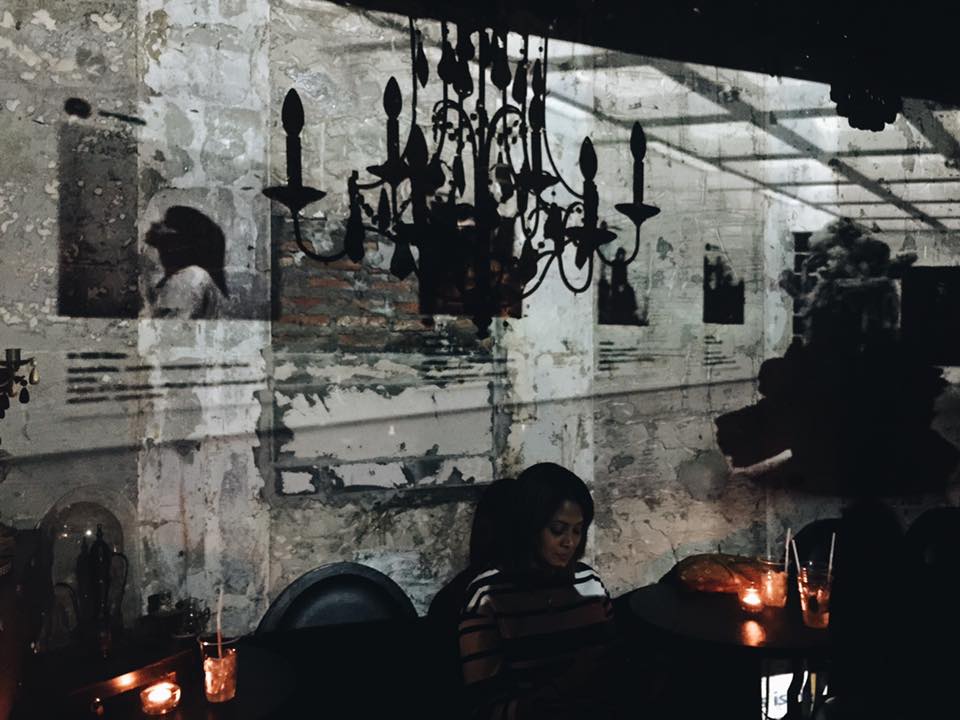 Tonight Dark Bar celebrates its second anniversary with a party headlined by DJ Krit Morton.
When it opened two years ago, Dark Bar rose to become considered by many the crown jewel of Bangkok's underground club scene. Low key, tiny and tucked away from view behind a thick metal door on the second floor of Ekkamai's Liberty Square is where you will find the venue. Inside the interior is raw concrete mixed with a splash of Victorianesque decor. A crystal chandelier hangs on the ceiling while the DJ controls the sounds behind a wooden booth. Once inside, find it's only big enough to fit a handful of party-goers and on most nights more clubbers are found outside than inside, like bees swarming a hive.
Krit and his crew are known for taking audiences on late night tech house excursions. Chatting with him via Facebook, he told me his reason for giving standard closing times the middle finger.
"We think it's good to show Thai people that this scene is part of our life and that it should be accepted, also most people arrive at 11pm or midnight; so two hours is not enough time to take the audience on a journey," he said. "I think people who make the laws aren't very open-minded. They don't understand anything we do."
Considering the work and risk they take, please show some love and pay the 200 baht door fee, even if you just lurk outside the Dark Bar.
2. Whiteline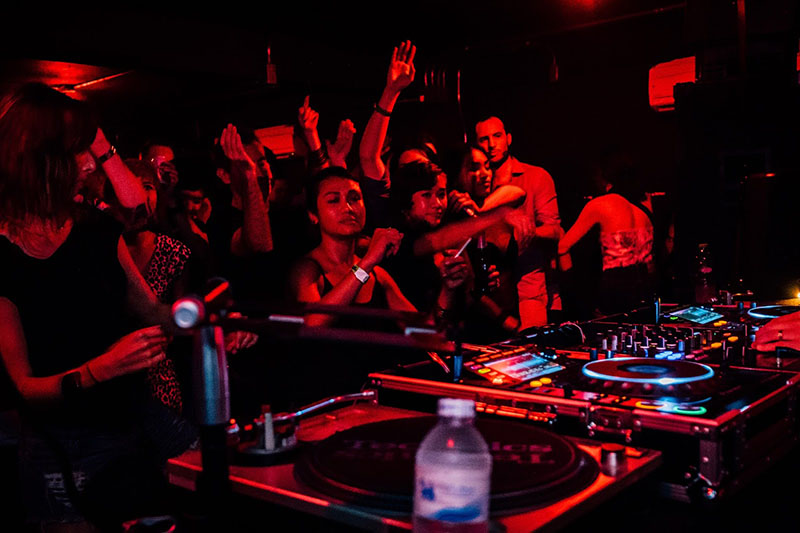 Across town from Ekkamai on Silom Road, near that most famous red light district Patpong, find Whiteline.
Whiteline is a pub, cafe and event space rolled into one. Open for about a year, it's earned a reputation as a top-notch, late-night haunt thanks to events like the Bukruk festival after-party, which saw hundreds of party people pack the bottom and top floors of the venue. For late-night clubbing, skip the main area and head up to the second floor where all the sweaty dancefloor magic happens. Weekly events are organized by Sun Thappawut aka DJ Sun.
His shindig Back to Normal goes down tonight and features Boogie G (Studio Lam's Nite Ride) and Maarten Goetheer (Beam regular) on the decks.
Sun told me he was inspired by a recent trip to Berlin to keep the dream alive.
"In Berlin, you can feel that the whole city is living for the scene. They really love and understand the music, while the law in Thailand is too unfair. As a promoter, it's easy to lose money because of early closing times."
Back to Normal is 100 baht after midnight.
3. Glow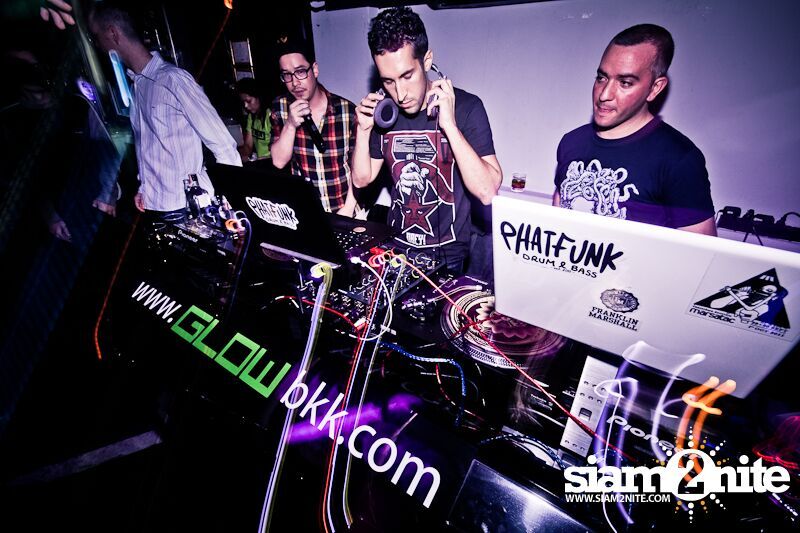 Though it's no longer guaranteed to go past 2am, we must include Glow in our journey. Opening in 2005, Glow Nightclub on Soi Sukhumvit 23 was for many years the go-to spot for proper underground music and late-night clubbing. Helping build its fame were the likes of the Phatfunk crew, that for six years has organized some of the best drum 'n bass nights in Bangkok.
But in recent months Glow has dimmed or gone dark earlier than it used to, so it's not guaranteed past 2am. Even Phatfunk head honcho DJ Azek said his crew has taken a break from organizing monthly events due to rough times brought by earlier closing times. All hope is not lost though as Phatfunk plans to bring back the vibes come Oct. 17, albeit at a different venue, with special guest Commix.
Tonight it's the second installment of Inhale vs. Berlin Beats with DJs Sunju Hargun, Felix Moreno and Laurent Haze. Door is 300 baht, includes one drink.
4. Mustache Bar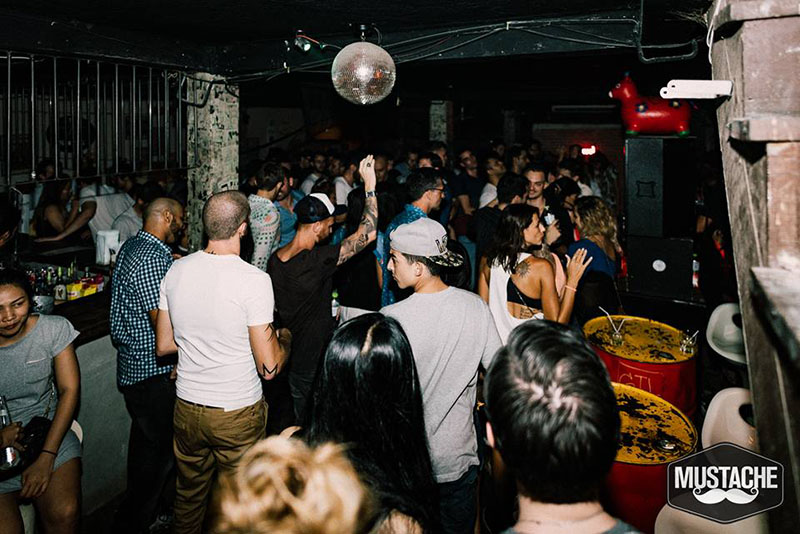 Rising above the sea of Ratchada massage parlors are the relatively new kids on the block at Mustache Bar.
Since February 2015, Mustache has made a name for itself with its techno-only music policy and what had until recently been a reliable destination for those wanting to groove till the wee hours of the morning.
For now the club has to deal with fluctuating closing times and unfortunately has to close much earlier than expected. Mustache promoter and Swedish DJ The Outsider remains positive.
"The scene in Bangkok is remarkably resilient and adaptive, we've learned to make the most of what's on offer."
On Aug. 28, The Outsider will host Purple Zone, an event focused on Deep Techno beats. Entry is free, so if you've blown all your cash buying your mates beer then head to Mustache if you want one last dance.
5. Mad Club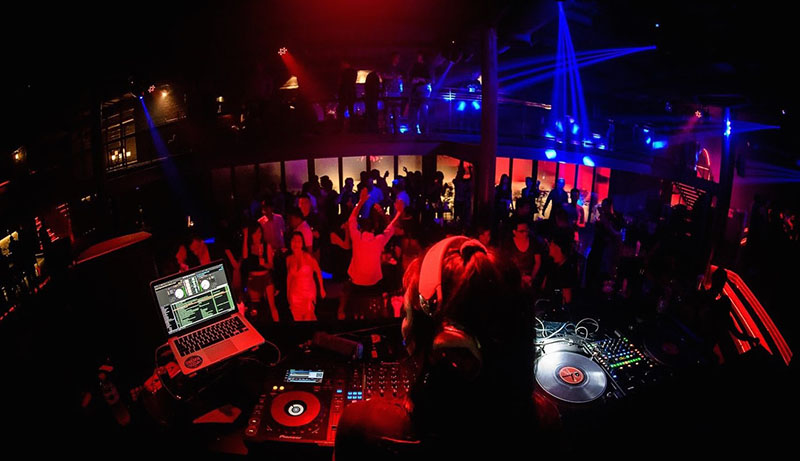 Down the strip at Ratchada 14, find my final pick: Mad Club. With a music policy that leans more hip-hop, the recently opened club on Thursday will host a special guest – American booty-shaking bass pioneer DJ Tittsworth. Tickets are 300 baht at the door.
Have fun, be safe and don't be mad if they're closed now, them's the breaks.
Until next time, Dub be good to you.
TOP: Kontraband at Dark Bar. Photo: Tetsuya Ishikawa