In 1994, two producers got '90s icon Kejmanee 'Pin' Wattanasin to front their act, and the result was the breakout success of Kidnappers, an electric pop trio that were part of the kingdom's modern musical renaissance. Their first album "Slang" remains a classic synonymous with that era.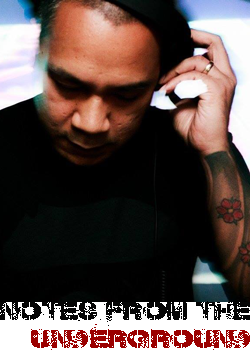 It started in the summer of '94 when producers Pakawat 'May' Waiwitaya and Traitep 'U' Wonpaiboon ditched the pop for a darker breakbeat sound and won street cred at some of the illegal warehouse raves going on and in the process became one of the first proper electronic music bands in Thailand.
Since then, they've dropped three critically acclaimed albums and a string of chart-topping singles.
Today, Pin is a mom and busy with her celeb husband J. Jetrin's media empire.
But Tomorrow, Saturday, Kidnappers will take the stage at Tempology Festival with their new belle, the intoxicating model/actress Dissaya "Tiew" Korakotmas on the mic.
They've got a new single, "No Way," which dishes out their signature brand of stylish grooves and feel-good lyrics. it's even been given the magic touch by legendary sound engineer Tom Coyne (Adele, Disclosure, Mark Ronson) of Sterling Sound NYC. Already in the works for later this year is another EP to be released on the trio's current label Spicydisc.
While May and U soak fame on the stage, behind the scenes they've got 9-to-5 jobs like the rest of us – albeit a bit more illustrious.  U is a sound engineer and managing director at the esteemed Kantana Sound studio, which won a Golden Reel Award for Wong Kar Wai's film "The Grandmaster."  May is a decorated veteran in his own right with numerous awards for scoring TV advertisements. He also owns the Atomix Clubbing recording studio, where I headed on a a recent cloudy afternoon for an interview.
The studio is stacked full with synthesisers and space-age equipment I dare not let my clumsy fingers touch.
On stage, May and U make the music while Tiew sings and struts. I've come to ask what they've got planned for Saturday's Tempo Festival.
"It's not going to be what you'd expect" May says smiling as he sits down next to U on the studio's leather sofa. May does most the talking, the band's spokesman while U tends to the quiet intellectual type (Or maybe it was struggling with my shitty translations from English to Thai).
And then Tiew walked in to join us, and I was admittedly completely starstruck.
We rapped for about half an hour about their two decades in the Thai music scene, EDM and their special performance at Tempo Festival.
---
Mongkorn: It's been over two decades since your first album. Will you do this forever?
May: (laughs) We've just been signed to Spicydisc records, so because of our contract, we've got to release another album through them. I love playing live shows so I have no problem with doing this for as long as I can
Mongkorn: Your fan club must have definitely changed over the years.
May: What's cool about is our fans from back in the day still come to support us, the only thing is that most of them have kids now. They bring them to our shows, and it's great to see their kids enjoying our music.
Mongkorn: Tiew your the latest addition to the group how did you guys meet?
Tiew: It was through Tom of Cut the Crab [our mutual friend Thitinun Swasdikula]. I auditioned and after that May and U chose me to be their lead singer.  I didn't really have much experience singing but May and U coached me first and I learned from there. It was really tough.
Mongkorn: Were you a big fan of electronic music before?
Tiew: I like all kinds of music but as of lately I've been listening May and U's music. They gave me a lot of the 80's electro and synth pop to listen to and get inspiration from.
Mongkorn: You guys are headlining Tempo festival and word on the street is that you're going to be doing things a bit differently this time?
May: Normally me and U perform as musicians but this time we plan on doing a 3 DJ back to back set with Me, U and Tiew.
Mongkorn: So you guys are gonna play all exclusive kidnappers material?
May: No I think it's going to be a mix of our favourite tunes mixed with some our own remixes and unreleased tracks.
Mongkorn: You both came up in the underground electronic dance scene, what influenced you to make electro pop?
May: We've been a fan of this style of music since we were kids. We wanted to see what would happen if we made this music for a Thai audience.
Mongkorn: I met you guys back in those warehouse days. How do you feel about the scene in Thailand now?
May: Back then crowds in Thailand weren't so well educated about electronic music, so people were really curious and fascinated with what we were doing, and ultimately that's how everyone in the scene got to know one another. Now electronic music is very trendy
U: It's become a proper business nowadays. I think there's still the hardcore folks out there but just in very small numbers
Mongkorn: Many artists tend to try to renew themselves by going down the EDM path. What's your opinion on that?
May: Sometimes when we get interviewed by TV stations or commercial radio shows, they tend to think that all electronic music is EDM. The great thing about the scene in Thailand now in comparison to 20 years ago is that we have so many good DJs from overseas coming to play in Bangkok.
Tiew: Yeah there are clubs like Beam as well that have brought the underground sound to a bigger audience, but I don't think everyone can understand it but for those that do they really enjoy it.
U: Actually EDM is kinda cool in the fact it can bring electronic music to a new audience. I mean it's definitely created an big interest here in Thailand. If people listen to us and think we're an EDM group, and they like our music, then I'm totally fine with that! (They all erupt in laughter.)
Tempology Music Festival is Saturday at Live RCA. Tickets are 700 baht.