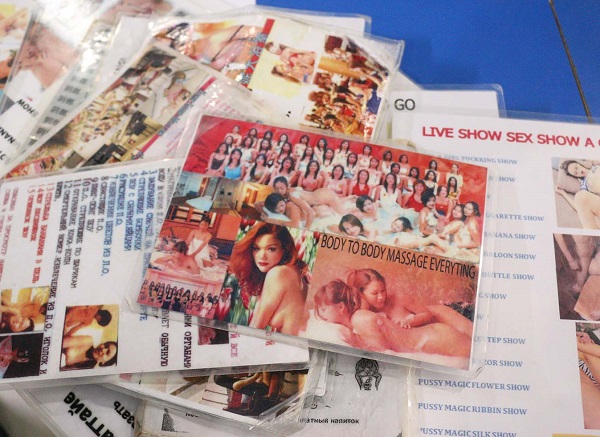 PATTAYA — Soldiers and local officials arrested 16 people Monday night holding laminated cards promising salacious entertainment at Pattaya's infamous sex shows.
Two Russian nationals were among 16 people taken from the Walking Street red-light district to the Pattaya City Police Station at about 11pm. There they were charged with creating a public nuisance after army Lt. Suwit Laklang said tourists complained they were aggressively pushing people to attend the shows.
"Tourists also said they were fooled because when they paid and entered the place, there was no such show as the agents claimed," Suwit said.
The suspects were reportedly fined 500 baht each. No obscenity charges were filed.
"We chose to charge them with the smallest misdemeanor because we just wanted to warn them," he said, explaining the arrest was meant to stop false advertising and public nuisance – not the actual shows.
Reached for comment Tuesday afternoon, Pattaya police chief Col. Aphichai Krobphet said he did not believe the arrests happened. However army Lt. Suwit confirmed it went down as described.
"It is impossible for police to say they were unaware of it," he said. "Though we made the arrest, they are the ones with the authority to fine them."
The military officer said should the same people be arrested again, they will be fined 5,000 baht. Suwit said it is acceptable if they only stood in front of their venues without following people in the street.