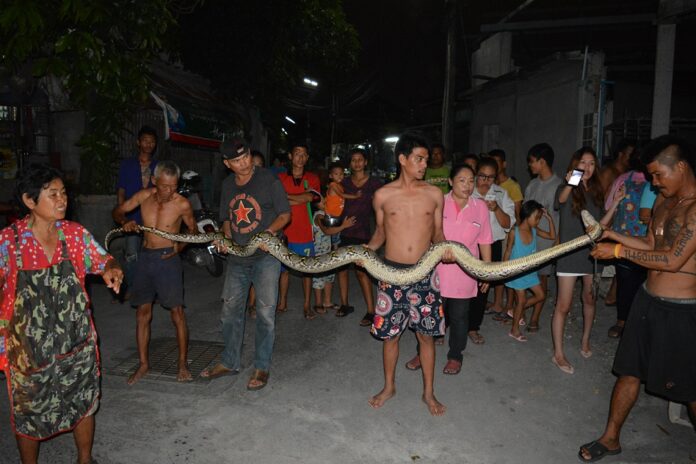 CHONBURI — An unidentified man sought vengeance against a python Monday night by tying it to his motorcycle and dragging it through a soi in Chonburi city.
Oraphan Suphon said he noticed the man riding the motorcycle with the five-meter snake's head lashed to it at about 9:30pm in Soi Phet Ban Suan.
Witnessing the torture of the python, which was bleeding in several places, 39-year-old Oraphan said she stopped the man and asked him if the animal was dead. When he told her it was still alive, she demanded he tie it to a nearby utility pole while she called rescue volunteers to rescue the animal.
The rescue team soon arrived, put the hardy python into a sack, and then released it into the forest.
The man told Oraphan he was seeking epic revenge torn from the Iliad because he believed the serpent had twice eaten his ducks. After the second incident, he caught the python to hold it accountable.
After tying the vanquished snake to the pole, the man fled the scene.
Related stories:
This Giant Snake Ate 5 Chickens. Now They Hope it Will Make Them Rich