Update: Si Quey is cremated at a temple in Nonthaburi on July 23, 2020, in the light of new evidence that suggests he was likely framed for the murders. 
Late on a Monday afternoon decades back, 8-year-old Somboon Boonyakan went to buy some vegetables for his family to cook dinner from a local Chinese gardener. He never returned.
See Uey once met a Chinese hermit who advised him that eating children's intestines would grant him supernatural powers.
As dusk approached, Nawa Boonyakan called on his friends to search for his missing son in the woods near their home in the seaside town of Noen Phra, Rayong province, fearing the young boy might have wandered off.
In the shaded gloom of the woods, Nawa and his companions stumbled upon the gardener Somboon had gone to buy from. His name was See Uey Sae-Ung. He was burning a pile of brush when Nawa found him.
The anxious father must have been relieved to encounter someone who'd seen his son before he went missing. Maybe See Uey could provide the detail that would lead him to Somboon.
Any relief soon turned to horror when Nawa noticed what See Uey was burning under the debris: a small leg. He rushed to stamp out the fire and uncovered the half-burned, eviscerated body of Somboon beneath the charred leaves. Howling in rage, Nawa and his friends attacked See Uey and held him down until police arrived.
Read: Thailand's Wonderful Ghost Movie Posters  (Gallery)
It was 1958. In the next few days, the story hit the frontpage of newspapers across the country – See Uey confessed to killing Somboon and ripping out his intestines.
But he didn't stop there. He also admitted to murdering five other children in the same gruesome manner because he liked the taste and sought special powers. His confessions – and the histrionic media coverage – enshrined him as the most notorious killer in Thai history, where every child from that point on would grow up knowing his name as the boogeyman who would snatch them in their sleep.
Today, tourists and visitors alike still visit See Uey almost every day.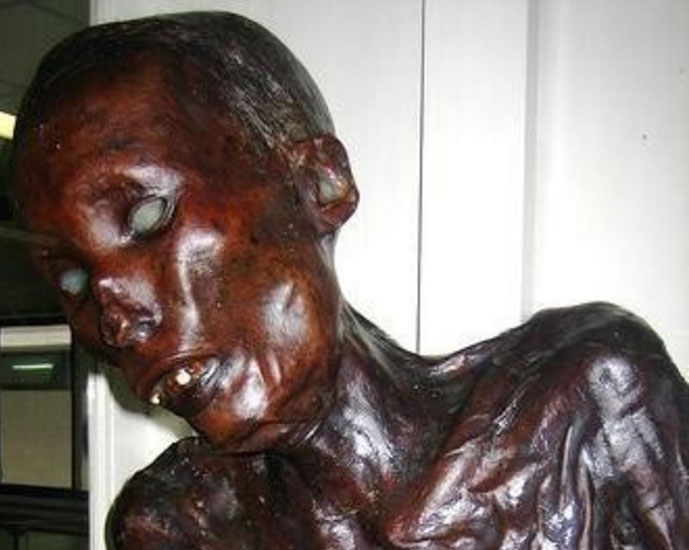 The Forensic Medicine Museum at Siriraj Hospital is known to many Thais as the See Uey Museum. That's because the macabre highlight of its ample ghoulish wonders is the killer's shriveled corpse, slathered in wax, in which visitors can peer at the bullet holes left by his executioners.
Looking back with 50 years of hindsight, was See Uey indeed the monster depicted by the authorities and media? Was he capable of an itinerant murder spree across four provinces? What role did Cold War, anti-Chinese sentiments play?
"Police Arrest Child Murderer Who Rip Outs Victim's Heart and Sucks Fresh Blood," was the Feb. 3 headline, one week after See Uey's capture, in Pim Thai, the same newspaper which reported how Nawa Somboonkan found his son's body.
During the week to come, the newspaper documented what See Uey, a 37-year-old migrant from southern China, reportedly told investigators: everything.
He was working in an orchard when Somboon came to buy vegetables. He stabbed the boy in the throat, washed his body, then cut out his liver, heart and kidney. He stored the organs in his kitchen cupboard for later consumption.
See Uey was caught just as he was burning the body to cover up his crime.
Investigators noted from day one that Somboon's murder eerily resembled the deaths of five other children killed in 1954, 1955 and 1957. Three of them were killed far from Rayong in Prachuap Khiri Khan; one in Bangkok and the other in Nakhon Pathom. All were found stabbed in the throat with some organs removed, just like Somboon.
News reports said See Uey admitted to all of them. He told police he killed 11-year-old Nid Saephu in May 1954; 6-year-old Muaychu Saehua in November 1954; 7-year-old Kimhiang Saelee in June 1955; 10-year-old Ngan Saelee in October 1955 and 5-year-old Siewchu Saelim in February 1957. All victims were ethnic Chinese.
See Uey also told investigators he cut up his victims because he liked eating their organs, especially the hearts. He made one exception for Muaychu Saehua, whom he murdered near Chitlada Palace in Bangkok. He said her heart was too small for a hearty meal, so he dined on her gullet instead.
"It tasted delicious, too," See Uey said.
His grisly rampage soon earned him the nickname of "The Murderous Cannibal," and his name grew to become a synonym for murder cases involving eating parts of the victims, making him a sort of Thai Hannibal Lecter.
See Uey didn't put up any fight when his trial opened on March 25, 1958. He confessed to every count of murder pressed against him, and freely discussed his exploits in court. Among the witnesses who testified against See Uey were young siblings of the 6-year-old Muaychu. They said they saw him leading their sister away from a Chinese New Year fair in Bangkok's Chinatown on Nov. 30, 1954, the night before her body was found dumped near railroad tracks.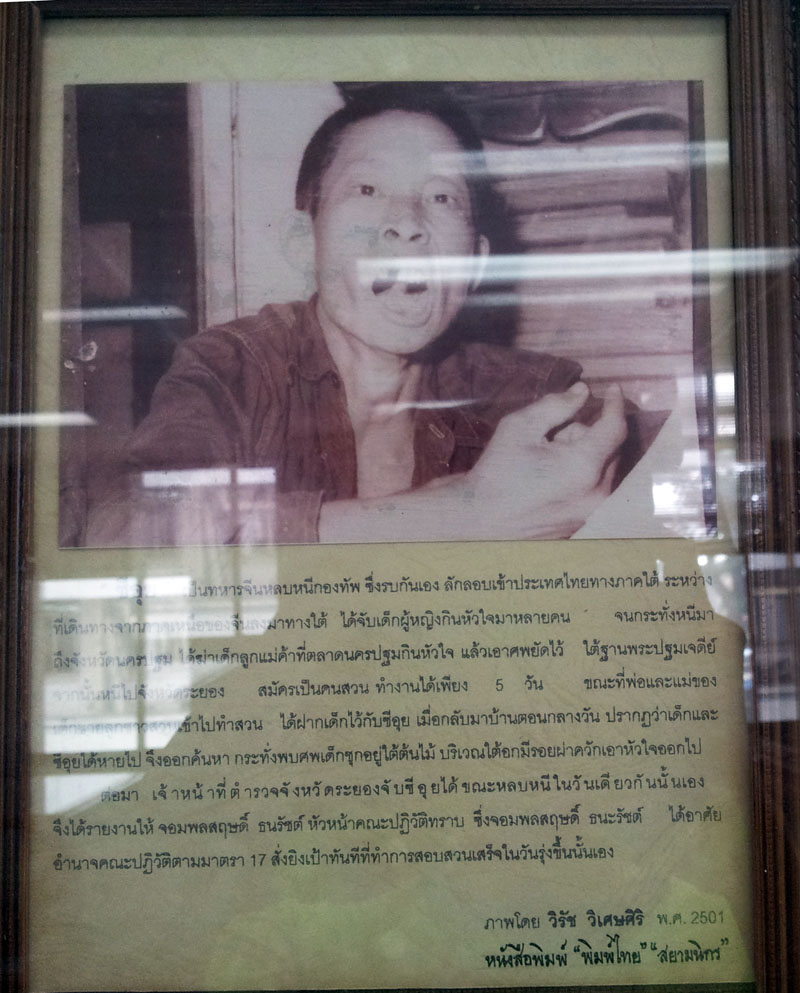 His trial lasted only nine days.
The court initially sentenced See Uey to life, sparing him the death sentence because he pled guilty. But prosecutors immediately appealed the verdict, arguing that the mandatory clemency granted for confessions should not apply to See Uey because the evidence would have been enough to convict him.
The appeals court agreed and sentenced See Uey to die. The Chinese man reportedly fainted upon hearing the verdict, and he only came to after a policeman gave him several puffs of a cigarette.
See Uey was locked up in northern Bangkok's notorious Bang Kwang prison until Field Marshal Sarit Thanarat, who ruled the military junta at the time, signed an order for his death. He was executed by firing squad on Sept. 17, 1959.
Much of what is known about See Uey's life came from his own translated testimony to police investigators and judges:
He was born in 1927 to a family of farmers in the southern Chinese port town of Shantou. In 1945, at 18, he was drafted to fight against invading Japanese. He said his unit was once cut off and encircled by the Japanese for weeks. While his compatriots ate grass to survive, See Uey said he turned to the flesh of slain soldiers on the battlefield. It was the first time he tasted human meat.
After the war ended, See Uey came to Thailand in 1946 via a cargo ship like millions of other Chinese immigrants before and after him. He landed at Khlong Toei Port on Dec. 28, 1946. He took up several menial jobs in the capital before finding work as a gardener in Prachuap Khiri Khan.
It was in Prachuap's Thap Sakae district when he allegedly sought his first kill. He said he attacked his first victim, 8-year-old Bangorn Pamornsut, near a market on the night of April 10, 1954. He bit her throat and tried to drag her into the woods, but she managed to escape.
The next time he struck on May 19, the victim wasn't as lucky. Nid Saephu, 11, was taken away from a nighttime wedding fair. Her body turned up the next morning beside a railroad line. She was stabbed in the throat. Her heart, liver and kidneys were gone.
After killing 6-year-old Muaychu in Bangkok that November, he went on to murder 7-year-old Kimhiang and 10-year-old Ngan in Prachuap's Sam Roi Yot district on June 22 and Oct. 28, respectively. After some time passed and parents sighed with relief that the child killings had stopped, See Uey struck again three years later in Nakhon Pathom province on Feb. 6, 1957.
The body of 5-year-old Siewchu was found mutilated next to the town's iconic landmark, the ancient pagoda of Phra Pathom Chedi.
All of this, of course, was based on what See Uey told the authorities. Forensic science was all but non-existent in Thailand at the time. See Uey also could not communicate directly with the judges because he spoke very little Thai.
But police said they had witness descriptions that matched See Uey, and the pattern and methods were identical. Maj. Teekayu Boonnateekul, commander of Rayong police, told a newspaper on Feb. 6, 1958, that See Uey had confessed voluntarily.
"There was no threat made against him," Teekayu said. "The interpreter simply told him: Say everything that you want to say."
Yet a number of skeptics are not convinced that See Uey was the villain he was made to be. Some said it would have been extremely difficult for a lone, impoverished Chinese man who couldn't speak Thai to travel so extensively.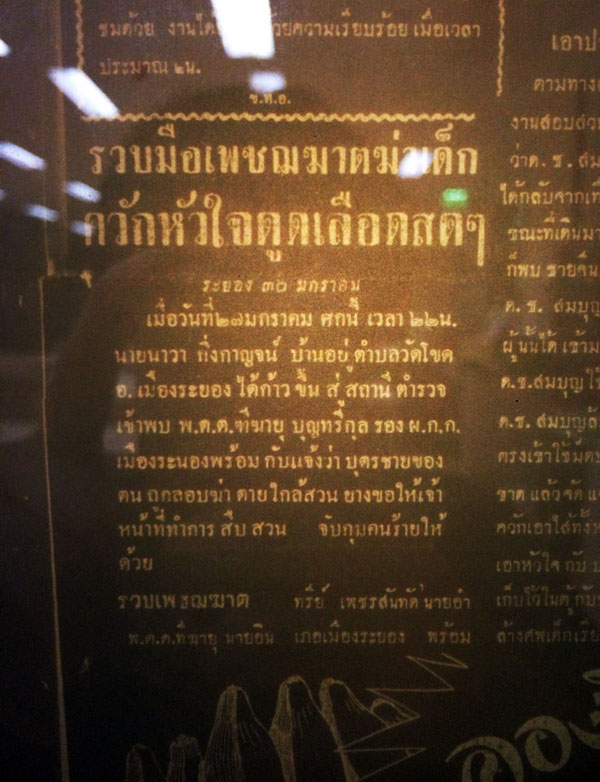 Others point to the abundant record of Thai police framing scapegoats when they're under pressure in high-profile murder cases. Like See Uey was over half a century ago, suspects today are paraded before the public before they set one foot into court, some of whom are later cleared of wrongdoing.
Like those today who suggest two Burmese men were scapegoats for the murder of two backpackers in 2014, there are skeptics who suspect See Uey provided a convenient patsy as a member of a marginalized ethnic group. His arrest and swift execution came at the height of the Cold War, when Thailand was ruled by a military dictatorship preaching the menace of "Red China" and eyeing the growing Chinese diaspora with suspicion.
Field Marshal Sarit, the junta strongman who signed See Uey's death warrant, also ordered summary executions of scores of civil rights activists and suspected criminals under his rule. Many of those condemned were Chinese men accused of arson.
Then there was Sawai Pinsilpachai, a Thai butcher, who was identified by police as the serial child killer and locked up for nearly a year. A court released him on bail in January 1958 – one month before See Uey's arrest.
His family at the time complained he was a scapegoat.
"We have lost so much money. We're almost penniless now, even though my son is completely innocent," Sawai's mother, Thongkiew Pinsilpachai, told reporters on Feb. 4, 1958.
Police briefly toyed with the idea of prosecuting Sawai as an accomplice of See Uey but eventually dropped it for lack of evidence.
Suppose See Uey was guilty as they said, why did he commit such horrifying crimes?
Psychiatrists at the time deemed him free of any mental disorders. Some media reports claimed See Uey once met a Chinese hermit who advised him that eating children's intestines would grant him supernatural powers.
In the only interview See Uey is known to have given to the media, he said he believed consuming human vitals such as hearts and livers would strengthen his health.
"I ate them because they revitalized my body," See Uey was quoted through an interpreter in a Feb. 12 Pim Thai report.
And human intestines taste really good, he noted matter-of-factly.
The unnamed reporter described See Uey as a short, slim man who looked like any ordinary person. But See Uey had a habit of scratching his head and yawning frequently.
"It is when he yawned and stretched his mouth, that his snarling teeth were visible, and his eyes turned to look like those of a beast, poised to strike at its prey," the reporter wrote of the jailhouse interview in Rayong.
The reporter asked why he targeted children.
"Because they were easy to lure and fool … If I target adults, they might fight back," See Uey replied, adding that he had never sexually abused any of the victims, despite what some reports said.
The interview ended with See Uey pleading for the guard to take him for a walk in the market.
"Please, I promise, I won't run away," See Uey said. The guard wordlessly took him by the shackles back to his cell.