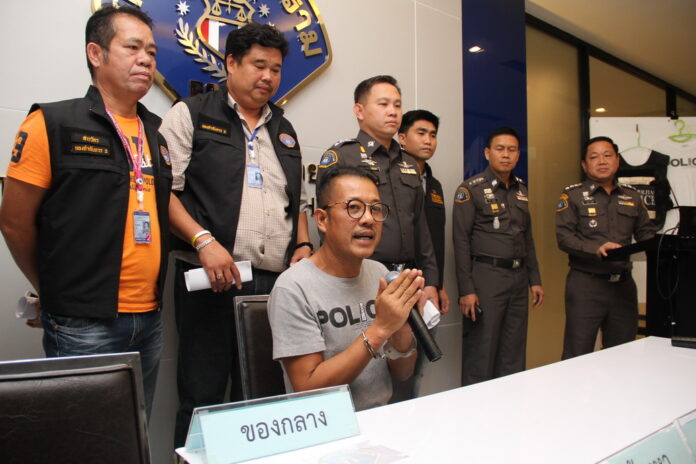 BANGKOK — For a while it seemed like a tradition in the symbiotic relationship between police and media would be brought to an end.
But two days after junta chairman Prayuth Chan-ocha sent a letter to the Ministry of Justice telling police to consider ending the commonplace practice of parading suspects in front of reporters out of concern for human rights, police Monday said the show will go on – with some modifications.
"The prime minister did not outright forbid us. He ordered us to reconsider it on a case-by-case basis," police spokesman Piyapan Pingmuang said by telephone. "We already have our own orders as well. There are already regulations and rules, but they were not strictly enforced in the past."
Police spokesman Piyapan said the order will be respected, and crime conferences will only include suspects who consent to participate. No more minors will appear, he said.
Police defend the practice as something that gives suspects the right to ask for clemency, and to show society how criminals operate. Rights activists say it violates suspects' due process, amounts to a public conviction before they can face trial and encourages bad policing.
In the letter sent late last month by the Prime Minister's Office and made public Saturday, Prayuth instructed police to consider staging crime news conferences without the suspects being present. According to the letter, the instruction followed a recent briefing by the Ministry of Justice on the human rights violated by such practices.
For Their Own Good?
Like "crime reenactments," crime news conferences are a ritual synonymous with police work and crime news.
At the events which are repeated daily nationwide, suspects are typically seated in police station meeting rooms behind a table littered with evidence implicating them in their alleged crimes. Police recite to reporters what the suspects are accused of, and at times the latter speak to the press directly.
They're popular with both the officers who are eager to be featured in the media, and provide ample, if redundant, images for publication.
Sometimes they end in disarray, such as this time last year when a victim sucker-punched her alleged attacker in what became a viral video clip.
National Human Rights Commissioner Angkhana Neelaphaijit said such routines violate suspects' rights because they lead the public to judge them as guilty before their case even reaches the court.
Her agency has received several complaints about the matter and has urged police to end the tradition many times, but authorities have so far ignored her pleas, Angkhana said.
Speaking by telephone Monday, Ankhana said that all too often "the police claim that suspects have already confessed."
"But a number of suspects, well, probably a large number of suspects, were forced to confess under interrogation," she said. "What's important is that we must adhere to the principle of innocent until proven guilty."
Spokesman Piyapan and other top police officials defended the practice.
"Sometimes, the suspects want to speak at news conferences because they have the chance to repent from their actions. They can use it as a cause to ask for a reduction of their punishment in the court" Maj. Gen. Piyapan said. "Sometimes, they also want to apologize to the victims for their crimes."
Bangkok police commander Sanit Mahatavorn went further by saying that suspect news conferences help society understand how criminals work, so that they can protect themselves and more victims can file charges.
"When suspects commit crimes like snatching purses, robbery, fraud and scam, we have to present them for the people to see that these individuals have committed wrongdoing many times," Lt. Gen. Sanit said. "People who were victims of those crimes can file criminal complaints to prosecute them."
He said the police will only conduct them if the suspects provide consent and the police believe it will be of public benefit.
Piyapan also suggested that it was for the benefit of the press corps.
"Sometimes, it is the media who prefer it that way," Piyapan said. "At those pressers, reporters can take photos and talk directly with the suspects."
Unenforced Rules
As Piyapan said, there are internal police regulations concerning suspect pressers. But they are almost always ignored.
A 2005 order issued by the Royal Thai Police bans bringing suspects to news conferences unless there is a "benefit for the public," in which case they must seek approval from their commanders first. Underage suspects cannot be presented under any circumstances, the order said.
The same order also bans bringing reporters along for arrests and other law enforcement operations – another common practice.
Another order issued in 2007 added a clause which banned allowing the media to photograph or interview suspects in police custody, unless it "benefits the case" or the suspects agree to it.
Piyapan admitted that police have not always followed those rules, but that they will be more strict from now on, after Prayuth urged them to be more mindful.
"In some cases, such as that of minors, we won't take them to news conferences. These are practical changes," the spokesman said. "I think it's a good thing for our country that the nation's leader expressed his concern about human rights in such a way."