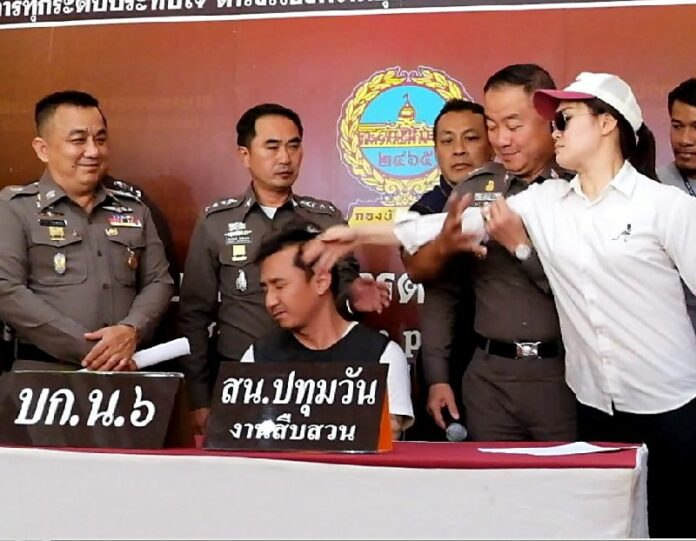 BANGKOK — "Do you know who I am?" a very angry man asked again and again in videos filmed of him harassing people throughout Bangkok.
We do now, police answered today, as they paraded a subdued version of the very angry man, whose random assaults drew attention on social media and prompted one of his alleged victims to step forward and whack him in the head as amused police looked on.
Weerapan Inthawong, a 38-year-old gambler from Laos, is the same man who's become known online as "Siam Mafia" after he was seen antagonizing strangers – chiefly teens and women – and introducing some of them to his fists at locations throughout the capital, police said.
Captured on film bullying and threatening people while repeatedly asking if they knew who he was, the man seen in social media was a swaggering tough guy.
After being arrested yesterday at the Sutthisan subway station, Weerapan today was sheepish and submitted meekly to a few smacks delivered by a woman he's accused of assaulting.
Since August reports of criminal mischief started being attributed to the same perpetrator at venues such as Siam Paragon, Siam Square, Center One Shopping Mall and MRT Hua Lamphong. They included a stolen mobile phone, students threatened and a commuter physically assaulted.
A woman identified only as Wallapha told reporters today she was getting on the subway at Hua Lamphong when the man pushed at her from behind and loudly accused her of stepping on his feet.
"I didn't do anything, but he threatened me," Wallapha said. "He asked, 'Do you know who I am?'"
He then kicked her, causing her to get off the train and seek help from police.
In a video recorded 12 Aug., the man intimidates and threatens two teenagers at Siam Paragon.
Police Col. Charut Saruttayaporn said Weerapan was arrested on a tip yesterday from someone who recognized him from images spread on social media.
Weerapan has been charged with theft, assault and illegal entry to the kingdom; police said he did not have permission to remain in Thailand.
Social media users celebrated his arrest today in their customary fashion. They created memes.
To reach us about this article or another matter, please contact us by e-mail at: [email protected].