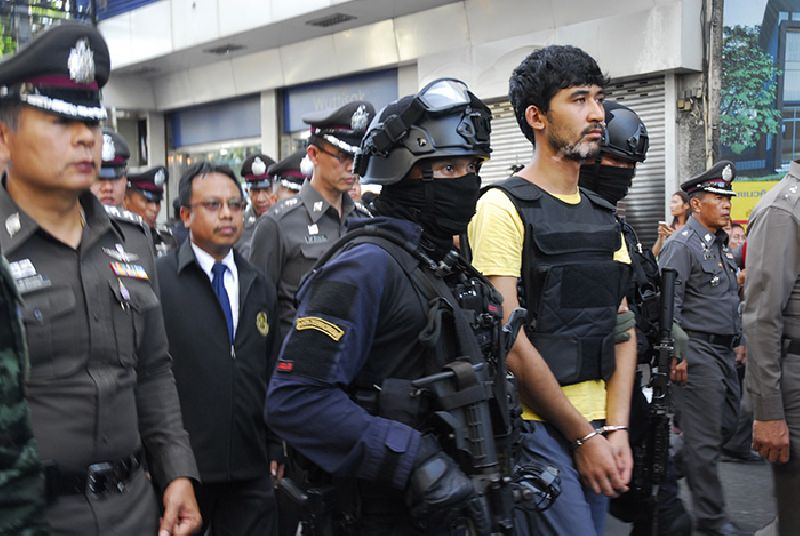 BANGKOK — Authorities have yet to decide whether the chief suspect in last month's Bangkok bomb attack should stand trial in a civilian or martial court.
After a week in military detention at a Bangkok army camp, Mieraili was transferred to police custody two days ago, and top officials disagree over whether he should stand trial in a civilian criminal court or before a military tribunal.
---
Bombing Suspect Led Through 2-Day 'Re-enactment' (PHOTOS)
---
Deputy Prime Minister Visanu Krue-gnam said yesterday that Mieraili should be tried by a martial court, citing a junta order issued shortly after the May 2014 coup d'etat that empowered military tribunals to oversee cases affecting national security.
"According to the order of the National Council for Peace and Order, four offenses qualify for a military trial," Visanu said, referring to the junta's formal name. "Firstly, lese majeste; secondly, offenses under the Firearms Act; thirdly, violation of NCPO orders; and fourthly, national security offenses."
Appeals are not possible in such trials, where military officers sit as judges. The practice has angered many human rights activists who argue that civilian defendants are not guaranteed fair trials.
Visanu also touted the expediency of a military trial.
"It won't be faster in terms of law, but it will be faster in terms of practice, because cases in martial courts are few. Depositions happen more quickly than in cases that go into a normal court. Other things are not different. The defendants can get lawyers," Visanu said.
The suspect, Yusufu Mieraili, was taken into custody near the Thai-Cambodian border on 1 Sept. Police accused him of being one of the masterminds behind the bomb attack that killed 20 people at Erawan Shrine in downtown Bangkok on 17 Aug.
Mieraili has not received any legal representation throughout his police and military custody.
But junta chairman and Prime Minister Prayuth Chan-ocha, who led the May 2014 coup, said it would not be necessary to try Mieraili in martial court.
"Why martial court? Isn't normal court sufficient?" Prayuth said yesterday, adding that that Mieraili being a foreign national would also complicate matters in the military tribunal.
"Foreigners are involved. Is this not complicated enough? Things that are clear don't need to be hurried," he said. "Once they get the suspects, they will interrogate them. There are many procedures. Don't worry."
Mieraili is expected to be brought to either martial court or civilian court within today.
However police and reporters were seen gathering outside the Min Buri Provincial Court, the only provincial court in metropolitan Bangkok.
Mieraili was the second of three suspects arrested since the shrine bombing last month and was named ex post facto in one of 11 court-approved warrants for suspects identified by investigators.
Related stories:
Interactive: Who's Who in the Bangkok Bombing Investigation
Bangkok Bombing Suspect Confesses, Police Say
First Suspect Charged in Erawan Shrine Bombing
Mounting Evidence Links Bombing to Turks, Uighurs
Warrants Out for Thai Woman, Foreign Man
Police Search for More Suspects After Arrest
Floundering Bomb Investigation Deepens Doubts About Competency
No Longer Whole, a Family Buries its Dead and Waits for Answers
Seen Often on Sathorn 10, Suspect Thought to Use Fake Turkish Passport
Leaked Police Report Tracks Lead Suspect Before, After Bombing
Bangkok Shrine Bombing: Those Who Died
Despite Lack of Evidence, Thai Media Points Blame at Uighurs
Tourists Narrowly Escape Second Bangkok Bombing in 24 Hours
Bangkok Shrine Bombing: Police Hunt Backpack Man
Tourists Among 19 Killed by Bomb at Bangkok's Erawan Shrine
To reach us about this article or another matter, please contact us by e-mail at: [email protected].