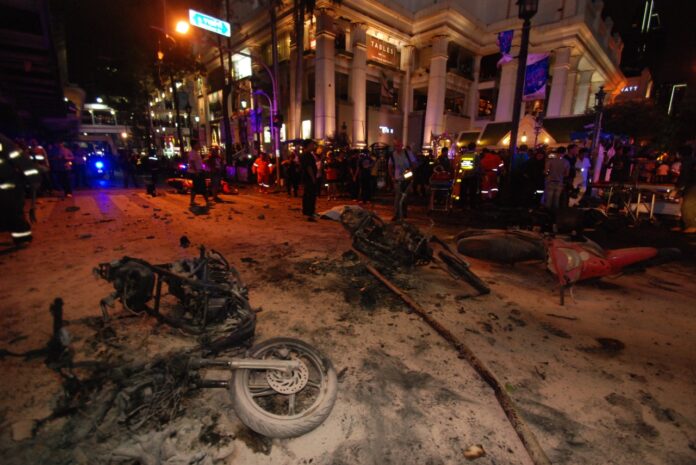 BANGKOK — Three years to the day after a deadly terror attack hit the heart of cosmopolitan Bangkok, the trial of two men accused of the crime has made little progress, with only eight of hundreds of planned witnesses taking the stand.
Justice has progressed slowly for the case against Adem Karadag and Yusufu Mieraili, two Chinese ethnic Uighurs accused of planting a bomb that exploded in the Erawan Shrine on August 17, 2015, killing 20 and injuring dozens of mostly Chinese visitors during peak evening hours.
Defense lawyer Chuchart Kanpai on Friday said the suspects, the only two to be apprehended of more than a dozen named in warrants following a widely criticized investigation, will remain in custody until all 400 witnesses are called to testify.
Read: Erawan Bombing Trial May Last Until 2022, Lawyer Says
"It's because the military court system is different from normal ones," he said, adding that setting hearing dates has been difficult because many people were involved in the investigation, and that the tribunal offers a very limited schedule with fewer dates than it should.
A top police investigator however blamed the delay specifically on translators and attorneys, which the court struggled to supply from the start when proceedings began over a year after the bombing occurred.
"I heard that the suspects only want Uighur translators that they trust, and they don't have a lot of availability in each month," Col. Prayun Sumanas said. "The lawyers also question each witness in great detail. One had to be examined two to three times. That's why it has been taking so long."
Read: Deep Scars Remain Two Years After Bangkok Shrine Bombing
Since the beginning, the trial was repeatedly postponed because of problems obtaining an interpreter for the two suspects. One volunteer was brought on who turned out to be on the run from drug-related charges.
Only three suspects of the 17 wanted for the attack have been arrested. Wanna Suansan, who returned to Thailand last year after fleeing to Turkey with Turkish husband, was released on bail in December. She was accused of being an accessory to the plot. All have denied the charges against them.
Chuchart said last year that the trial could run through to 2022 in the worst-case scenario. By that time, nearly two years after the attack, only one witness had taken the stand in court.
Thai military courts have long been criticized by rights activists for violating basic human rights. A legal advocacy group has said the system is unfair and sluggish due to the lack of independence and transparency.
Thai Lawyers for Human Rights has also cited as faults its insufficient staff, military judges that are not versed in relevant areas of the law and rare sessions held only several times annually.
In the years since the attack, victims and families of the deceased have complained they did not receive promised compensation or services. Several Thai victims were among those killed.
Thai authorities struggled with framing an attack that targeted tourists, threatening a vital economic engine. Investigators refused to use the word terrorism and never adequately explained the motivation, dismissing it as the work of criminals angry with their crackdown on human trafficking.
Most analysts concluded the attack was the work of Uighur militants in revenge for the military government's forcible return several months earlier of more than 100 Uighurs to China against their will.
Related stories:
Bangkok Bombing Suspect Gets Bail; Husband in Turkish Custody: Lawyer
Shrine Bombing Suspect Reappears to 'Fight Her Case'
Erawan Bombing Trial May Last Until 2022, Lawyer Says
First Witness Takes Stand Nearly 2 Years After Erawan Bombing